We've barely recovered from Kris Bryant Day and already the Cubs are springing Addison Russell Day upon us. I'm assuming we'll get a breather for a little bit, unless we're saving up holiday time for bullpen reinforcements. But before Russell takes his newly anointed spot at second base on Tuesday night, we need to understand why this is happening.
Simply put, there was a need and the development staff deemed Russell major-league ready. But each aspect here has a little more nuance, and there are both good and bad sides to this move that Cubs fans need to be aware of.
Jonathan Herrera had been getting the bulk of time at second, which certainly wasn't an ideal situation for the Cubs. Herrera was brought aboard, and made the club, because he's a versatile, veteran bench presence. The key word there being 'bench.' Exposing Herrera to regular playing certainly isn't a recipe for success for a team with postseason aspirations.
Herrera was doing an admirable job, not hitting much (.192/.222/.192), but playing solid defense, striking out very little (3.7 percent rate), and putting the ball in play with regularity (92.7 percent contact rate). None of this adds up to a special player, but it's a decent utility bench player. Unfortunately for the Cubs, that's not the role Herrera was filling of late.
"He's playing well," Maddon said when asked what he's seen from Herrera to give him the bulk of the playing time over Alcantara. "It's not any more complicated than that. He provides the bunt when you need it, he's worked really good at-bats, and I think he's played very sound defense."
That's a fair answer from Maddon, but if Alcantara had been performing to his expected level*, Herrera certainly wouldn't have been seeing the field as much. Alcantara had shown some interesting value in the early going, showing some solid baserunning and taking some walks, but both the offensive numbers at the forefront and the underlying statistics told the story of a youngster struggling mightily at the plate.
*And of course, if Tommy La Stella had stayed healthy, we wouldn't be seeing Herrera as much either. An unclear timetable for La Stella's return also added to Cubs desire to bring Russell up a little quicker than some anticipated.
Of course, all the numbers we'll be looking at for Alcantara from this season are an extremely small sample size, but much of what is concerning the Cubs brass is carried over from similar issues in this 70-game big-league stint last summer. Alcantara's .077/.226/.077 line is something obvious we can point to when voicing concerns for the versatile talent. Though that OBP does stem from a real nice 15.6 percent walk rate, which is easy to look at and assume Alcatara's approach is sound, it's coupled with a 34.4 percent strikeout rate, and the issues continue as we go a bit deeper.
Alcantara has continued some disturbing trends from last season, which helped accelerate Russell's arrival and Alcantara's demotion. Alcantara has continued to hit the ball on the ground (up to 57.7 percent this season, compared to the league-average rate of 45.9 percent) while his line-drive rate continues to be well-below league average (14.3 percent compared to 20.2 percent). Of course, that doesn't tell us everything we need to know about how hard Alcantara's hitting the ball, and the limited data that's been gathered (only seven of his 15 batted balls in play have been recorded) at baseballsavant.com tells us that Alcantara has averaged 84.14 mph on balls in play, which is only a tick below Xander Bogaerts' 84.25 mph, and Bogaerts is sporting a .332 TAv through 12 games.
The bottom line is, Alcantara is hitting the ball on the ground a lot and they've mostly resulted in outs. We then couple that with Alcantara swinging at 32.9 percent of the pitches he sees outside of the zone (30.1 percent league average), just 54.2 percent of the pitches he sees in the zone (63.2 percent league average), and a contact rate that sits nearly 15 percent below the league average.
While these numbers weren't as poor last season, they were all on the wrong side of the league average by a decent margin, we see all this—and the below chart that shows where the pitches that Alcantara has been whiffing on in his career—and we start to understand why the Cubs are concerned by what they're seeing from Alcantara at the plate.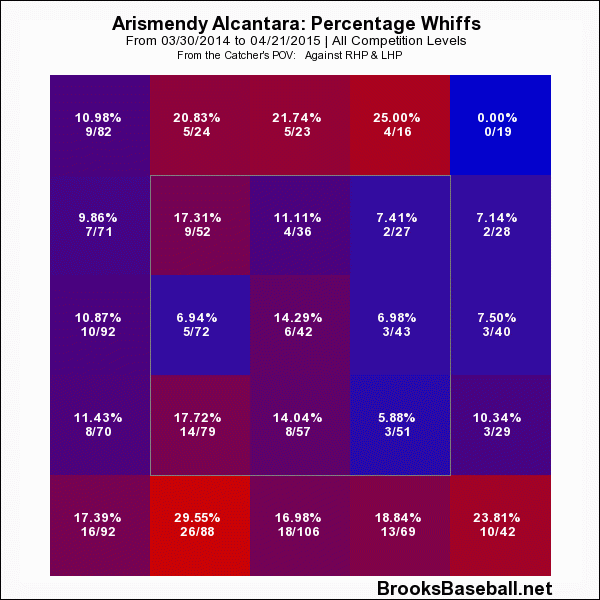 La Stella is injured, Herrera is a backup who has been getting too many starts, and Alcantara is struggling mightily to adjust to major-league pitching. The Cubs had parts of their development staff in Iowa over the weekend to keep a close eye on Russell. After watching him get some time at second base and get his cuts in at the plate, they were obviously comfortable enough to decide that he was a clear upgrade over the current major-league option at the keystone.
How good can Russell be this season? From Baseball Prospectus' senior prospect writer, Christopher Crawford:
There aren't many guys who have no obvious weaknesses, and that's what you get in Russell. He has nowhere near the offensive upside that Bryant offers, but there's a chance he has two 60 tools in his hit and power tool, and he's certainly going to be a competent fielder at second base—assuming that's where the Cubs are going to put him for the majority of the season. I picked Bryant to be my ROY because I didn't think Russell would be up this early, but it wouldn't shock me one bit if Russell snuck off with the hardware.
Which brings us to what should make Cubs fans very happy: This front office believes that 2015 is more than just a transition year. From giving prospects a look towards the final months of last season to the acquisition of a short-term asset in Dexter Fowler to bringing in an immediate upgrade behind the plate with Miguel Montero rather than waiting it out with Welington Castillo, the front office continues to shout to all of us that they see an opportunity to make a move towards October this season. They remain dedicated to bringing long-term success to the North Side—none of these moves have hindered that goal—but it's apparent that the timeline to compete has accelerated, and 2015 has become a realistic starting point for potentially great things for the Chicago Cubs.