Position: Third base, occasional corner outfielder
2018 Stats: .272/.374/.460, 109 DRC+, 0.6 FRAA, -2.2 BRA, 1.9 WARP
Year in Review: After being promoted in April 2015, Kris Bryant wasted no time in establishing himself as a force in the middle of the Cubs lineup. That season, he belted 26 home runs on his way to winning NL Rookie of the Year honors. However, in spite of the early success, there were some glaring holes in Bryant's game that threatened his ability to become a truly elite hitter, most notably his 30.6% strikeout rate.
He followed up his debut season with an even better one in 2016, slashing .292/.385/.554 (141 DRC+), and earning the NL MVP award. Perhaps just as impressively, Bryant cut his strikeout rate all the way to 22.0%, just above league average.
In his first two seasons, Bryant was an extremely aggressive hitter at balls in the zone and, despite all the success, still had a good amount of swing-and-miss in his game. His swing rate at pitches in the strike zone was approximately 73% in each of his first two seasons, significantly higher than the league average of 66%, and his contact rate remained 5-10% below the league average.
Motivated to address these issues, Bryant continued his maturation as a hitter in 2017 by becoming more selective within the zone, with the idea being that he would be able to do more damage on "his" pitches within the zone. Below are his swing charts from 2016 (top) and 2017 (bottom) – notice the drop in swing rate in almost every box within the strike zone.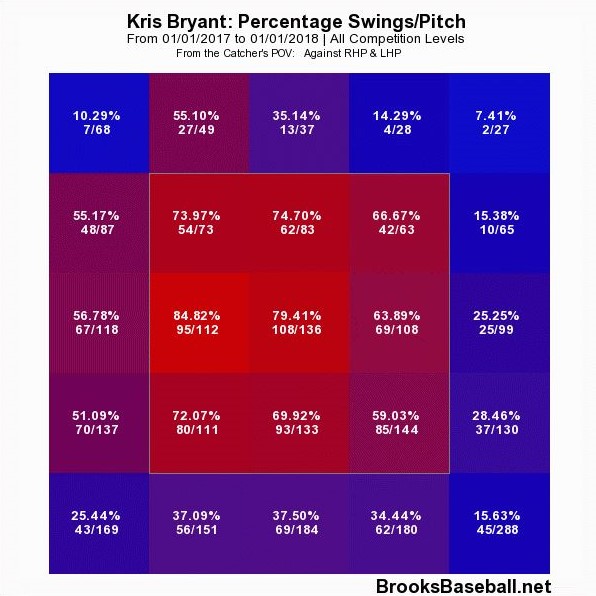 Bryant's power output declined in 2017 (29 home runs, down from 39 in 2016), but he showed significant improvement in contact ability and plate discipline, which boded well for his long-term future. His contact rate jumped to roughly league average, walk rate improved to a career-high 14.3% and his strikeout rate dropped again to 19.2%, now below the league average. And, despite the drop in power, Bryant posted a 138 DRC+, nearly identical to the mark from his MVP season the year before.
I mention all of this because the beginning of 2018 looked like it was just the next step in Bryant's development as a hitter. Through May 19th, Bryant was slashing .311/.428/.595, better than his final stats from either 2016 or 2017. His plate discipline numbers were roughly on par with 2017, and there was little reason to suspect that any kind of drop in production was coming. But then, in the first game of a doubleheader against Cincinnati that day, Bryant slid head-first into first base, potentially injuring his shoulder (though nobody knew at the time).
Over the next month, he would hit just one home run in the next 27 games. Mired in the first deep slump of his career, Bryant tried to work himself out of it by taking extra reps in the batting cage. However, that may have only exacerbated his shoulder injury, which ultimately landed him on the disabled list in late June.
Bryant made a brief return for two weeks in mid-July before once again going on the shelf, this time until September 1st. In a move that underscores the level of discomfort that Bryant was playing through, he adopted an unnatural two-handed finish to his swing during the last month of the season in an effort to reduce the stress on his injured shoulder. Clearly, he wasn't the same player as he was early in the season, slashing just .259/.354/.412 with two home runs in the season's final month.
Perhaps not surprisingly, many of Bryant's final number for 2018 backtracked after three years of steady improvement. His swing rate increased, contact rate decreased and swinging strike rate increased. His percentage of batted balls classified as "soft contact" was his highest ever, and percentage of balls classified as "hard contact" was his lowest ever.
Despite the injury and all of the missed time, Bryant still managed to put up 1.9 WARP in only 102 games, a respectable total, but certainly less than the Cubs were counting on from him 2018.
Looking ahead: Ideally, the last few months of Bryant's 2018 season were just an injury-induced speed bump. A recent report indicates that Bryant is back to swinging pain-free, and is focused on coming back strong in 2019.
Given his track record and work ethic, there seems to be little reason to doubt that he will be a productive hitter in the middle of the Cubs lineup once again in 2019, barring further injury. The Cubs' financial situation, which apparently will prevent them from adding an impact bat this offseason, makes it all the more important that Bryant comes back at full strength.
Lead photo courtesy Dennis Wierzbicki—USA Today Sports