Photo courtesy of Kim Klement-USA TODAY Sports
Like many—dare I say most?—of you, 1:20 pm Central Time today found me wedged in between a couch and a television, ready to watch some Cubs baseball. It was only when this tweet popped up on my timeline that our stories began to diverge, and I headed down a Varvaro-shaped rabbit hole:
#Cubs claimed RHP Anthony Varvaro off waivers from the Red Sox. LHP Joseph Ortiz was designated for assignment to make room on the 40-man.

— Chicago Cubs (@Cubs) May 3, 2015
When I saw the tweet, a number of questions popped into my head. First among them was: Who is Anthony Varvaro? Second among them was: What nature of major-league pitcher might he be? Third among them, I am sorry to report, was: I wonder how Joe Ortiz feels about all of this? This piece is an attempt to answer only the first two questions. Sorry, Joe. Fare thee well.
Let's get the biographical details out of the way first. Varvaro is thirty years old, a product of (first) Curtis High School, on Staten Island, and (second) St. John's University, where he distinguished himself enough that the Seattle Mariners drafted him with their 12th-round pick in 2005. After a few reasonably successful years in the minor leagues, Varvaro made his big-league debut near the conclusion of Seattle's 2010 campaign. That debut, unfortunately, cannot be described as reasonably successful:
| | | | | | | | |
| --- | --- | --- | --- | --- | --- | --- | --- |
| IP | ERA | FIP | K/9 | BB/9 | K/BB | GB% | LD% |
| 4.0 | 11.25 | 11.58 | 11.25 | 13.50 | 0.83 | 46.2 | 30.8 |
Ouch. Then again, it was just four innings, so Varvaro got another chance in 2011, and indeed has pitched at the big-league level for at least some portion of the season every year since. His best season came last year, when he posted a 2.63 ERA (3.21 FIP) over 54 2/3 IP for the Braves, maintaining a very solid 3.85 K/BB ratio. That same success allowed the rebuilding Braves to ship him to Boston this winter for former Cubs farmhand Aaron Kurcz and a little cash. And, until last week, that was the end of the story.
Last week, however, the Red Sox decided to go a different direction, designating Varvaro for assignment and calling Tommy Lane and Dalier Hinojosa up from Pawtucket to reinforce their 'pen. And today, the Cubs claimed Varvaro off waivers. Which leads me to my second question: What kind of major-league pitcher might Varvaro be? According to Brooks Baseball, the kind who throws these four pitches, at these velocities: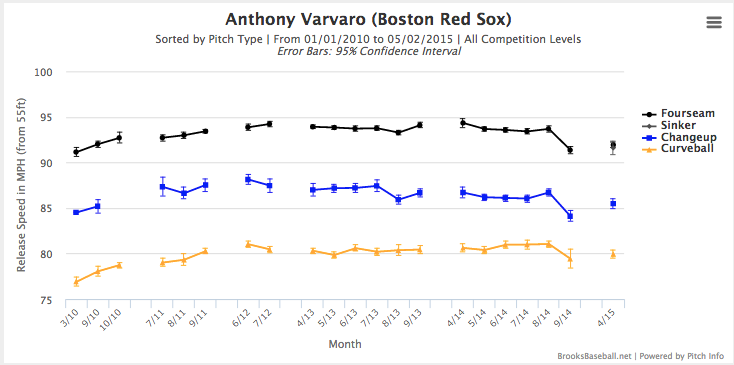 That's sort of interesting. Between August and September last year, Varvaro saw a significant drop in the velocity of all three of his pitches, and appears to have gained only a small portion of that back in the early going with the Red Sox. Could be he just tired out, could be something else. In any case, it's something to keep an eye on. Here's something else to keep an eye on:
Brad Boxberger, .106
Cody Allen, .141
Craig Kimbrel, .147
Anthony Varvaro, .149
Those are the four right-handed relievers who, last year, allowed the lowest batting average to left-handed batters (min. 20 IP). And there, right below another ex-Brave, Craig Kimbrel, is Varvaro. If I had to bet on the reason the Cubs picked him up, I'm betting it's for this particular quality. Varvaro has displayed, in the past, an ability to retire left-handed batters better than almost every other right-handed reliever in the game. While his velocity sagged last September, and the results so far in 2015 haven't been pretty, that's the pitcher the Cubs are hoping to get.
I began this post attempting to find out, first, who Varvaro is, and second, what kind of major-league pitcher he might be. It turns out that he's a Staten Island native who might have a tired arm but might, on the other hand, get left-handed big-league hitters out at an extraordinarily efficient pace. That, in short, is what's up with Anthony Varvaro.