Photo courtesy of Jeff Curry-USA TODAY Sports
That the Cubs have a fairly fearsome top half of the batting order should surprise no one. Anthony Rizzo became a star last season. Jorge Soler and Kris Bryant have been two of the most highly touted power bats on prospect lists for over a year. Dexter Fowler is a dangerous line-drive hitter, and has always been so treated; it's one big reason he can sustain such an impressive on-base percentage. Each of the four players have at least flashed terrific plate discipline, too, although both Soler and Bryant have had hard adjustment periods as pitchers have discovered and targeted their weaknesses at the plate.
Still, I don't know if anyone was counting on this level of avoidance on the part of opposing pitchers, with regard to the Cubs' top bats. Among batters who have seen at least 200 pitches this season, Rizzo, Bryant, Soler, and Fowler rank first, fifth, 12th and 28th, respectively, in lowest zone rate. Four consecutive hitters in a single batting order are seeing only 40.1 percent of opponents' pitches pass through the strike zone. No team has four batters that garner anywhere near this level of assiduous avoidance. The Cardinals (with Matt Holliday, Jason Heyward, Matt Adams, and Kolten Wong) might come the closest, but the lowest zone rate in that bunch (Holliday's 41.9 percent) is considerably higher than the Cubs quartet's average. Actually, the phenomenon isn't even constrained to those four players. Miguel Montero and Starlin Castro each rank among the 50 lowest zone rates. (For the record, 256 players qualified for this list.) Opposing pitchers simply refuse to throw the Cubs strikes.
Obviously, this will have to regress at some point. This early in the season, there's a kernel of schedule wackiness that can mess even with these granular stats. The Cubs have probably faced a wild pitcher or two more than most teams have. Still, while the specifics will change, the general truth—that pitchers aren't putting much over the plate against them—is almost undeniable at this point. That's both a good thing—the Cubs have the third-highest OBP in the National League, largely thanks to so many opportunities to draw walks—and a bad thing: they lead MLB with a 25.2-percent strikeout rate, though that has as much to do with their league-worst contact rate on swings as with seeing so many pitches outside the zone. As one would intuit, seeing so few pitches to hit puts a cap on a team's power potential, which helps explain Chicago's middling .126 team ISO. The only way to succeed in the face of so many bad pitches is to prove to the opponent that you won't chase those offerings, and to ruthlessly reach base until they adjust. The Cubs have been fairly patient, but perhaps not enough so to force pitchers into the strike zone.
I shared a graph similar to this in my article late last week, on Rizzo's specific excellence with regard to plate discipline. It's worth taking another look, though, and this time, I'll highlight all of the qualifying Cubs: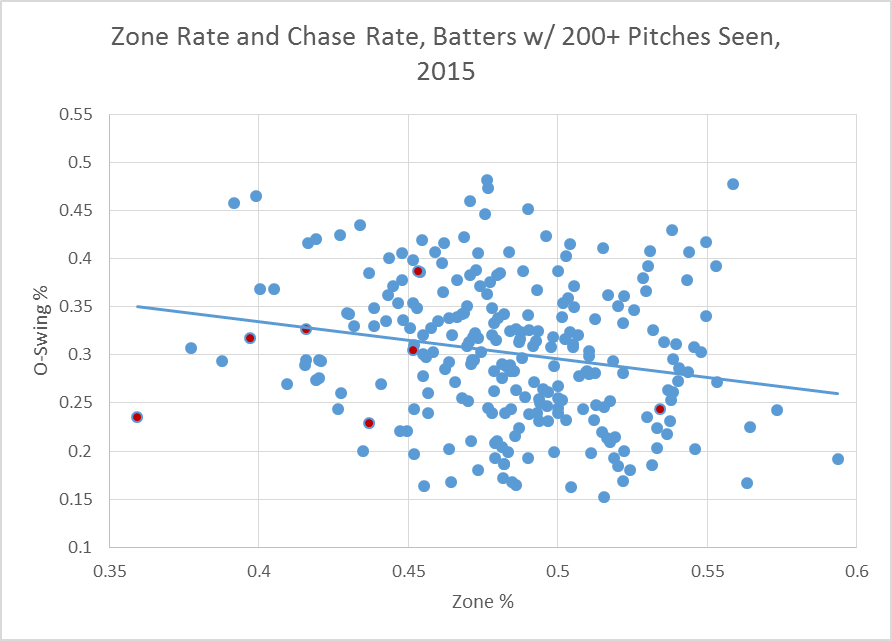 Don't pay inordinate attention to the trend line there. O-Swing % (the frequency with which batters chase pitches outside the zone) only explains about four percent of a batter's variation from average in terms of Zone Rate. This is meant only as a way of answering the question: are the Cubs laying off bad pitches consistently enough? Still, as you can see, the Cubs have been selective, though not overwhelmingly so. In particular, Soler, Bryant and Castro will expand the zone. If they rein that in, pitchers will have to be around the plate more, particularly in the cases of Bryant and Soler. If they don't do so, they're in trouble: the trio has 73 strikeouts in 269 plate appearances right now.
Unless and until pitchers begin pouring in more strikes, the Cubs are going to be reliant upon chaining together on-base events in order to generate offense. That means making a commitment, up and down the order, to taking an even more disciplined approach. It's terribly, excruciatingly hard, especially for a young team full of hitters accustomed to making their bones by driving the ball. That appears to be what Cubs opponents are counting on, though, so until that collective adjustment happens, Chicago's offense will continue to underachieve. The first two games of the season saw the team struggle to stay patient. So have the last four contests. In between, though, they walked 67 times in a 17-game stretch. If they were to regain that pace, they would finish with more walks than all but three teams in Cubs history: the 1975, 2000, and 2008 editions. The worst of those, the 1975 team, scored 712 runs, which would mark a 98-run improvement over the 2014 team's total.
Naturally, they won't walk that much, not in this era of unprecedentedly low walk rates. If they start taking the pitches that end up outside the strike zone, they'll start to see more and more pitches inside it. That's when their power can start to shine, and when they might really take off at bat. The front office has made a cliché out of the term "selective aggressiveness," but for this team, separating those words might make more sense. Selectivity will unlock productive aggressiveness.