Date: June 9
Opponent: Detroit Tigers
Location: Comerica Park
Introduction
Jon Lester has picked up in June right where he left off in mid-April. After six very good-to-great starts in May, which came on the heels of two improved starts at the end of April, Lester has been roughed up twice in less than a week.
I'm sorry I got so serious from the jump. Now, don't you the miss light-hearted, dripping-with-annoying irony introductions from the past several articles?
To be fair, Comerica Park has never been kind to Lester, even prior to Tuesday. In his four previous career starts, he owned a 5.63 ERA, 1.75 WHIP, and the Tigers had a .931 OPS. Those numbers did not improve on Tuesday.
This one was ugly, no matter the numbers you want to dissect. Lester lasted 4 1/3 innings, matching his season low from Opening Night against the St. Louis Cardinals. His 11 baserunners allowed was a season-high. Lester struggled to get ahead of Tigers hitters, as his 54.6 percent first-pitch strike rate (12 of 22), was his lowest rate since his fourth start of the season. And after Tuesday night, Lester has now allowed at least five earned runs in consecutive starts for the first time since June 2013.
The 31-pitch fourth inning made it the third consecutive start that Lester has had a 30 pitch inning, after having none in his first nine starts. In the fourth and fifth innings, Lester surrendered seven hits and two walks in the span of 11 batters. As you can see below, in those two innings the Tigers did much of their damage when Lester was up and out over the plate: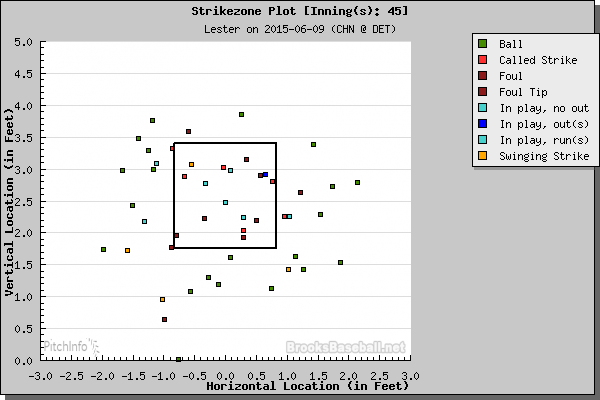 Like in the season's first two starts and last week's start at Miami (see Conclusion section), Tigers batters were patient and mostly waited for Lester to come back over the plate.
As BP Wrigleyville's London Correspondent Rian Watt noted during the game, though, there was a period after the first inning when Lester had found a rhythm and it appeared he would limit the damage.
Have a feeling @AndrewFelper is gonna write a positive Ballad about this start when all is said and done.

— Rian Watt (@rianwatt) June 9, 2015
Lester retired eight in a row heading into the fourth inning, including striking out the side in the second inning on 12 pitches. As you can see below, Lester was able to get ahead of all three batters, locate his fastballs, and induce whiffs on pitches outside of the strike zone: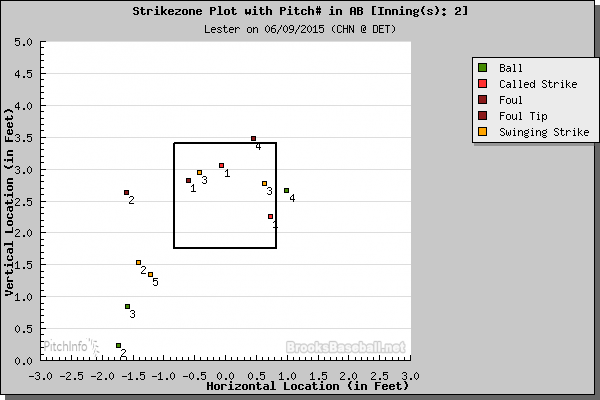 Despite Lester's brief stretch of dominance, the Tigers were able to break the game open in the fourth and fifth inning, as Lester again struggled to locate his fastballs while mostly abandoning his curve. Since they stormed out to an 11-2 record to open the season, the Tigers were just 19-26. The Tigers had sputtered of late, averaging just 3.5 runs per game during the current stretch in which they have lost of 10 of 14.
Overall, though, the team is still hitting. The Tigers entered Tuesday's game eighth in the American League in runs scored, but second in OPS (.742), fifth in doubles (99), and fifth in walk rate (8.4 percent). Even during the team's woebegone 90s and early 2000s, the Sons of Bobby Higginson and Tony Clark could still mash.
One noticeable difference in 2015, though, is the power numbers. The Tigers entered Lester's start bottom five in the league in both home runs (45) and ISO (.136). While they did not add to their home run total (Lester's first start without a home run surrendered since May 1), their four extra-base hits matched Lester's season-high.
Lester's start at Detroit might have been his worst as a Cub. Seven of nine Tigers starters recorded a hit off Lester in less than five innings. Continue below to see how the Motor City Massacre (too harsh? too soon? too many stupid questions?) went down.
Traditional Line
4.1 IP, 9 H, 5 K, 2 BB, 5 ER
Pitch Breakdown
93 pitches (54 strikes)
| | | | | | |
| --- | --- | --- | --- | --- | --- |
| | Total | Velocity (Max) | AVG | SLG | BABIP |
| Four-Seam | 45 | 92.8 (94.3) | .333 | .500 | .500 |
| Cutter | 22 | 89.6 (91.4) | 1.000 | 1.500 | 1.000 |
| Sinker | 9 | 91.6 (92.5) | .500 | .750 | .500 |
| Change-Up | 5 | 84.9 (85.7) | 1.000 | 2.000 | 1.000 |
| Curveball | 12 | 76.7 (78.7) | .000 | .000 | .000 |
Now at 16.6 pitches per inning, Lester has the ninth highest pitches per inning in the NL, aided by the three consecutive starts with a 30 pitch inning.
Lester's combined 72.1 percent four-seam and cut fastball rate (67 of 93 pitches) was his highest rate since his fifth start of the season against the Milwaukee Brewers. On this day, batters were 6-for-14 with two walks and two extra-base hits against the two pitches Lester throws with the greatest frequency. Now more than a third of the way through the season, Lester's four-seam velocity (92.86) is the lowest of his career. The velocity, however, has been secondary to Lester's poor execution (see Key At-Bat section)
Perhaps it is a coincidence, but as it has all season, Lester's curveball usage (12.9 percent at Detroit) continues to decrease with his fastball struggles. After four straight starts of at least 14.4 percent curve usage, he has fallen below that rate in three of four starts. Lester averaged 1.5 strikeouts on the curve per game in his first ten starts, and has just one total in his last two starts.
Trends
Early in the season we frequently belabored the point discussed, Lester's struggles against left-handed batters. Lefties were laying off his cutter and four-seamer away, and waiting for him to come back over the plate. When Lester did come back over the plate, left-handed batters were aggressive and did considerable damage, hitting 9-for-16 with four extra-base hits.
In his last two starts against Miami and Detroit, Lester has experienced similar problems with right-handed batters
On Tuesday, all 22 batters Lester faced were right-handed. They finished the night 9-for-20 with two walks, two doubles, and a triple. This represents a significant change against right-handers from Lester's first ten starts of 2015:
| | | | | |
| --- | --- | --- | --- | --- |
| | AVG | OBP | SLG | Extra-Base Hits |
| Starts 1-10 | .244 | .298 | .398 | 15 |
| Starts 11-12 | .421 | .463 | .763 | 8 |
For the season, right-handed batters are now hitting .272/.323/.440 against Lester, more than 70 points above his career opponent's OPS. So what has changed in his last two starts? Below is Lester's pitch frequency against righties:
| | | | | | |
| --- | --- | --- | --- | --- | --- |
| | Four-Seam Fastball | Cut Fastball | Sinker | Curveball | Changeup |
| Starts 1-10 | 40.66% | 24.94% | 12.79% | 16.50% | 5.12% |
| Starts 11-12 | 43.98% | 23.49% | 11.45% | 15.06% | 6.02% |
As you can see there has not been a dramatic change in how Lester has approached right-handed batters. He is going to his four-seamer slightly more, despite his struggles with the pitch, but as we discussed early in the season, he tends to fall back on his four-seamer as a comfort pitch when he struggles.
As we have chronicled repeatedly in pictures and graphs, Lester's struggles have been primarily due to his inability to execute pitches and hit his spots. When that happens, Lester stays away from his curveball. When Lester is in a groove, as he had been for six to eight starts, he uses his fastball to get ahead of right-handed batters and set-up his curveball.
For example, below is Ryan Braun's at-bat against Lester on May 1. Take a look at the pitch sequence: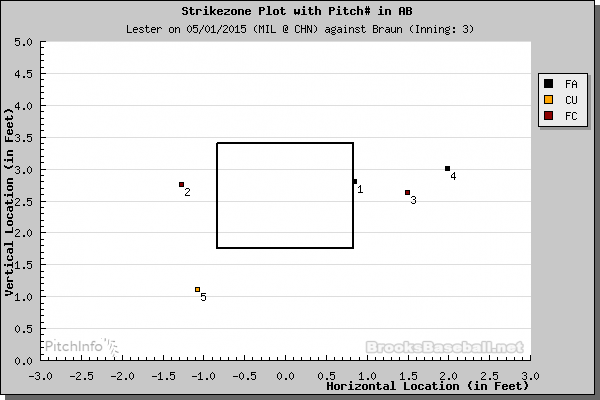 Lester gets ahead 0-and-2 with a four-seamer for a called strike and a whiff on a cutter. After missing away—and not over the plate—with a cutter and four-seamer, Lester unleashed a 58-foot curve that had Braun lunging and missing for strike three. As Lester has struggled in June, and surrendered a barrage of home runs to right-handed batters on missed four-seamers in May, this consistent and effective marriage of fastball and curveball has been absent.
Key At-Bat/Sequence
Inning: First Inning
Score: 0-0
Situation: Rajai Davis on second base
Batter(s): Miguel Cabrera
The bleeding would worsen in the fourth and fifth innings, but Cabrera's first-inning, RBI single not only proved to be the winning run, but encapsulated perfectly Lester's recent struggles: falling behind right-handed batters, failing to locate his four-seam fastball, and losing at-bats against the game's best hitters.
After last week's start at Miami, we invoked the spirit of Geddy Lee and Rush when we wrote, "In his last three starts, Lester has taken on the holy triumvirate* of Paul Goldschmidt, Bryce Harper, and Stanton, who have a combined 50 home runs in the first third of the season. Against Lester, they are 4-for-8 with a walk and two home runs."
That can now be amended to include Miguel Cabrera, who has had, um, some success against Lester, entering the game 14-for-27 with a 1.417 OPS. On Tuesday, he went 2-for-2 with an intentional walk.
Cabrera stepped to the plate in the first inning with one out and Rajai Davis on second base after a double. After falling behind Cabrera 2-0 with two four-seam fastballs away, Lester and David Ross still wanted to stay low and away: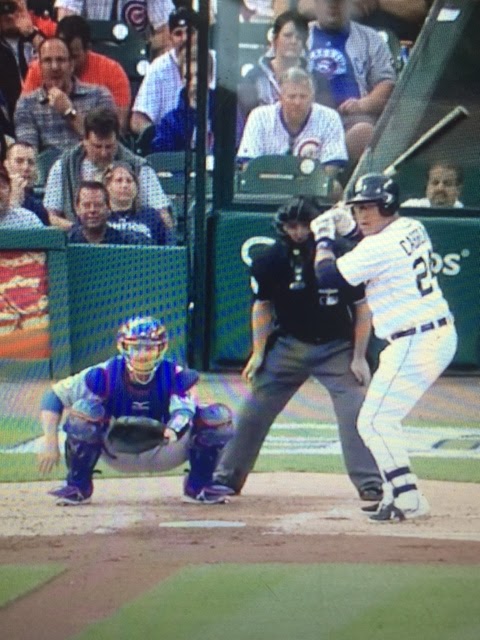 Lester, however, came back over the plate with a flat 92.7 MPH four-seam fastball: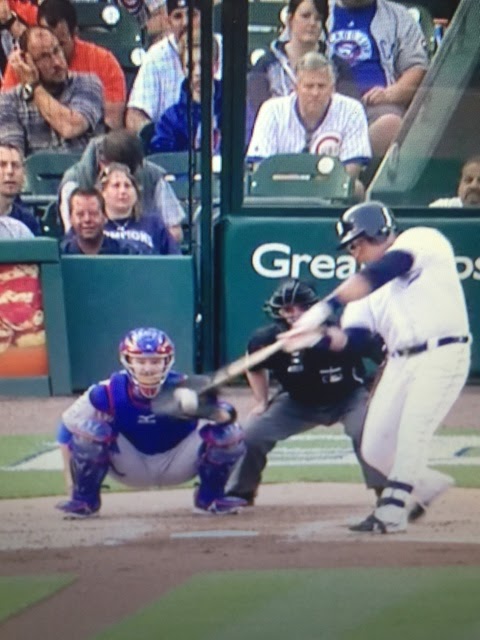 Cabrera took it right back up the middle for the games first and decisive run. Lester and Ross stayed with the four-seamer against the right-handed Cabrera despite the difficulties we covered in the Trends section. Was this the right pitch selection, especially considering Lester's recent struggles locating fastballs? As you might expect, Cabrera has been decent in 2015 when he's seen pitches over the plate: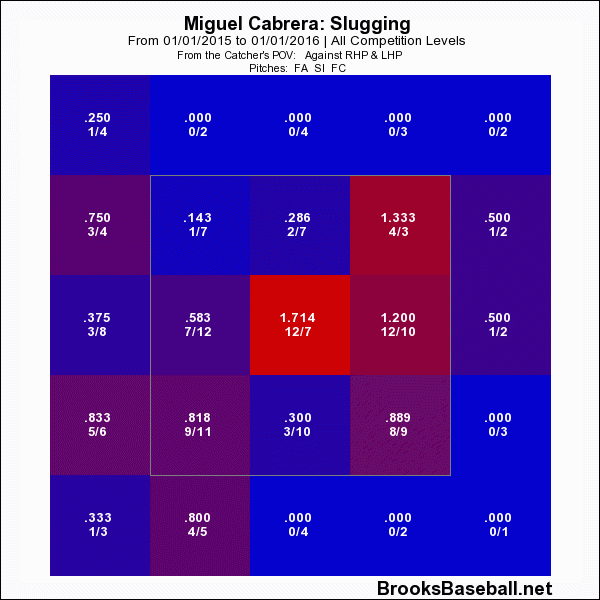 Cabrera, however, has been susceptible to curveballs in 2015, hitting .083/.083/.167 with a 50 percent strikeout rate. Including the four-pitch intentional walk in the fifth inning, Lester did not throw Cabrera a single curve in 13 pitches. The curve, as we have discussed extensively, has been Lester's most consistently effective pitch this season. However, as you know if you have read one, two, or all 12 (I'm sorry) breakdowns of Lester's starts, his curveball usage decreases when he is struggling with his fastball.
P.S.
Cabrera led off the fourth inning off with another single, after Lester had fallen behind 3-1. Once again, Cabrera took a fastball that missed its spot, this time a sinker, and pulled it through short and third: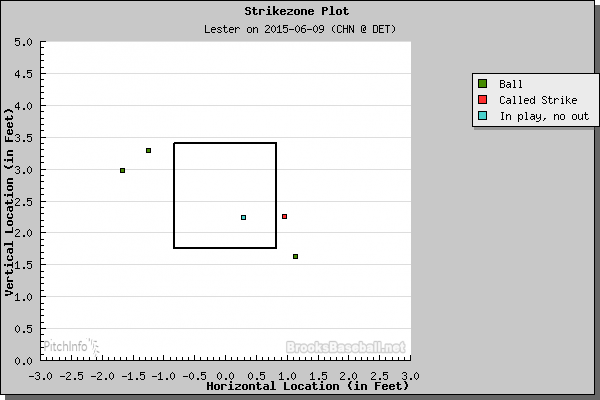 Keep In Mind
The Cubs have lost Lester's last four starts, with Lester pitching well enough to win the former two and poor enough to lose the latter two. The Cubs offense, though, has not exactly been capable of bailing out Lester. In his last four starts, they have scored just seven runs, and at 3.17 runs per game on the season, Lester has the 10th-worst run support in the league. The offense has been shut out in three of his 12 starts. Lester has not been good in June, but even when he's been at his best in 2015, the Cubs' bats have rarely delivered.
Conclusion
We have been here before, haven't we? Lester's last two starts look remarkably similar to his first two starts of the season against the Cardinals and Cincinnati Reds.
| | | | | | | |
| --- | --- | --- | --- | --- | --- | --- |
| | IP | H | BB | ER | K% | BB% |
| Starts 1-2 | 10.1 | 18 | 2 | 9 | 20.4% | 4.1% |
| Starts 11-12 | 9.1 | 18 | 3 | 11 | 19.1% | 6.4% |
Lester rebounded steadily from his first two starts, putting together an eight-start stretch in which he posted a 2.41 ERA, 1.185 WHIP, and 23.3 percent strikeout rate. Yes, his inability to locate his four-seamer and the adverse effect it has on his curveball has morphed from trend to a month-long issue. For no other reason than Lester's track record, though, expect him to regain his form. Hell, during his tremendous 2014 season, he had a four start stretch in May and June when he posted a 5.70 ERA and a WHIP of nearly 2.00. Tuesday night was bad, but it happens.
So, don't panic. Have the Kahlua chilled and the ice cubes ready to drop, but hold off on pulling the trigger.
Season-to-Date
4-5, 4.25 ERA, 1.43 WHIP, 22.2 K%, 6.4 BB%
Next Start
Sunday, June 14 vs. Cincinnati (Anthony DeSclafani)
Lead photo courtesy of Rick Osentoski-USA TODAY Sports