Top Play (WPA): The Cubs came into this game having won four games in a row, beating the Dodgers in the two games that Clayton Kershaw and Zack Greinke started. So naturally, with a guy that the Dodgers purchased with cash from the Arizona Diamondbacks on the mound, the Cubs would struggle to get runs and come away with a loss. I had an eerie feeling about this game coming in, which was mostly due to my eyebrow-raising 1-6 record when doing game recaps.
The big blow in the game came in the third inning. Kyle Hendricks got Jimmy Rollins to ground out leading off the inning ahead of pitcher Mike Bolsinger. Bolsinger surprised everyone in putting a charge into the ball, hitting it over the head of Matt Szczur in center field for his first hit of the season and first career double. Hendricks struck out Enrique Rodriguez and started Joc Pederson with two strikes, but then threw four straight balls to Pederson, putting runners on first and second.
On the first pitch Justin Turner saw, he smoked a changeup from Hendricks into the left field bleachers for a three-run homer (.247), running the lead to 4-0 at that point in the game and putting a stranglehold on the game.
Bottom Play (WPA): The Cubs did have a few chances to get some runs, but they came up short every time. They left runners on base in seven innings and only scored two total runs, both coming in the fifth. Mike Baxter started that inning with a little floater to center field for a single, followed by a ringing double to the wall in left by Addison Russell. That scored Baxter around from first and got the Cubs on the board to make it a 4-1 game.
Chris Denorfia followed with a single to right field that put runners on first and third with nobody out, and the Cubs looked like they were settling in for a serious rally. Anthony Rizzo stepped up to the plate, already 0-for-2 with two strikeouts. Rizzo's tough night continued, as he grounded into a double play (-.107) that scored Russell but erased the bases with two outs. Bolsinger was able to strike out Miguel Montero after walking Bryant to keep the score at 4-2.
Key Moment: I try to take a little liberty with my key moment choice and go with something different than what I've already mentioned, but it's hard to avoid what I think was the key moment in the game for Hendricks. You may recall reading that Pederson started 0-2 in his at bat against Hendricks and then took four consecutive balls outside the zone. Here's how the at-bat looked: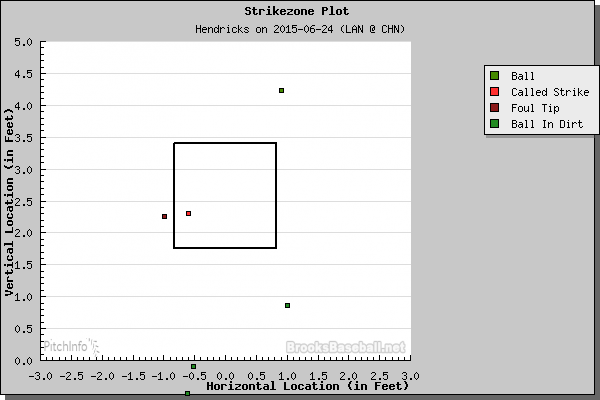 Hendricks starts Pederson with a changeup just outside the zone that Pederson swings at, followed by a curveball for a strike on the outside corner. But a ball in the dirt, a ball high and inside, and two more balls in the dirt caused Hendricks to lose control of the at-bat and, ultimately, the game. If Hendricks can get Pederson to chase a pitch and get himself out, the inning ends with the Dodgers still only leading 1-0. Not to belabor the point, but the very next pitch was crushed into the bleachers for a three-run homer.
Trends to Watch: Addison Russell has really turned things around lately at the plate. After a horrendous start to his major-league career in terms of making contact, he's cut down on his strikeouts and the results have been positive. Russell posted a 37.2 percent strikeout rate through his first 102 plate appearances while batting .242/.294/.400 with only seven walks. In his last 45 plate appearances, however, Russell has struck out at a 24.4 percent rate while walking five times and slashing .308/.400/.461.
Russell is currently fifth among second basemen in WARP (1.5), and has begun to flash his glove a bit lately too. Check out this quality example of the range Russell has at second base: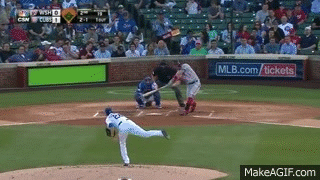 Coming Next: The Cubs (39-31) have one more with the Dodgers (40-33) before traveling to St. Louis to take on the division leading Cardinals this weekend. The pitching matchup in the finale against L.A. is Jon Lester (3.80 ERA/3.61 FIP/5.49 DRA) versus Carlos Frias (4.68 ERA/4.14 FIP/4.97 DRA). The Cubs have the ability to take three out of four against a contender at home, and have their ace on the mound. They have rebounded well from tough games at the plate this season as well, so I expect the Cubs to bring the lumber against Frias on Thursday.
Lead photo courtesy of Jerry Lai-USA TODAY Sports