By his own measures, this has probably been a disappointing season for Jorge Soler. On a team filled with rookies, of which many thought he might be the most talented, he's spent the most time on the disabled list and has the fewest home runs. I commonly get asked on Twitter whether Soler should be traded in the offseason, and while I think to jump to trading him is an overreaction, I'll admit that I wouldn't put it past the Cubs front office to do so.
It's easy to forget, given the performances of Kyle Schwarber, Kris Bryant, and to a lesser degree Addison Russell, that Soler is still only 23 years old and playing in his first full season in the major leagues. Until this year, the most games he had played since coming to the United States in 2012 was the 86 he played between rookie ball, Double-A, Triple-A, and Chicago last season.
He's played in 90 games this year, but it looks like there's a decent chance his season total might end there. The Cubs announced that he was being placed on the DL yesterday due to a strained oblique and they aren't expecting him back for a month. Even if he has no setbacks, that places his return at the very end of September. Considering the amount of time an oblique can take to heal—see La Stella, Tommy—there's a very real possibility that Soler won't be returning to the Cubs again this year.
Injury aside, I wanted to take a look at some of the issues Soler has had at the plate this season. He's been a bit light in the power category, which has been somewhat surprising to even those of us that suspected he might struggle. With a slash line of .265/.325/.385, you couldn't ask for a ton more in the way of batting average and on base percentage. This has a lot to do with his .372 BABIP, which is fairly high but not unsustainable for a hitter that consistently crushes the ball.
And consistently crushing the ball is something that Soler does well. Evan Altman of Cubs Insider did a look at the balls in play for Soler recently and outlined some of the important numbers:
"The average major leaguer has a soft/med/hard contact split of 18.5/52.9/28.6 (percentages) and line drive/ground ball/fly ball breakdown of 20.9/45.4/33.7. Soler's respective slashes are 15.3/49.8/34.9 (more hard contact) and 29.7/42.4/27.9 (more liners, fewer flies).
And therein lies the "problem." When Soler came up last year, his line-drive percentage was an unsustainably low 11.9; that's Rusney Castillo and Curt Casali territory and is almost one-third of this year's number (29.7). As his LD% has shot up this year, his ground balls (52.2% in 2014) and flies (35.8%) have dropped markedly."
Some people have surmised that Soler has simply hit the ball too hard; with so many line drives hit so hard, he hasn't been able to get many balls up and out over the wall for home runs. With the exit velocity for the average major leaguer sitting right around 88 mph, here is a line graph representing Soler in comparison with the league average this season: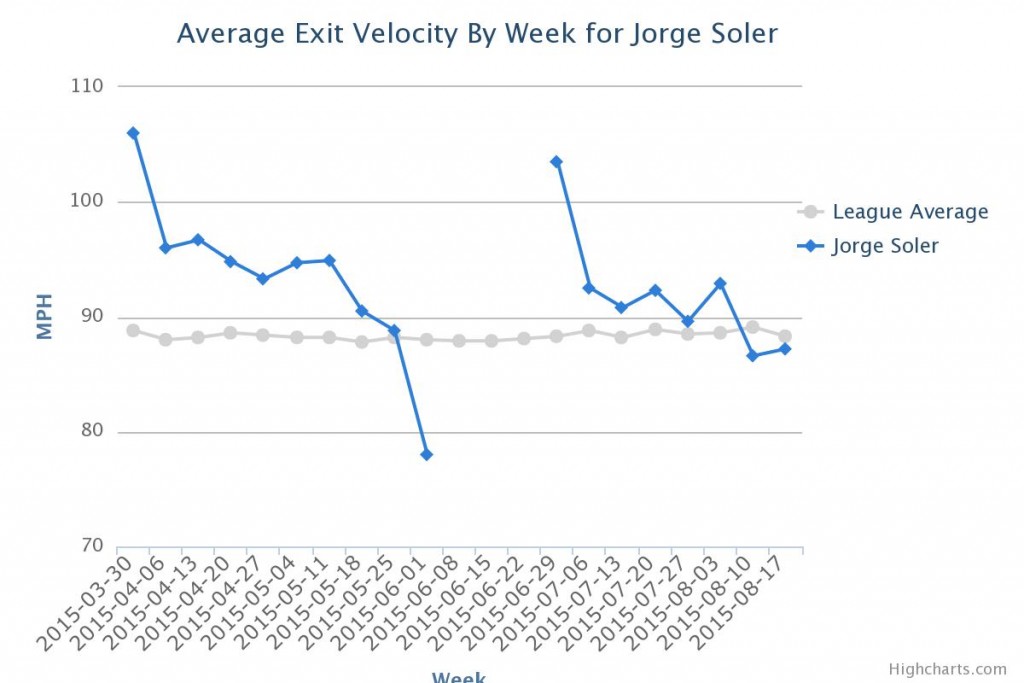 For the majority of the season, he's scalded the ball harder than the average major leaguer. At points, he's been well above average. As a total, he's had 165 contact at-bats so far this season—66 of them coming at below league average exit velocity and 99 at above league average—and his splits are eye-popping. His batting average in the 66 below average exit velocity at-bats is .318, while he's hitting .485 when hitting the ball 90 mph or faster.
All of his extra-base hits have come when hitting the ball 90 mph or above as well, giving him a slugging percentage of .808 in those 99 at-bats. Based on the slugging percentage, it doesn't appear that the rockets he's hitting are affecting his power in a negative way. It's possible, however, that his pitch selection could have something to do with it. Take a look at the low-and-outside portion of the zone in relation to how many pitches Soler sees there and how often he swings-and-misses at those pitches: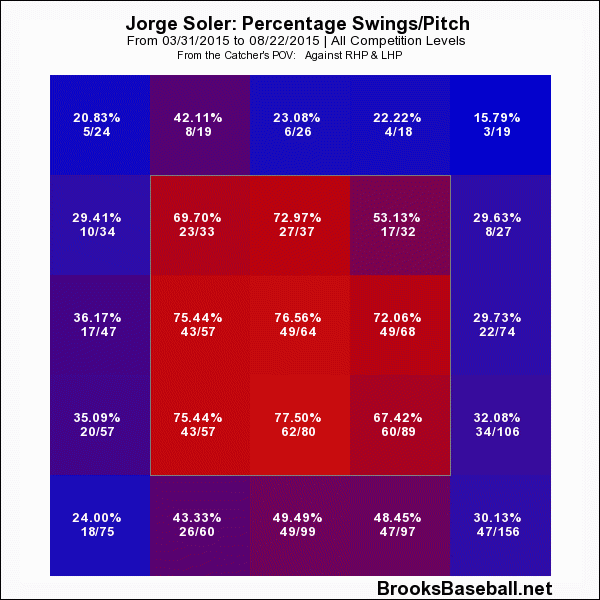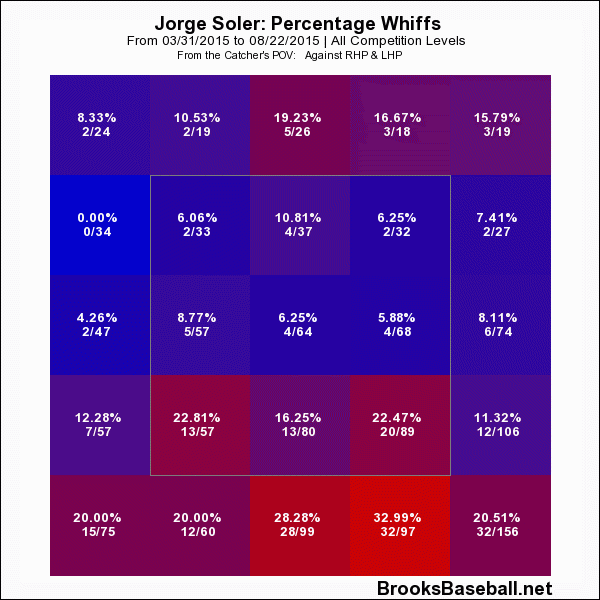 Soler has seen a high percentage of the pitches thrown to him in the three low-and-outside squares. Of the 359 pitches he's seen in that area, he's swung at 128 and whiffed at 76. That means he's swinging at 34 percent of the pitches in that zone and making contact at just a 60 percent rate (his contact percentage is 68 percent on the season, which is already below the league average of 79 percent).
I think it would be fair to say that he struggles with pitches that are low-and-outside, but I can take it one step further. In that zone, Soler has just seven hits this season despite having swung at those pitches 128 times. Even worse, none of those seven hits went for extra bases. This is even further supported by his exit velocity by zone, which indicates that he's hitting those pitches at well under his average exit velocity: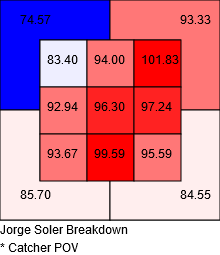 I don't think Soler's power issues are related to hitting the ball too hard or too many line drives. When he hits the ball hard, his slugging percentage goes sky high. I think the fact that he's hit far more line drives than fly balls is a good thing for him, because traditionally batting averages on line drives are much higher than on fly balls. Considering that he strikes out nearly 30 percent of the time, I'd expect that if he hit less line drives his batting average would suffer greatly.
I do think that his pitch selection hasn't been very good this season. He's only walking at a 7.6 percent rate, which is slightly below average and way below his 11 percent walk rate from his time in the minor leagues. He's struggling to lay off pitches in the low-and-outside portion of the zone, and when he does hit those pitches into play he's doing absolutely nothing with it.
If Soler can learn to lay off those pitches, as well as some of the other pitches in tough-to-hit locations, he inevitably will get into better hitter's counts and get more pitches in the zone. And when Soler has had more pitches in the zone, his exit velocity on contact spikes. And when that happens, his slugging percentage goes up. It sounds so simple when put that way, but it's incredibly difficult for a young batter to do.
For now, the number one focus for Jorge Soler should be to get completely healthy and, if there's time left in the season, to return to the team. But going forward, greater selectivity at the plate could help turn Soler into a line-drive hitting monster.
Information from BaseballSavant.com and BrooksBaseball.net
Lead photo courtesy of Dennis Wierzbicki-USA TODAY Sports