Top Play (WPA): Back on August 12th, Jason Hammel and the Cubs were clinging to a one-run lead against the Brewers. With two down and a man on base in the sixth, Adam Lind stepped to the plate getting ready to face Hammel, but Maddon came out and removed his veteran righty in favor of southpaw Clayton Richard. In Hammel's previous start, Maddon had taken him out before he retired a batter in the fifth just 76 pitches into his night. Hammel was not pleased with the decision, and once again, at just 65 pitches, Hammel was displeased with Maddon's decision. It proved to be the right move, as Lind—who possesses a .868 career OPS against righties as opposed to .590 when facing lefties—lined out to end the inning.
On Monday night, with the Cubs up 4-2 in the fifth and one down, Maddon stuck with Hammel to face Lind with a man on base. Lind promptly ripped a 1-1 pitch to the opposite field and into the left-field stands to tie the game at four (.241). In the end, the result didn't matter as the Cubs kept piling on runs throughout the evening, but the decision to keep Hammel in the game could prove to be significant down the stretch—but more on that in the Trends section.
Bottom Play (WPA): With the Cubs up by a pair of runs and two men on base and just one man out, the Brewers decided to intentionally walk Addison Russell to get to Hammel. Hammel promptly grounded into a double play to end the inning (-.093). It obviously didn't come back to haunt the Cubs as they would go on to tack on five more runs on the evening, and truly, it didn't feel like that big of a play because the bats appeared to ready to do damage early on, squaring up balls, whether they were out or not, from the get go.
Probably of bigger consequence was a play that occurred in the seventh. With Scooter Gennett on first after a lead-off single, Hammel uncorked a wild pitch that ricocheted off the brick wall all the way down the third base line. Gennett raced around second and dove into third base. As this was happening, Kris Bryant had tracked down the ball and racing towards third as well, diving towards Gennett and apparently placing a tag on his hand just before the Brewers second baseman could touch the bag safely. Gennett was called out (-.090)—and replay upheld the call—taking the Brewers from a potential no-out, man on third situation in a two-run game to having the bases empty with the heart of the order due up. Clayton Richard was able to retire the next two batters and any chance of a Brewers comeback was extinguished in the bottom half of the seventh.
Key Moment: Perhaps Gennett getting thrown out at third was the key moment, but we've gone over that, and what ensured that the Brewers evening was likely over came soon after. The Cubs would leave ten men on base and go 3-for-13 with runners in scoring position on the night, but they still managed to put nine runs on the board. Perhaps the knockout blow came in the bottom half of the seventh. After an Anthony Rizzo lead-off single and a Starlin Castro double put men on second and third with no outs, Jorge Soler stepped in the box pinch-hitting for Miguel Montero. Soler took the first pitch for a strike then violently fouled off the second pitch he saw. The third was a hanging breaking ball on the outer edge of the plate.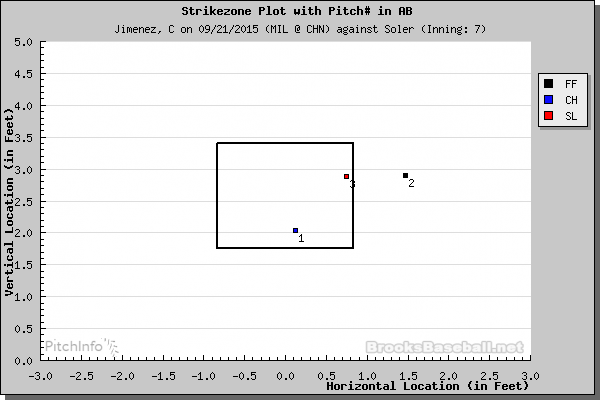 Soler was able to drive the pitch just a little left of dead-center for his second home run since being activated off the disabled list last week. Soler has just six plate appearances since re-joining the big-league club, but the two hits he's managed to accumulate during that time have both left the yard, and Maddon has been impressed with his at-bats in general. In Sunday's 4-3 loss to the Cardinals, Maddon called up Soler to pinch-hit with a man on base in the ninth inning. Though he eventually would be retired by St. Louis closer Trevor Rosenthal, Soler did turn on a 100-mph heater that he ripped foul. Maddon mentioned foul ball both after Sunday's loss and again after Monday's victory. Maddon is trying to determine his postseason roster as the Cubs play out the final two weeks of the season. While Soler may still reclaim a starting role on this club, his manager must figure out if he can be of value off the bench as well. Being able to turn on a triple-digit fastball—keep in mind, he wasn't late on the pitch, fouling it down the right-field line, Soler pulled this ball and absolutely crushed it—when coming cold off of the bench, then delivering some big insurance runs in a pinch-hit spot the next evening is certainly a way to gain your skipper's confidence.
Trend to Watch: Soler's homer allowed Maddon to rest the key components of his bullpen (though Tommy Hunter's home-run tendencies did nearly force a Pedro Strop appearance), but the big key to saving the 'pen will be the no. 3 through 5 arms going deeper into games. As mentioned earlier, Maddon has been pulling Hammel earlier in games the last two months, but on Monday he stuck with the veteran when he got into a jam. It didn't pay off in that game, but perhaps it will down the line. Hammel is going to need to start going deeper into games as Maddon decides how he'll utilize his staff in playoff games not started by Jake Arrieta or Jon Lester. Maddon may have been confident his offense could add to their lead—they'd been pounding the opposition all evening, and while nothing is ever guaranteed, it looked like more runs would be coming—but letting a veteran like Hammel work out of self-made jams is something he'll need to do as we head into October. It will work two-fold: Regardless of the result, Hammel will hopefully gain confidence that his manager trusts him to work deeper into games again, and Maddon will learn just how much he actually can trust his starter. If Hammel continues to fail in these situations that aren't as critical, at least Maddon will have his answer and feel more confident pulling Hammel early (or perhaps not starting him at all?) if trouble arises in the playoffs.
If one were to really parse Hammel's outing searching for positives, it would go like this: he was terrible in the first, struggling with command and the strikes he did throw were often hit hard. However, despite all that along with an error of his own causing more issues, Hammel did only allow two runs while working out some kinks in that initial inning. From there, Hammel worked around two errors by his defense, forcing him to throw more pitches than he ideally would have. Considering that and the fact that Lind crushes many right-handed pitchers, Hammel was strong from innings two through five, and could have gone deeper had his defense played up to their capabilities. In total, he struck out six and walked only one, again, positives one should certainly cling to when breaking down this start. It's the extremely optimistic look of Hammel's outing, but at this point in the season, it's what one needs to do when hoping he can figure things out heading into October.
Coming Next: Brewers starter Jimmy Nelson left his last start early after being struck in the head by a liner. Unfortunately, the Brewers have determined that Nelson will be shut down for the rest of the season:
CC says Jimmy Nelson will not pitch again this season. He said neurologist felt risk too great so soon after head trauma.

— Joe Block (@joe_block) September 21, 2015
In his stead, 26-year-old righty Tyler Cravy will start on Tuesday night. Cravy made a start against the Cubs in mid-August and they forced him to toss 96 pitches in 4 1/3 innings, coaxing four walks, four hits, and four runs off the rookie in an eventual 9-2 Cubs victory. In his 33 2/3 big-league innings this season, Cravy has posted a 6.42 ERA, 110 cFIP, and 6.90 DRA. Look for the Cubs bats to stay hot (after averaging 3.85 runs pre-All-Star break, the offense has put up 4.97 runs per game in their last 63) against Cravy and for the Brewers offense to, well, do what everyone does against the Cubs Tuesday night starter: nothing. Jake Arrieta (1.96, 76, 2.26) makes his 31st start of the season, seeking 20 wins and hoping to lower his already sparkling 1.96 ERA as he battles Clayton Kershaw and Zack Greinke for the Cy Young. Yes, pitcher wins are meaningless; I really can't express clearly enough how I think they're nothing but noise and all they do is serve to distract a fan from numbers that truly do show a pitcher's proper value. However, I can't deny the feelings that are aroused by certain numbers in this game. Like driving in 100 runs or batting .300,  getting to the 20-win mark may not tell us much about how good a player really is compared to others, but it's certainly fun to watch happen. Round numbers are cool and so is Arrieta, so I'm hoping he's able to get this personal accomplishment out of the way on Tuesday night. It'll be fun, but I have a feeling he and his teammates having bigger things they'd like to celebrate in 2015.
Lead photo courtesy of Caylor Arnold-USA TODAY Sports