Top Play (WPA): Kyle Schwarber had the top two plays of the game, with his two-run bomb into the river (.178) in the third inning taking the top spot.
"It felt good coming off the bat, once I hit it I knew I had it," Schwarber said. Yup, anyone who was watching knew that one was gone off the bat as Schwarber's shot put the Cubs up three runs early, a seemingly insurmountable lead with Jake Arrieta on the mound. What may be most impressive is that this team is filled with kids, and each one has made sure not to let the big moment overwhelm them.
"The nerves really hit last night when I was watching the American League Wild Card game," Schwarber said. " I realized that was going to be us in less than 24 hours. Then coming out to the ballpark there's butterflies, and listening to the national anthem and listening to the crowd roar, there's gonna be butterflies. But once that first pitch happens, it's game time, it's time to go. Everything starts to slow down from then. Everything feels so sped up when you're spectating and once you step onto the field, it all slows down."
As I said in my preview on Baseball Prospectus, anyone in this lineup could emerge as the offensive hero and tonight it was Schwarber, with Dexter Fowler as a very close second. But more on that later…
Bottom Play (WPA): Arrieta induced two pretty significant double plays, but the first was perhaps the turning point of the game. Or at least the point where the Cubs ensured that the Pirates wouldn't gain any momentum on the evening. Through five innings, Arrieta had allowed just one hit and hit a batter, but he found himself in a jam in the sixth. Travis Snider singled to lead off the inning and after a Gregory Polanco line out, Arrieta hit Josh Harrison to get to Andrew McCutchen. Cutch hit what looked like a play Addison Russell usually makes, but the Cubs young shortstop bobbled the ball for an error and the Pirates were cooking with the bags loaded and Starling Marte at the plate.
However, Russell quickly earned his shot for redemption, as the speedy Marte hit a ball right at Russell, which he flipped to Starlin Castro, who made a great turn, getting Marte by a step (-.130).
It was the only time the Pirates got a runner in scoring position and it almost got the home crowd back into the game after Schwarber had silenced them pretty early on. Russell's defense has been stellar all season, and his ability to quickly put a rare mistake behind him and feed Castro to start the play may have saved the game for the Cubs.
Key Moment: You could go a few directions here, but let's look at two big moments. The first came with Arrieta on the mound in the fifth. After hitting Francisco Cervelli, Arrieta forced a pop out from Neil Walker. Arrieta then struck out both Jordy Mercer and Pedro Alvarez looking to end the inning, but may have gotten the benefit of the doubt on both calls.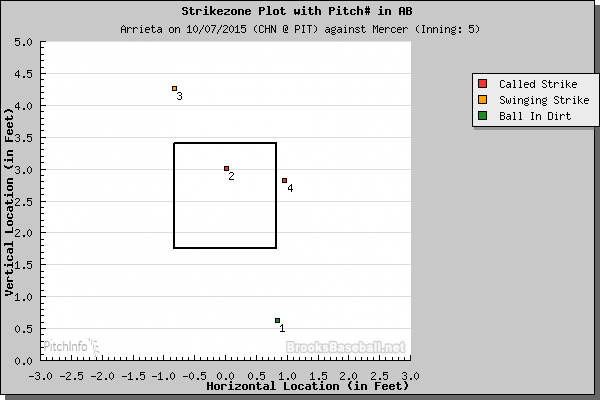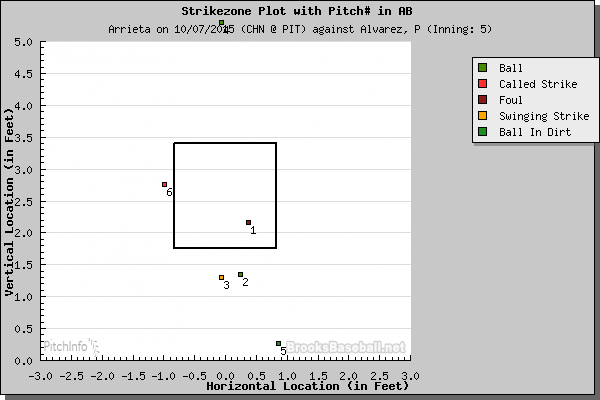 Pirates fans may have had something to complain about, but the calls weren't nearly as egregious as the TBS strike zone indicated, and for the most part, it appeared that home plate umpire Jeff Nelson was giving both teams the edges on the evening.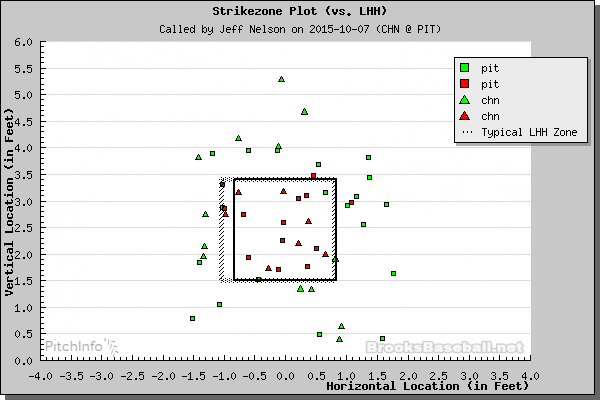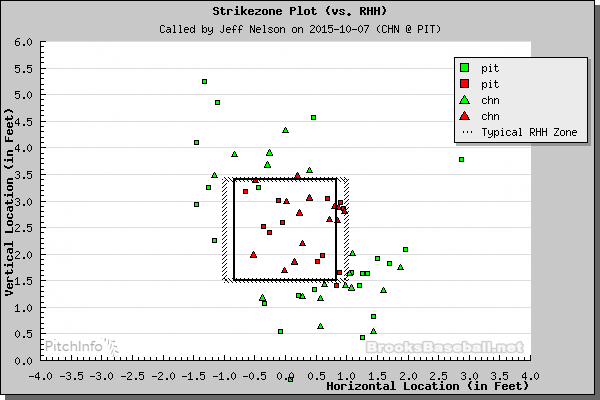 And while Arrieta's dominant performance (and despite what dopey reporters like me may say, it was dominant—there's no denying the line: 9 IP, 4 H, 0 ER, 0 BB, 11 K. He may not have been peak Arrieta, but the whole point is, this guy can defeat anyone even when he's not at his absolute best, that's what makes him so remarkable.) and Schwarber's majestic blast into the Allegheny will be what most will remember, we can't overlook Fowler's night.
Fowler led off the game with a single, then immediately stole second, quickly putting him in scoring position for Schwarber, who drove him in with a single.
"It put a little pressure on them," Fowler said. "With that guy on the mound, it's kind of what you have to do. Don't let him get comfortable."
Fowler then got a strong read on Schwarber's single to left, as he never hesitated as he broke from second and scored easily.
"Just instincts," Fowler said. "We practice that all the time, and if he catches the ball, then you go back to second and maybe tag up if (it's a sliding catch)."
After being red hot for much for much of the second half, Fowler ended the season in a bit of a funk, posting a .640 OPS in September and three October games. However, a 3-for-4 night with a home run and three runs scored in the Wild Card game should erase that from our memories pretty quickly.
Trend to Watch: There aren't any trends right now, but perhaps after some rough patches, players like Fowler and Schwarber are showing how quickly things can change in the playoffs. Arrieta is proving, as he has time and again, the no stage is too big for him; this is the type of competitor who will rise to any occasion and overpower his opponent in a variety of ways. Kris Bryant and Anthony Rizzo combined to go 0-for-7 and the Cubs still head to St. Louis for their first NLDS since 2008. The only real trend I see right now is that the Cubs are on a nine-game win streak and I don't think they plan on ending that any time soon.
Up Next: It's John Lackey (2.77 ERA, 4.13 DRA) against Jon Lester (3.34, 3.89) on Friday in St. Louis. Lester managed his first career hit off of his good friend, Lackey, and in 31 1/3 innings against the Cardinals this season has struck out 34, walked 10, and posted a 2.59 ERA. In Lackey's three starts against this Cubs team, he's accumulated 21 1/3 innings, stuck out 19, while walking five and posting a 1.25 ERA.
Lead photo courtesy of Charles LeClaire-USA TODAY Sports