During Saturday evening's contest between the Cubs and the Cardinals, I noticed an interesting amount of curiosity on Twitter about Joe Maddon's decision to bring Trevor Cahill into the ballgame in a critical eighth inning. Cahill was assigned the task of bridging the gap between Travis Wood, who had relieved starter Kyle Hendricks a few innings earlier, and closer Hector Rondon. It may have perplexed some because Cahill was released by the Braves in June and couldn't find a job until the Cubs signed him to a minor-league deal in mid-August.
I wasn't quite aware of just how perplexing this move was to many until I received a text message from a friend that simply said "Cahill. Wow." As we've come to learn in the new age of 'human interaction' we live in, sometimes a personal message gathers more of your attention when it's not diluted through a third party social media outlet. A good old-fashioned text can get a message across much more efficiently than a lot of noise on Twitter. My interest was immediately piqued. To my surprise, I quickly exchanged my thoughts and defense of a move I didn't even realize I had an opinion on.
Why go to Cahill in the eighth with a pinch-hitter (in the pitcher's spot), Matt Carpenter, and Stephen Piscotty due up with the Cubs clinging to a three-run lead? Well, with the context of the situation—and by context I mean a game being managed by Maddon—why not?
I went through the options. Pedro Strop is obviously a hard no in this situation, and hopefully any future situations that hold any sort of weight against the Cardinals, which in the postseason would be nearly all of them. In 7 1/3 innings in the regular season, Strop gave up nine runs on 10 hits, six walks, and two home runs to St. Louis. You could chalk that up to a small sample (and you may not be wrong), but after Strop came in on Friday and gave up a two-run homer on his second pitch of the postseason to Stephen Piscotty, it's hard to see Maddon having much trust in him in critical playoff situations against the Cardinals.
Another option was bringing in Rondon for the two-out save, but you don't want to bring him in early; leave him comfortably in his ninth-inning role and perhaps save some of his bullets for future use in October. Fernando Rodney has been a very viable option as of late, but has he shown any more consistency or safety than Cahill has? I would say probably not.
I fished through the tweets with Cahill's name in them. The list was a solid batch of fans leary of the move, ending quite a few of their 140 character sentiments with question marks. So there goes Maddon again, shedding the use of conventional wisdom as well as traditional labels and roles for what feels right in the moment.
Cahill comes with his share of struggles and was only converted to a bullpen arm upon joining the Cubs organization, but since arriving in the system, the cherubic righty has shown re-emerged. Since September 2nd, Cahill has posted a 2.12 ERA with a 3.13 FIP, he has struck out 22 in 17 innings pitched, giving him an eye-popping 34.9 percent strikeout rate during that span. A small sample size to be sure, but Cahill has also displayed an uptick in velocity (not unusual when converting a pitcher to the 'pen), his ability to get the ball on the ground has returned, and he's pairing it with a nasty changeup. Much like Maddon did with Jason Motte in the same type of situation—ride the train until it runs out of tracks.
As the inning went on, we all quickly watched a movie we'd never seen before. Waiting for the outcome, I'd say most of us were quite pleasantly surprised. Will it work again? Who knows. The bottom line is that it worked at this given time.
What struck me about the outcome of Cahill's outing was not that he got the three outs he was looking for, but how he got them. He's done something that could be considered an incredible feat to someone like Strop—no offense meant. He struck out notorious Cubs-killer Matt Carpenter and new kid on the block Stephen Piscotty on just seven pitches.
How He Did It
Now we can get to the nitty-gritty. After a quick groundout by Greg Garcia, the real threats loomed.
Cahill first came at Matt Carpenter with a well located called strike away, then followed with a low changeup which Carpenter promptly fouled off for strike two. After a ball in the dirt, he put him away with a high called third strike on Carpenter.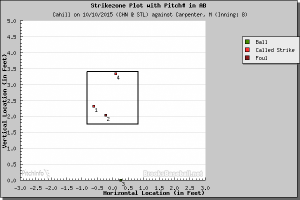 As you can see from Carpenter's zone maps, Cahill knew exactly what he was doing. He played into Carpenter's weaknesses by pitching him low and away, and finally getting him on a sinker with little sinking action that, should it have not been called a strike, Carpenter may have been inclined to swing at.
Brilliantly executed at-bat.
Stephen Piscotty, despite being called up out of seeming desperation after numerous injuries left them shorthanded (#TotalCardinalsMove), has left his mark in the majors despite his short 63-game stint this season. He's become a Cardinal bat to keep a watchful eye on, and the veteran Cahill quickly silenced him Saturday evening.
Cahill put Piscotty away on just three pitches, a typical sequence of two called-strike sinkers away, and then shut Piscotty down with a changeup nearly in the dirt—a pitch in which Piscotty did not hesitate to take a monstrous hack at for strike three.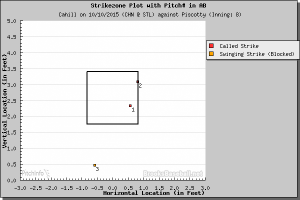 It may seem as though Piscotty swings at inside pitches quite often, and he does—but he doesn't exactly whiff on them all that often. He has a high tendency to make contact with pitches middle inside, which is why location on the two sinkers that Cahill served Piscotty with was vital, keeping them away and on the edges of the strike zone. And locate them well he did, and he finalized this at-bat by exploiting Piscotty's weakness to swing at low pitches, serving him with a low changeup nearly in the dirt. Playing with speed was a must though, as you can see Piscotty has a solid batting average with low pitches as well. Being able to cover nearly all of the plate is one of the things that makes Piscotty so freaking good at putting the ball in play. Cahill's keen ability to be able to understand the hitters he was facing and not merely rely on his stuff alone quite obviously contributed to his success in this inning.
Though the odds of needing long relief help from the bullpen on Arrieta Day are scant at best, and the idea of a bullpen day or a possible short start for Hammel looming on Tuesday makes the fact that Cahill only tossed eight pitches in one inning of work all the more important. Now, should Maddon not want to use Wood again on three days rest, he has another left-handed long relief option in Clayton Richard, and his right-handed long reliever didn't strain himself at all. That, coupled with the idea of Rodney and Grimm waiting in the wings—as well as whatever Maddon should decide is the fate of Strop for the remainder of this series—puts the Cubs in a very good position moving into Tuesday's potential series winner.
It's clear that the word conventional is not in Maddon's dictionary, and it's part of what's made him an incredible leader. Does convention matter, as long as thinking outside the box works? No. What else does shedding convention do? It makes this game more exciting. The barrage of Tweets and texts that went out awoke the minds of baseball people everywhere on Saturday evening. It made them think, analyze, and wait for the outcome of a new trial, a new idea. Innovation and progression are something we thrive on in this sport and in life. Progression is a vital part of life, stagnancy is a disease and eventually old tricks no longer work. Trying new things breathes new life into them and helps them grow, and Maddon teaches us that in the game of baseball, this idea is no different.
Lead photo courtesy of Jeff Curry-USA TODAY Sports