The Cubs are good at hitting fastballs. They rank second in the NL with a .399 slugging percentage against pitches 96 mph and greater.
The Cubs are bad at hitting fastballs. They rank 13th in the NL with a .230 batting average against pitches 94 mph and greater.
Anthony Rizzo hit .372 against pitches 96 mph and higher this year. If you drop that down to pitches 95 mph and up, Rizzo's batting average drops to .243. So are we to believe that Rizzo really struggles that much with pitches that range exactly between 95 and 96 mph? And do the Cubs as a team suddenly lose their ability to hit pitches in the 94 to 96 range? No, I don't believe so.
What's happening here is that we're ignoring all context. We're using arbitrary end points to get the answer that we want. Want to say the Cubs struggled against the hard stuff? Well, here you go. Are you picking the Cubs to win the series? Well, good choice, because they hit bombs off the heater!
We all fall into these traps, I know I certainly do. But this one is particularly dangerous. The Cubs are a good offense, and when trying to figure out whether they'll thrive or languish against Mets pitching, everyone started to look at how they did against fastballs. It's a natural tendency, but we're ignoring two pretty key aspects of the game: sequencing and command. Through two games, the Mets have been dominant in both those facets.
"Well, I think the first two games was about their command more than anything," Joe Maddon said prior to Game Three. "I was really impressed with their ability to command different pitches in that kind of weather. They were really good. I give them credit, man. I think more than anything, everybody's going to talk about their velocity. The thing that impressed me the most was their command of their other pitches under the circumstances. That was the impressive thing for me."
Matt Harvey was hit hard at times by the Cubs, and looked particularly vulnerable after the third inning. However, the Cubs were just never really able to take advantage or find the necessary holes. Looking at what Syndergaard did in Game Two is the definition of execution.
The above is every pitch Syndergaard threw on Sunday evening. Pay attention to what would be the lower outside edge to left-handed batters. The Mets young righty pinpointed pitches in that location, got strikes called, and eventually forced the Cubs to swing (and often miss, and certainly not put the ball in play) at those pitches. The result was clear: dominance.
"But it's time to move it forward," Maddon said. "It's a different day. We've gotten a couple more degrees that we were looking for. Hopefully our hitters can react a little better because of that. But they have been impressive all year, their young pitchers. They're going to be for many years to come. There is no question. I have a lot of respect for that. But I have a lot of respect for our guys too, and I think it's going to be an interesting evening."
The unusually warm-for-October weather in Chicago will certainly be a boon to the Cubs bats, and a raucous Wrigley won't hurt things for the home team either. The reality is the Mets have executed through two games, and with a combination of well-placed heat and well-timed off-speed and breaking pitches, they've held the Cubs offense largely in check. So it isn't about how hard they're throwing the ball. Jacob deGrom can throw the ball very hard as well, but like Syndergaard did, he'll need to command that heat.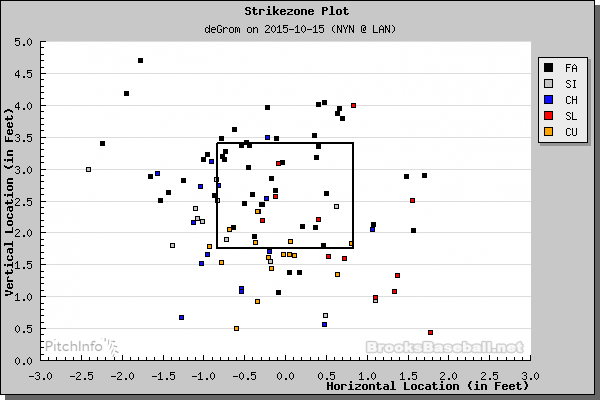 Above is what deGrom threw against the Dodgers in the deciding Game Five of the NLDS. His four-seamer was heavily located in the zone, oftentimes up. The Dodgers are obviously a talented team, but deGrom is unlikely to get by with the same type of performance against these Cubs power bats. If the Cubs are going to get back in this series, it'll likely be behind their offense. And if that's the case, it's because those bats jumped on the mistakes that deGrom, Steven Matz, and any relievers happen to make.
Lead photo courtesy of Jayne Kamin-Oncea—USA TODAY Sports