I know that evenin's empire has returned into sand
Vanished from my hand
Left me blindly here to stand but still not sleeping
My weariness amazes me, I'm branded on my feet
I have no one to meet
And the ancient empty street's too dead for dreaming
I'm not sure if Bob Dylan is a baseball fan, but "Mr. Tambourine Man" seems to understand the punch-drunk weariness and fatigue of late-October baseball. Game Four of the NLCS made it 171 games in 197 days for the Chicago Cubs, and 170 games in 196 days for the New York Mets. But now only the Mets remain standing, with someone to meet next week and a championship on the line. For the Cubs, their season has vanished, and the exhaustion will soon set in.
Jason Hammel, bruised and weary himself, exemplified the Cubs after the first three games of the series. Hammel struggled at home (4.34 FIP, .753 OPS, 15 of 23 home runs surrendered at Wrigley) and in the second half (4.54 FIP, .856 OPS, 5.10 ERA), but the Cubs were nonetheless hoping he would at least give them a chance to win the game.
By the time Duda came to bat in the first, Hammel had thrown 17 pitches. Curtis Granderson opened the game with a seven-pitch at-bat that ended in a base hit to left field. After Hammel struck out David Wright and induced a pop out from Daniel Murphy, Yoenis Cespedes drew a walk on a 3-2 fastball up in the zone.
With two outs and runners on first and second, Duda stepped to the plate. Hammel and Duda had squared off just three times prior to Tuesday night's encounter, with all coming this season, on May 13th in Chicago. Duda went 0-for-1 that day, with two hit-by-pitches. Those three at-bats featured just one two-strike count, and Hammel eventually got Duda to fly out on a slider at the bottom of the inner half of the strike zone.
Hammel started Duda with a four-seam fastball inside and a curve way up and off the plate to fall behind 2-0. Duda took a big hack at a 94-mph sinker over the plate and whiffed a curve up and in to even the count 2-2. Even though the curve missed its spot up, it was still solid pitch sequencing from Hammel and David Ross.
With the count 2-2, Duda would not bite on a four-seamer up and just off the plate away. On 3-2, Hammel went back to the fastball in roughly the same spot, but back over the plate slightly, and Duda fouled it off. Would Hammel throw Duda a third consecutive four-seam fastball? Or, after setting him up away, would he break out his slider, against which left-handers had slugged .051 since the All-Star break?
But first, how about the situation?
Hammel in 3-2 Counts, 2015
The basic numbers:In full counts, batters hit .243/.436/.457 off of Hammel, with two home runs, a 25.5 percent walk rate, and a 31.9 percent strikeout rate.
Hammel was much better against left-handed batters in full count situations—they slugged just .259 after running the count full. In this situation, Hammel went with his four-seam fastball, sinker, and slider in roughly equal measure (30-33 percent with each pitch).
To Hammel's credit, he does not get predictable in terms of location, as against left-handed hitters in full counts, he worked both the top and bottom of the strike zone:
Even as Hammel struggled in the second half, he still worked the entire plate against left-handed hitters. Not surprisingly, though, his numbers had been worse since September, with batters slugging .800 in full counts against Hammel since the beginning of that month.
Duda in 3-2 Counts, 2015
The basic stats: Duda hit .104/.457/.146 in full counts in 2015, with no home runs, a 39.5 percent walk rate (!), and a 30.9 percent strikeout rate.
Duda has been much worse against right-handed pitchers than lefties in full-count situations, going just 1-for-35 against them with a single and 19 strikeouts. Despite Duda's struggles, Hammel faced a very real dilemma with respect to where to pitch him. In 2015, Duda hammered right-handed pitchers in the bottom two-thirds of the strike zone, and used his long arms to cover the outer half: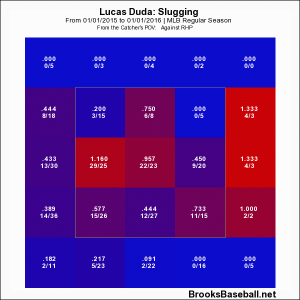 Which brings us to…
The Pitch
On another 3-2 pitch, Ross set up low and on the outer half, but the 94-mph four-seam fastball stayed up, and Duda was able to get to the barrel of his bat through the strike zone. He scorched a line drive (with an exit velocity of 104.6 mph, according to ESPN's Home Run Tracker) into the center-field bleachers, 419 feet from home plate.
The blast was Duda's first home run on a full count in 2015. It was the first home run had Hammel surrendered on a full count to a left-handed batter in 2015.
Duda's postseason struggles were well documented (3-for-24, 13 strikeouts), but Hammel threw him five fastballs, all around the plate and all 93-95 mph. Duda had fouled off two, including the previous pitch, and seemed to be getting his timing on the fastball.
Since mid-July, opposing batter slugged .625 against his four-seam fastball (and .894 against his sinker). His usage rate for what was formerly his primary pitch dropped to 30 percent (13 percentage points below his career average). On Wednesday night, Hammel reached back for a pitch that had not been viable for three months, and Duda made him pay.
Why Hammel and Ross never once to the slider, his best and most consistent pitch against left-handers at this point in the season, remains a mystery. In their previous encounter in May, Hammel had retired Duda on a two-strike slider.
Five batters into the game, Duda have given the Mets a 3-0 lead. The Cubs had not yet come to bat in Game Four, but for the first time in 2015, the streets of Clark and Addison felt too dead for dreaming.
Lead photo courtesy Kamil Krzaczynski-USA Today Sports.