Position: SP
2015: 31 G, 183 IP, 3.10 ERA, 3.89 DRA, 20.3% K%, 7.7% BB%
When teams make boneheaded, knee-jerk trades in the hope that they'll see some short-term upside, it's really easy to cheer for the other side. That's why I've always been a fan of Scott Kazmir. Once a Mets' top pitching prospect, Kazmir was traded to Tampa Bay in 2004 for a guy who had a 5.06 FIP and walked over five hitters per nine innings pitched through 25 starts. The Mets, it seems, were paying attention more to Victor Zambrano's win total than anything else. So they deserved what they got: Zambrano washed out and 10 years later we're still talking about Kazmir.
So Kazmir definitely "won" that trade—it's just been a very up-and-down ride. From top prospect to good major leaguer to ineffective starter to injured pitcher to borderline out of baseball to reclamation project and most recently back to good starter. Is he good enough that he can help the Cubs?
How He Fits:
The Cubs need pitching and Kazmir is a pitcher. Is that enough?
Let's take a look at the type of pitcher Kazmir is today and how that's different (and important) than who he's been in the past.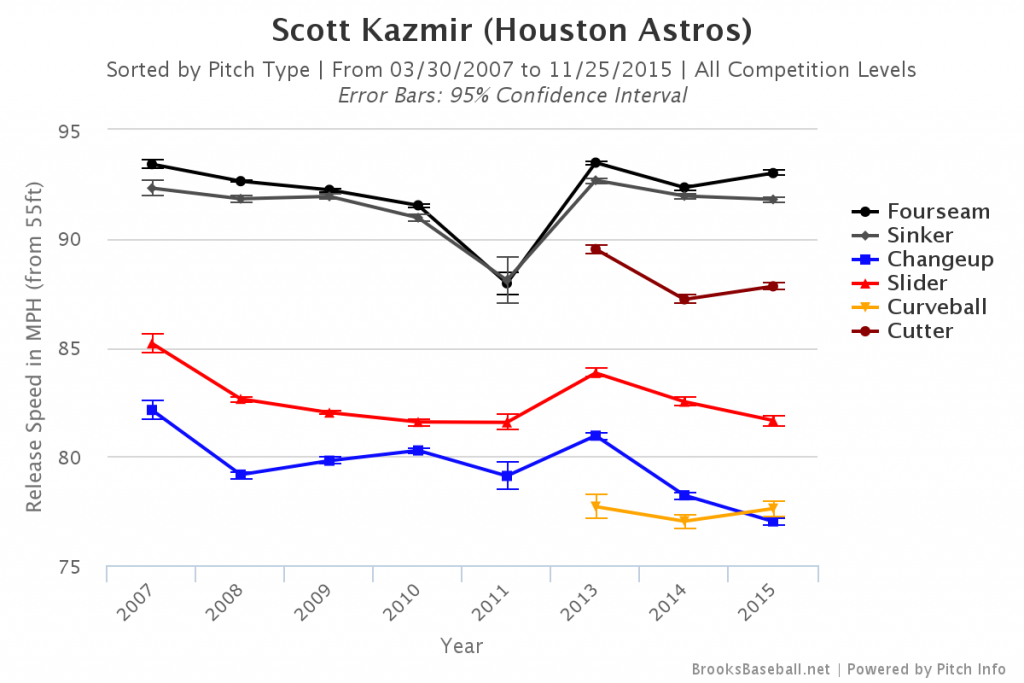 You can literally see when he pitched his way out of baseball (injuries were a big part of that) with the decline in velocity that started in 2010 (5.67 DRA). Then Kazmir is a minor leaguer and independent leaguer until resurfacing in 2013, where you can see his velocity spiking. Which was great because he did pitch better (4.47 DRA) and it marked his return to being an effective big leaguer. He was throwing gas and striking hitters out like the good ol' days (24 K%).
But the next two years are what you really want to pay attention to if you're interested in signing this player, because Kazmir stopped trying to light up the radar gun and strike everyone out. Instead, he dropped the velocity on his already-great changeup, increasing the differential between it and his fastball to a phenomenal 15 mph (anything over 10 is great). This made him harder to square up, and even though his propensity to strike guys out dropped, he also walked fewer guys. This is a good thing and it's what pitching coaches are talking about when they knowingly mutter location, location, location.
That shift led to the two best WHIP seasons he's ever put up (1.161 and 1.208) in a full season in the big leagues. Folks, please welcome Kazmir into the wily veteran phase of his volatile career (that's a good thing). He's now a guy who can touch 93-94, doesn't walk a ton of batters, and is tough to square up.
Kazmir will be 32 next year and if the Fangraphs crowdsourcing numbers are anywhere near accurate, grabbing a pitcher like him for 3 years and $42 million is something the Cubs will at least look into, especially since it won't cost them a draft pick.
Why it Won't Work:
Up-and-down stories are great drama and it's nice to root for a guy who makes it all the way back like Kazmir has done. But putting your wallet on the line for a guy like that is a whole other ballgame. Which version are you going to get? Is he going to get hurt… again?
Kazmir didn't pitch all that great after being traded to the Astros last year. He gave up 13 home runs in 73 innings and posted a 5.16 FIP. Has the regression begun or was this just a blip on the radar? Is the Cubs front office willing to take that leap of faith for a pitcher who has been "pretty good" for the past two years?
That's a lot of questions without definite answers, which means whoever signs him will be taking a bit of a gamble. It also leads me to believe the Cubs will check in on him but will move on quickly if the price doesn't reflect the uncertainty around him.
Lead photo courtesy of Peter G. Aiken-USA TODAY Sports