Welcome to another installment of Inside the At-Bat, BP Wrigleyville's semi-regular feature breaking down a key battle in the season's biggest series and most intriguing matchups. The pieces are completed sometime around 1:30 AM EST, so please forgive typos, errant Brooks Baseball charts, and Bob's Burgers dialogue typed out accidentally by our exhaustive scribe. Tonight, we go inside the most important AB in the 2016 home opener. Enough prologue, though. Let's baseball!
As far as home opener's go, the hype for 2016's reached levels far surpassing that of fictional seasons in the early 1990s, when The Janitor from Scrubs manned first base: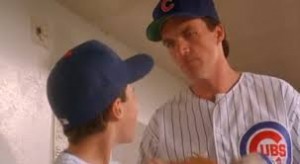 For much of the much evening, though, Cincinnati Reds starter Brandon Finnegan threatened to spoil the party. By the home half of the eighth inning, however, the Cubs had pulled within a run. With one out, Ben Zobrist on second base and Jorge Soler on first base, the Reds brought in right-handed reliever Jumbo Diaz to face Addison Russell.
Russell has been significantly better against right-handed pitchers in his brief career, with an OPS more than 200 points better than against left-handed pitchers (.733) than against righties (.521). 11 of his 13 home runs came against righties. Despite Russell's success against right handers, Diaz does the one thing that has flummoxed Russell in the big leagues: throw the ball really hard. Diaz averages 97 MPH with both his fourseam and sinker, with Russell struggling mightily against both pitches from right handed pitchers (.388 slugging percentage against fourseamers, .295 slugging percentage against sinkers).
Russell and Diaz have a short history, with Russell going 1-for-2 with a single and a strikeout. Last April 24 in Cincinnati, Diaz threw five consecutive fourseam fastballs, all middle to away, with Russell striking out on swinging a 98 MPH fastball up and out of the strike zone. In the second at-bat, last July 22 at Cincinnati, Diaz started him with a slider on the outside corner, before coming back over the plate with three fourseam fastballs. Russell would single on a slider left over the plate. If a pattern has developed in their two encounters it is that Diaz will start Russell away and feature a heavy dose of fourseamers (a pitch he throws about 50 percent of the time to right-handed batters). Would Diaz start him away for a third straight at-bat? Would Russell be looking for the fourseam fastball, despite his struggles with the pitch? Before we get to the payoff, though, let's review how Russell and Diaz have fared on first pitches…
Russell on the first pitch in 2015 and 2016…
.596 slugging percentage, 2 home runs
We're grouping the years together since it amounts to about 550 plate appearances. Entering the game, Russell had swung at about nine percent of first pitches in his career, well below the league average of 29 percent since the start of 2015. When Russell does swing at the first pitch, though, he has remarkable success, especially when pitchers come middle-in to start the at-bat, as you can see below: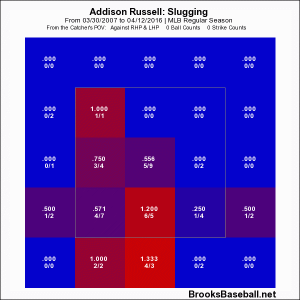 And while Russell's fastball difficulties have been pronounced, he's mashed first pitch fastballs, slugging .500 against fourseamers and .824 against sinkers. At the outset of an at-bat, Russell's looking for fastballs middle-in (like so many hitters, of course), and when he elects to swing, he's done damage.
Diaz on the first pitch in 2015…
.656 slugging percentage, 3 home runs
When batters swung at Diaz's first pitches they had tremendous success. In 2015, he surrendered more hits and home runs on the first pitch than any other pitch. Diaz throws first pitch fastballs about 60 percent of the time (compared to 70 percent of all pitches). While he owns overpowering fastballs, on first pitches, he actually increases his slider usage from 25 percent to about 39 percent. Last July, Diaz started Russell away with a slider. However, would he go to the slider when he has such effective fastballs?
The Pitch 
Devin Morasco set up just below the knees on the inside corner. The 95 MPH fastball (I thought sinker, but it might have been fourseam) came in on the inside corner, but missed high, just above the knees. Russell opened his stance slightly and absolutely cleared out the pitch, launching it deep in to the frigid North Side air. When it landed in the left center field bleachers, the Cubs had their first lead of the game. In both hindsight and current sight (if that's a phrase), it seemed like an odd first pitch location, as Russell hammers both first pitch fastballs and first pitches in that location. Perhaps Diaz and Morasco, who had previously stayed away  from Russell, thought they could steal a strike against a batter largely adverse to swinging at the first pitch, or be able to throw it past a hitter who struggles with fastballs. Russell was ready, though. And so were the Cubs.
Lead photo courtesy Dennis Wierzbicki—USA Today Sports.