It's a very strange thing that a guy can by 39 years old and on the verge of retirement. And have the nickname "Grandpa" to boot. It's also probably strange that I have felt compelled to write about David Ross on now more than one occasion in this young season. I mean, sure, we're all a little interested in Ross these days because we've been drawn in by the story of his final year and the role it plays in what has so far been a Cubs season that already feels steeped in history. I'm drawn to Ross not just because of his looming retirement and because of his surprising success at the plate this season, but also because of the unlikelihood of a guy like him even spending as much time in the majors as he has. I'm just a fan of the improbability of it all. As a whole, I appreciate sports in part because of how often it provides an avenue for the unlikely and improbable. I'm drawn to the things in baseball that should not be, but somehow are. And right now David Ross's "retirement party" feels a little bit like that.
From where the season currently stands, Ross's 2016 WARP is already higher than both his 2014 and his 2015 combined. To give that some perspective, he has amassed a 0.9 WARP in 70 plate appearances this year, and in 353 combined plate appearances in the past two seasons, he had a total of 0.8 WARP. And at a .297 TAv this year, he's hitting as well as he has since 2012, when he was with the Braves.
Really, we've seen far greater figures in the world of sports go down in the end in ways that are cringeworthy rather than esteemed. Like Michael Jordan huffing up and down the court in a Washington Wizards uniform thirteen years ago, or even worse, Muhammad Ali's last fight of his career. On that note: If you can actually sit through the whole thing, it's evident that he is not really in any kind of shape to be fighting. Hindsight has shown us that that went beyond just his outer self too. But on December 11, 1981, Ali went into the ring for the "Drama in Bahama" against Trevor Berbick for what proved to be an unceremonious end to a long and well documented career. Like blood from a stone, Don King was bent on manufacturing just one more grand event from Ali, and if the fact that the arena opened late because no one could find the keys wasn't omen enough, I'm not sure what it would take to see that this was not the way for a career like Ali's to end.
So some end with a bang, and some end with a whimper. Ross, to this point, seems like he's going to end with a bang. He has already achieved a career milestone (catching a no-hitter) that had somehow evaded him thus far, and has his sights set on another (100 career HRs—he currently sits at 99). Additionally, a Twitter based campaign to get him voted in for the All Star Game this year has mustered nearly 1,800 followers and has even garnered some national attention. Though Ross has impressed at the plate—for a backup catcher, sure, but in general, his .775 OPS and 104 wRC+ aren't anything to sneeze at—it has long been recognized that his greater contribution goes beyond a few extra base hits and a pair of homers. In March, Jeff Passan wrote about Ross and his clubhouse presence:
"He might be the only player in baseball who can hit .176/.267/.252, as he did last season, and be considered invaluable."
Along with that, in a USA Today piece in April, Bob Nightengale highlighted the fact that the contribution Ross brings to the clubhouse vastly outweighs whatever he might do at the plate. Jon Lester went so far as to plead with Cubs management to bring Ross to Chicago after signing here himself, and not just because he had been Lester's personal catcher, but because of the effect on the clubhouse culture Lester knew he would have:
"'Don't worry about his batting average or OPS or any of that. He will bring more than that. He will change the culture here.''
Both of his most recent managers, John Farrell in Boston and Joe Maddon here, have noted his value to their respective teams. Farrell went so far as to refer to him as the "unsung hero" of the 2013 championship team, and noted that having him on the team was like having a staff member on the 25 man roster. Maddon has described him as one of the greatest leaders he's been around as well.
So while his uptick on plate performance has been an advantageous bonus, his off the field value to the team is greater, though harder to quantify. But when he steps up and becomes Jason Hammel's personal catcher after Kyle Schwarber's injury and takes on a larger role when regular catcher Miguel Montero hits the disabled list with back trouble, we see a bit of a glimpse of what his managers and teammates are trying to show us when they talk about his value to a team. That said, if we compare his percentage of swings out of the zone, we sesome key differences from last year to this year. Together, they're contributing to his offensive resurgence. Here's a look at 2015:
And then so far this season: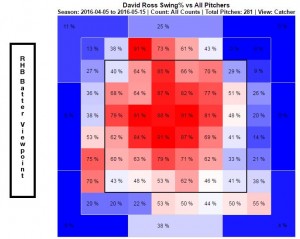 He's also had greater success hitting line drives this season than ever before in his career, at a clip of just above 28 percent so far. Here's a look at the first month and a half of this season compared to his 2015, courtesy of Brooks Baseball: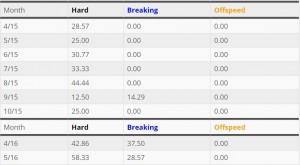 In all this represents what has been a significant change in some of what he's done with his bat this season. As shown above, he's swinging at far less outside the zone—a career low 22 percent, in fact—and his strikeout percentage has plummeted and sits at a full 10 percent lower than his career average. These are the things that come together for not just a memorable final season personally, but when this is paired with his clubhouse presence and effect on the rest of the roster, his value perhaps goes beyond what fits into a spreadsheet, chart, or list of stats. He won't quite get the fanfare of a Derek Jeter retirement tour or have his career remembered the way that Muhammad Ali has, but Ross has at least mastered one thing: He's ending on a high note, and whatever the rest of the season brings, he'll finish his career with a grace not always found in even some of the greatest stars.
Lead photo courtesy Kamil Krzaczynski—USA Today Sports.