The Phillies have been perhaps one of the National League's biggest surprises so far in 2016, and while they might be just a testament to the weirdness of baseball (their run differential doesn't quite line up with their spot in the standings) many Cubs fans are still getting over the last series between these two teams—also at Wrigley, last July—and so this series carries perhaps a little added interest. For now, it's about a needed return to Chicago after a very long road trip through Milwaukee, San Francisco, and St. Louis that proved difficult. The Cubs head into the weekend looking to add some cushion to their five game divisional lead, while the Phillies will be scrapping their way to gain some ground in the East.
Probable Pitchers:
Friday: Jon Lester vs. Adam Morgan
For Lester, this has been a start to the season probably more like what Cubs fans hoped for in 2015. When you take a step back from it, his numbers aren't that different from last year's totals, but the difference has been that he's started 2016 on the same note he left off in 2015. More specifically, though his K/9 has dipped some (8.5 so far this year), it's not out of sync from previous seasons. He's using his four seam fastball slightly more often this year, up to nearly 48 percent of the time, and much of this is due to a pretty significant increase this month: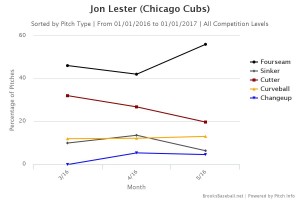 As for Adam Morgan, his Achilles heel has been an increased propensity to walk batters, a problem that is not going to serve him well this afternoon if he can't keep that under control. While most other numbers have stayed roughly the same for Morgan from 2015 to this year, his BB/9 rate has nearly doubled, from 1.8 last season to 3.2 in 2016. He relies very heavily on a near-92-mph fourseam fastball, with an occasional change or slider.
Saturday: Kyle Hendricks vs. Jerad Eickhoff
The Professor just has not pitched like a 5th starter, not this year and really not at all for the entirety of his career. Quite honestly, most teams don't have a back of their rotation like this. Kyle Hendricks remains steady in his habit of striking out more hitters than it seems like he should be able to, and fooling them on a change that compliments his sinker and four seam fastball quite nicely. Hendricks himself might feel like he's used his "heater" too often in recent starts, but in April it had a whiff percentage second only to that devastating change.

Eickhoff, Hendricks's opposite in tomorrow's game, might be having a more successful season if he spelled his first name correctly, but I'll grant that that's hard to prove. In terms of performance thus far, Eickhoff and Hendricks aren't that far from each other, so Saturday's game is likely to be one that might be decided more by the work of the respective bullpens. Eickhoff is technically a five pitch guy, but his change and slider are pretty rarely seen. Otherwise, he uses a pretty even mix of a four seamer, curve, and sinker.
Sunday: John Lackey vs. Vince Velasquez
Surprisingly, Lackey has in many ways outperformed his stellar 2015 campaign. He's striking out more batters, giving up fewer hits, and even allowing fewer walks. He's sporting a 0.95 WHIP currently (He's never had a sub-1.00 WHIP in a full season, mind you) and he's already surpassed last season's WARP totals by 0.2, although pitcher WARP is notoriously finicky and unreliable. His velocity is picking up from April as well. It's very slight, but across the board, he's throwing each of his pitches just a touch faster. He's also using his four seam and curve more this month than he did in April.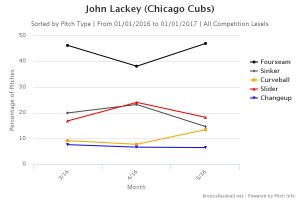 Of the three Phillies pitchers that the Cubs will face this weekend, Velasquez is likely to be their toughest challenge. He will get a lot of strikeouts (10.5 K/9 so far), and the left handed hitters are going to have a tougher time against him (.231 TAv compared to .275 against righties). He throws a very hard fastball that has been averaging just over 95 mph this season. It's far and away his primary pitch, and with good reason, given the velocity.
What to Watch For: The Phillies have been sneaky in their success, and though they still sit behind the Mets and Nationals in their division, they shouldn't be overlooked. Today and Saturday look like rather favorable matchups for the Cubs to secure a series win going into Sunday, the game that stands to be their biggest test of the weekend.
Anthony Rizzo has been going through a pretty rough stretch, at risk of underselling it. He's had just three hits since May 14, and maybe, just maybe, he's due for a day off. Given the difficulties lefties have generally had against Velasquez, Sunday might be a good day for that to happen. It's also possible that by Sunday, Rizzo will have hit a home run in each of his at bats, thus rendering this a moot point. However, it might be time for at least one half of Bryzzo to take a day off. He's not likely to get many this season.
The Cubs have the best home winning percentage in baseball, and a long stretch of games at Wrigley should prove favorable, although facing Clayton Kershaw during next week's series with the Dodgers won't exactly be home cooking. But I'm getting ahead of myself here.
During the Cubs' rough stretch of games against the Brewers and Giants, their hitting with RISP was absurdly poor, a trend not really indicative of their ability so much as some bad luck, good defense, and baseball weirdness. The combined 17 runs of Tuesday and Wednesday's games in St. Louis was a bit of a reversal of that trend, and one that hopefully continues.
Lastly, the bullpen. Every team has a wart somewhere. For the Cubs, the wart isn't that big. But if that thing is going to fester into something dangerous though, it's probably in the bullpen. Really, you do have to nitpick to find genuine flaws here, and some of the bullpen arms are getting roughed up by BABIP to some degree, but in a series that will probably feature at least one short start on Saturday, they'll be needed to keep the Phillies offense in check.
Broadcast Information:
All three games are afternoon matinees, as the Good Lord intended it, so it will be the same start time (1:20 CT) today, Saturday, and Sunday. They'll rotate through the local networks, however, with today's game on CSN. Tomorrow, they'll be on ABC, and of course, Sunday afternoon's game is on WGN.
Lead photo courtesy Raj Mehta—USA Today Sports.