When the Cubs picked up John Lackey during the offseason, the starting rotation finally felt like that of a team vying for a championship. The top two were never a question—Jake Arrieta and Jon Lester were always going to be the 1-2 punch at the top of the rotation. But following those two up with soft-tossing Kyle Hendricks and second-half-bust Jason Hammel made lots of fans nervous. And so here was the perfect number-3 starter: a veteran with playoff experience that could take the ball for a potential game 3 in the postseason and soother all our nerves.
And then 2016 came around. Arrieta and Lester are doing their thing, while Hendricks has pitched so well he has some folks demanding he take the ball in the third game of a playoff series. So far he's posted a ridiculous 2.09 ERA, a 0.98 WHIP, and a 22 percent strikeout rate—all without breaking 90 mph. Remember those Maddux comparisons from a few years ago? At least now he has some Maddux-like numbers to fuel the fire.
Hammel has also pitched well, and his second-half numbers are doing everything they can to reverse the stigma that he's only a first-half pitcher. He's sporting a 2.68 ERA in the second half (actually better than his 3.46 ERA in the first half) and a .230 batting average against, which is a nice change from the .280 the league has hit against him for his career. This despite giving up 13 runs in his last two starts (it's only one start if you ask Hammel).
Not only that, John Lackey has been even better than advertised. His 3.41 ERA may not look like much, but his WHIP (1.042) and K% (24.9) are career bests (so far). Also, the guy got off to a terrible start in his first year with the Cubs (4.97 ERA in April and March). And while he's currently on the DL, it doesn't appear to be anything serious.
You see where I'm going with this? The Cubs' starting rotation is really, really good. Let's take a look at how well the starters have been (this includes all starts from all pitchers):
ERA
FIP
WHIP
K/9
BAA
HR/9
2016 Cub Starters

1st (2.90)

4th (3.73)

1st




(1.07)

4th (8.46)

1st




(.208)

T- 3rd (0.98)
All numbers are as of Sunday.
It's nice to lead the league in ERA, but it's pretty amazing to distance yourself from the rest of the pack the way the Cubs have: the Nationals are in second with a 3.53 ERA—that's 63 points behind! Not only that, the Nationals are also in second place with a .228 opposing batting average, and that's 20 points behind the Cubs. While the FIP (and ERA/FIP differential) leaves something to be desired, this starting rotation is incredibly good.
But is it historically good? I set out to answer that question by taking a look at some of the best rotations in the past 30 years (or so) and compare their numbers to the 2016 rotation of Arrieta, Lester, Lackey, Hendricks, and Hammel. These numbers do NOT include all starts by all pitchers, it looks at only the five starters that had the most starts.
How did I pick the rotations to look at? I browsed several "best MLB rotation" articles and picked out the ones that had the best numbers I like to look at. Scientific? No. Fun? Perhaps. Let's take a peek:
| | | | | | |
| --- | --- | --- | --- | --- | --- |
| | ERA | FIP | WHIP | K/9 | Champs? |
| 2016 Cubs | 2.85 | 3.60 | 1.06 | 8.46 | ? |
| 1998 Braves | 2.98 | 3.34 | 1.16 | 7.52 | Nope |
| 2011 Phillies | 2.75 | 2.93 | 1.10 | 8.17 | Nope |
| 1992 Braves | 2.99 | 3.42 | 1.20 | 5.88 | Nope |
| 1988 Mets | 2.92 | 3.18 | 1.12 | 7.15 | Nope |
| 2016 Nationals | 3.41 | 3.40 | 1.14 | 9.28 | ? |
1998 Braves: Greg Maddux, Tom Glavine, Denny Neagle, Kevin Millwood, John Smoltz
2011 Phillies: Roy Halladay, Cliff Lee, Cole Hamels, Roy Oswalt, Vance Worley
1992 Braves: John Smoltz, Steve Avery, Tom Glavine, Charlie Leibrandt, Mike Bielecki
1988 Mets: Dwight Gooden, Ron Darling, David Cone, Bob Ojeda, Sid Fernandez
2016 Nationals: Max Scherzer, Tanner Roark, Gio Gonzalez, Stephen Strasbourg, Joe Ross
A few things jumped out at me right away. First of all, the Cubs rotation has the largest ERA/FIP differential, and it's not even close. Does that mean Cub starters have been lucky? It could, but that differential is better explained with one word: defense. The 2016 Cubs have the best defensive team in baseball (I know, I know…another #1 ranking). How good is it? See for yourself: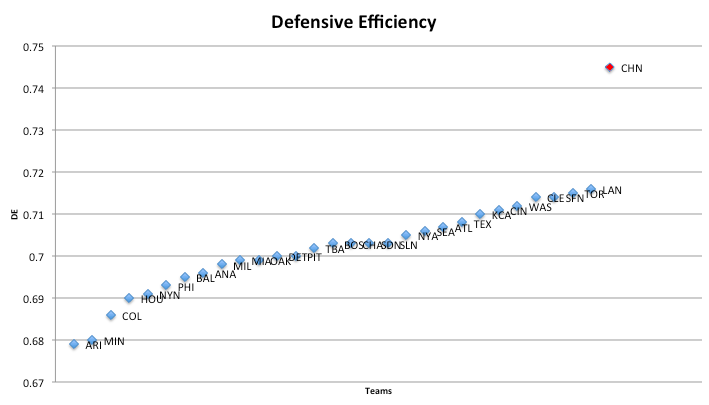 You can't really penalize the rotation for having a great defense behind them, right? You could, but then you're missing an important point: it's a team game. These types of correlations (a great defense makes the pitching staff look better) happen all over the diamond—that's just part of the game. While we can pull individualized stats for just about anything, wins and losses are given to the whole team. It's a cliché at this point, but you win and lose as a team.
While the Cubs' FIP is the highest of the bunch, the WHIP is a sterling 1.06 and they're second in K/9. Does this make them the best of the bunch? You could make the case for it, but you could just as easily make the case that the 2011 Phillies are the superior team. Their ERA and FIP lead the pack, and they're right behind the Cubs in the WHIP and strikeout department.
The one piece of information we don't have is what this rotation will do the rest of the way. Will Hammel continue to fall apart? Will Lackey come off the DL and remain effective? Can Arrieta finish strong? Will Hendricks continue putting up these video-game numbers as the team heads into the postseason? We won't know until we do, and Cub fans really shouldn't care. The point is this: the 2016 Cubs (rotation included) are having an all around incredible season.
Now they just have to keep it going as long as they can.
Lead photo courtesy Dennis Wierzbicki—USA Today Sports.