Tangentially Related Introduction for the Series Preview 
Among the most prized possessions of my childhood was a Mickey & Minnie autograph book filled with the signatures of a dozen or so Houston Astros players. In the winter of 1993, my family rented a house just outside of Orlando, about a five minute drive from the Astros spring training complex in Kissimmee. Since we were there for two weeks of Disney-ness, there was no expectations of going to any of the local spring training sites, be it the Astros in Kissimmee, the Royals in Baseball City, or the Indians in Winter Haven. For my baseball-addled mind, that was not acceptable, but I, a moody, pudgy child with jean shorts and a bowl cut, was just one of five family members, and the only one who wanted to devote valuable vacation time to watching pitcher's cover first base on side fields.
But then, a stroke of amazing, selfish luck! About five days in to the trip, my two younger brothers broke out simultaneously in the chicken pox I had suffered through a few weeks earlier. As a result, all Disneying had to be put on hold while they recovered, and my dad, forced to entertain his eldest son, a walking tantrum in Buggle Boys, relented, and the two of us embarked on a spring training tour of Central Florida. I grabbed the only thing I could find capable of holding autographs: a pinkish plastic autograph my parents had bought us for character autographs at the theme parks.
After getting lost en route to Cleveland's complex, we arrived at Houston's spring home. By then, it was late afternoon and player's were beginning to exit the facility. I quickly scurried to join the crowd milling around the player's parking lot. The next 15 minutes were a whirlwhind of tall ballplayers with 1990s facial hair scribbling in my book en route to their cars: Eric Anthony, Doug Drabek (that winter's prized free agent pitcher), Pete Harnisch, Scott Servais, Eddie Taubensee, Gregg Swindell, Peter Harnisch, and a score of minor league pitchers and catchers. They were friendly, patient, and even chatty. A few minutes later, we snuck on to the empty main field, where my dad snapped pictures of me on the outfield dirt. It was the best day of my young life.
The book made its way back to central Massachusetts, where I immediately brought it in for show and tell. Imagine my suprise, though, when not a single one of my fellow second graders were impressed by an Eddie Taubensee autograph. Undeterred, I'd show it off throughout elementary school, and then return it to the safety of my dresser drawer. Sadly, during the course of the next decade, the book was misplaced. However, a piece of the Astros and Drabek's mullet will remain with me forever.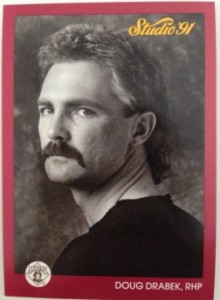 Now, whether these events have any bearing on the Cubs three-game series starting Friday in Houston remains to be seen. More than anything, though, I just wanted BP-Wrigleyville readers to know I had Scott Servais's autograph.
Anyways…
In 2016, no team has threatened to get back in to the playoff race and disappear from it with greater regularity than the Astros. They began the season 17-28. Since late July alone, they've had five winning streaks of at least three games, and three losing streaks of at least three games. Entering the weekend, they sit 9 games behind the Texas Rangers in the West, and 2.5 games out of the second Wild Card. The Astros have slightly outperformed their third-order winning percentage (.532 to .512), and despite being well back in the division, it ranks them as the best team in the AL West.
The Astros offense ranks in the top half of the AL in most offensive categories, and features five everyday players with at least .283 TAv and .459 slugging percentage. I don't need to tell you, astute, BP-reading baseball fan, about Jose Altuve's brilliant season, but I will anyways because it's fun. Altuve is putting up monster numbers (.344/.406/.552, 6.3 bWARP), and is the front runner in the AL batting race. He's joined by Carlos Correa, who's following up his Rookie of the Year campaign with an equally as impressive sophomore effort (.274/.362/.460, 54 extra base hits). Meanwhile, big Evan Gattis continues to mash (24 home runs and .240 ISO).
The team's bullpen has been their real strength. Among AL teams, they rank first in FIP and WHIP, and second in strikeout rate. Ken Giles, Michael Feliz, Will Harris, and Luke Gregerson have all made at least 41 appearances and own 2.73 DRA or better. Giles took over the closer duties in early August, and he's been pretty good in the role (1.09 WHIP, 38.1 percent strikeout rate, no blown saves). Since the move, Giles has favored his slider (52 percent) to his fourseam fastball (48 percent), and has seen his average fastball velocity increase to just a shade under 99 MPH. Harris remains a revelation in the late innings, posting 22 holds and 11 saves. He owns the team's best WHIP (2.25), and relies exclusively on his cutter (67 percent) and curve (33 percent).
The Astros are fighting for their playoff lives. The Cubs can inch oh-so-close to clinching the division. It's a big September series deep in the heart of Texas. Let's keep breaking it down below, ya'll…
Probable Pitchers
Friday: Jon Lester vs. Joe Musgrove 
By any metric, Lester has been rolling in his nine starts since the All Star break (0.96 WHIP and .520 opponent's OPS). During this stretch, he's upped his fourseam usage to 50 percent, and against it batters are slugging .153. A season ago, Lester struggled to locate this pitch with consistency, and batters slugged .424. I have written it many times since the start of 2015, but it's become exceedingly obvious that as Lester's fourseam placement goes, so goes Lester. The Astros present a challenge, as they've been better than league average against left handed pitchers.
Musgrove, the 2011 first round pick of the Toronto Blue Jays, is coming off a brutal start at Texas, allowing five earned runs on 10 base runners in 4 1/3 innings. Musgrove has experienced some power struggles, allowing seven home runs and .524 slugging perentage since making his major league debut in early August. The big right-hander goes primarily to his fourseamer (44 percent) and slider (34 percent). When ahead in the count, Musgrove will jump that slider rate to 50 percent.
Saturday: John Lackey vs. Collin McHugh
As we begin to turn our attention towards the postseason, it'll be interesting to monitor Lackey's pitch selection. Last off-season, I wrote at some length about Lackey experiencing later-career success by upping his combined fastball usage (fourseam and sinker) to about 70 percent in the name of pitch efficiency and getting ahead of batters. Among NL starting pitchers, Lackey finished with the second fewest pitches per plate appearance and third fewest pitches per innings pitched.  This season, Lackey has remained remarkably efficient (ninth in pitches per plate appearance and second in pitches per inning), but he has reduced his combined fastball usage to about 57 percent, while increasing his curve and change use. There is a reason for this. Lackey's fastballs, long strengths, have been ineffective this season.Batters are slugging .462 combined against his fastballs, but just .340 against his curve and change. Come October, will Lackey maintain his 2016 usage rates, or return to the rates that brought him such success from 2013-2015?
Like a burnt out parent anticipating the start of a new school year, McHugh must have been happy to see the calendar turn to September. In eight starts, dating back to July 29, batters are hitting .347/.387/.575 against McHugh, while he's sporting a 7.28 ERA and 1.74 WHIP. He's allowed 10 home runs during the stretch, with opposing offenses hammering his go-to pitch (fourseam fastball, 37 percent usage) with an .820 slugging percentage. Never a swing-and-miss type pitcher, McHugh has been getting particularly hammered on just about anything and everything he leaves over the plate: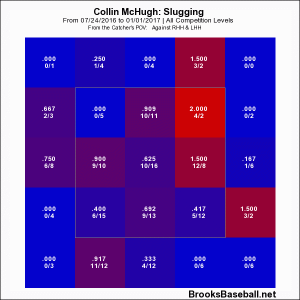 Now, some of this could be bad luck (.401 BABIP during the stretch) and McHugh's overall season numbers suggest respectability (3.96 DRA). While not much has worked for him lately,  Cubs batters should remain wary of McHugh's big, slow curve, his number two pitch (31 percent usage), against which hitters are slugging .359, and with which he goes to more than 40 percent of the time with two strikes.
Sunday: Jake Arrieta vs. Mike Fiers 
Arrieta is coming off a nice rebound start against San Francisco, after being knocked around about by Pittsburgh in his previous start. Worth monitoring, however, as  October looms is Arrieta's ability to throw strikes early in the count and get ahead of batters as he gets deeper into games. Against the Giants, Arrieta got ahead of 9 of 12 batters in the first three innings, but just 4 of 13 in innings four through six. With thousands upon thousands of words written about his control issues.
After a solid 2015 stretch run for the Astros, Fiers is posting below average numbers across the board (4.79 DRA, 1.35 WHIP, 18.1 percent strikeout rate). The right-hander has some serious reverse splits, with right handed batters hitting .282/.334/.505, including slugging .645 against his fourseam fastball, the pitch he goes to 40 percent of the time. With two strikes, Fiers will cut his fourseam usage, and mix in a curve (30 percent) and change (22 percent).
What to Watch for
While attention is paid primarily to the all-world middle infield combo of Altuve and Correa, George Springer is quietly on pace for a six win season, according to bWARP. And the Cubs pitchers are running into him during a prolonged hot stretch at the plate. Since an early-August slump dropped his OPS to .800, Springer is hitting .282/.419/.495 in his past 27 games. Expect Arrieta and Lackey to attack Springer with a steady stream of sinkers and sliders, while staying away from fourseam fastballs. This season, Springer has feasted on fourseamers from right handed pitchers (.555 slugging percentage. 640 during his hot streak), but has been vulnerable to both sinkers (.360 slugging percentage) and sliders (.244 slugging percentage) from right handers.
Broadcast Channels, Game Times
All start times are Central Standard Time
This weekend's interleague match-up features a smorgasbord of start times and networks.  Friday's opener is on WGN, with first pitch scheduled for 7:10. The rest of the weekend the Cubs go national. On Saturday, it's a 12:05 start time on FOX. The series finale finds them back in primetime on ESPN Sunday Night Baseball, with first pitch at 7:00. Enjoy the games!
Lead photo courtesy David Richard—USA Today Sports.