As the Chicago Cubs head into the holidays after a fairly active winter meetings, we take a look at the next complementary piece. The bullpen as of today includes newly-acquired Wade Davis as their closer with primary setup men Hector Rondon, Pedro Strop, and Carl Edwards Jr. The is a very good, but entirely right-handed ground. So, you could imagine problems arising late in games or in high leverage spots when the Cubs are facing the Adrian Gonzalezs, Bryce Harpers and Daniel Murphys of the world and they want a dominant left hand pitcher to face them. This role, of course, was filled by Aroldis Chapman in the second half of 2016. While he mostly was used for one inning saves initially, as the playoffs went on, he started being used for longer stints and higher leverage situations with men on base. A candidate from last year who would seemingly fit this role is Mike Montgomery. Montgomery gained the confidence of Maddon with his ability to get both left handers and right handers out in different scenarios. But Montgomery is also expected to compete for a starting spot (and likely get it), so this option might be off the table. Let's look, then, at other left-handed options for the Cubs.
Current Lefty Relievers:
Brian Duensing - In an under-the-radar move, the Cubs signed 33-year-old Brian Duensing to a one-year deal a few weeks ago. Duensing is a lefty who has pitched eight seasons at the big league level. In the first four seasons of his career, he got experience in both the bullpen as a starter but has predominantly been a reliever since 2013. Duensing will not overwhelm anyone—for his career he has a 5.95 K/BB ratio. He relies on his four-seamer and sinker to generate a high number of ground-ball outs and uses his slider as his put away pitch to both lefties and righties. He's always been effective against lefties, and could a solid LOOGY in the Cubs 'pen.
Caleb Smith - The Cubs acquired Smith from the Yankees system, through the Brewers, in a Rule 5 Draft trade. The deal now is that Smith has to stay on the 25 man roster throughout the season—otherwise he is sent back to the Yankees. Smith, only 25 years old, was drafted in the 2013 draft and like Duensing has experience both as a starter and reliever at levels as high as Triple-A. If it works out, Smith could be a good fit for the long man's role in the bullpen, similar to Montgomery's last year. Smith's K/BB ratio is higher than Duensing, making him more of a threat to garner more swings and misses—his rate last season was 9.90 K/BB.
Free Agent/Trade Targets:
Justin Wilson - Wilson was rumored as trade target by Jon Morosi of FoxSports.com recently. He is under team control through 2019 and is only arbitration eligible for the second time this season. Wilson relies heavily on three pitches a four-seam fastball, a sinker, and cutter. These three pitches sit comfortably in the mid-90s, and, as you can see below, he mixes in a variety of other pitches at lower rates. Wilson's two best years were in 2013 and 2015, when he registered ERAs of 2.08 and 3.10 respectively. Since 2013 he's been a workhorse, registering at least 58 games pitched in with at least 59 strikeouts in 60 innings. He, however, is a different case than the two relievers below, as he'll cost prospects to add in a deal.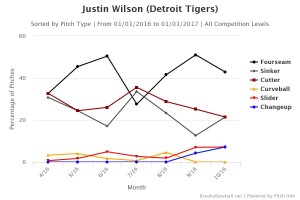 (via Brooksbaseball.com)
Javier Lopez - Lopez, who was formerly with the Giants, was one of the relievers who allowed the Cubs to come back in Game 4 of the NLDS. The 39-year-old has been one of the most used relievers from 2010-2016. He's appeared in 77, 77, 70, 69, 65, 77, and 68 games, showcasing how reliable and durable he's been. He's also a veteran who's won four world series and who would be a great complement to many of the young cubs players in the bullpen. In Lopez's 68 games last year, he only pitched 26 and 2/3 innings which tells us he mainly was in to retire one or two batters in his line of work. Below, you can see Lopez's pitch usage throughout the year last year. He predominantly uses his four-seam fastball, changeup, and slider. The interesting part of the graph is that he tailed off in using his slider and actually used his changeup more often to balance with his four-seam fastball.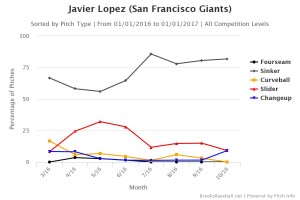 Boone Logan - Logan debuted with the Chicago White Sox at age 21 and has pitched in 583 games in his long career. He, like Lopez, is predominantly a lefty specialist or at most a one-inning reliever. Entering his 11th season in the majors, he has experience in both the American League and National League.  He's recently coming off a stint with the Rockies, in which he had three slightly below average years at noted hitters park Coors Field. His WHIP was especially impressive last year, though—he hovered right around the one mark. He also had 57 strikeouts to 20 walks, which gave him a fairly decent FIP of 3.23. Logan has made about $24 million in his career; I could see the Cubs taking a chance on him at around three to five million for the year.
There aren't any dominant lefties available, but there are options, and the Cubs have repeatedly proven that they can mix and match pieces until they find something that works. Here are some of those potential pieces.
Lead photo courtesy John Hefti—USA Today Sports