Position: Starting pitcher
2016 Stats: 190 IP, 22.8 K%, 5.9 BB%, 2.13 ERA, 3.34 DRA, 4.4 WARP
To say that Kyle Hendricks' 2016 season piqued the interest of baseball in the same way that Jake Arrieta's 2015 season did feels irrational at first blush. But it truly isn't. Just two years ago, Hendricks looked to be every bit of a flash-in-the-pan type during his major league debut. He had the stuff, and there were believers out there. But many baseball folks just didn't see past the fact that the young righty just looked as though he was today's Greg Maddux impersonator. His velocity didn't frequently touch 9o, his third pitch wasn't quality enough to get him through the order three times, and though being a contact pitcher isn't always a bad thing, Hendricks ended his 2014 season with a K% of just 14.6% during his 80 innings of work.
Flash forward to just two years later, and the question rolling off the tongues of Cubs fans was "Do you think Kyle Hendricks could win the Cy Young award this year?"
Hendricks didn't just improve in 2016, he dazzled baseball with a run that was as unrealistic as it was fascinating—much in the same way that Arrieta captured the hearts of baseball fans in 2015. What Hendricks did wasn't just something incredible in the context of the type of pitcher he was, it was a feat that seems to defy the odds that even the strongest believers would ever put the 27-year old California native up against. Baseball wasn't sure of the story that was being woven right before their eyes each night, or when it was going to end. Neither did Hendricks. And here we sit when the end of the road has come and gone, and Hendricks has ended the season with the lowest ERA in baseball this year at 2.13. (Hendricks went as far as to get his ERA to just 1.99 on September 26th)
Refining a pitcher's talents is a fundamental part of development, an area of expertise in the Cubs organization. That aspect doesn't always end the moment a player hits a major league field for the first time. Hendricks has always been a solid contributor to the Cubs' rotation and has always been deserving of his time spent in the majors, but there has always been just a bit more of him to uncover. This year, we saw the result of tweaks and tinkerings that needed to be made in order to unleash Hendricks' full potential.
And the Cubs certainly did tinker. Hendricks added significant break to his curveball this season and perfected his third pitch—the changeup—to become a useful weapon that now helps him not simply survive facing an order a third time, but also thrive while doing so. Hendricks has harnessed control of the strike zone, which is proven in his numbers. Take a look at some of these stats from the past three years Hendricks has been in the majors:
| | | | | | |
| --- | --- | --- | --- | --- | --- |
| | ERA | FIP | DRA | K% | BB% |
| 2014 | 2.46 | 3.32 | 3.96 | 14.6 | 4.7 |
| 2015 | 3.95 | 3.36 | 3.13 | 22.6 | 5.8 |
| 2016 | 2.13 | 3.20 | 3.34 | 22.8 | 5.9 |
Notice that though Hendricks drastically improved his pitching performance in terms of ERA, his peripheral numbers, and from 2015 to 2016, his strikeout and walk rate stayed nearly the same. What the peripherals tell us is that for a ground ball and contact type pitcher such as Hendricks, he's had an exceptional defense behind him that greatly aided him in his success. Of course, because of the similarity in these peripheral numbers from year to year, there is another explanation for the drastic drop in Hendricks' ERA in 2016. That simply has to do with Hendricks himself. Take a look at some of his contact numbers over the last three seasons:
| | | | | |
| --- | --- | --- | --- | --- |
| | Z-Contact % | O-Contact % | Z-Swing % | O-Swing % |
| 2014 | 88.9 | 71.8 | 62.5 | 33.8 |
| 2015 | 89.1 | 66.9 | 58.1 | 29.8 |
| 2016 | 85.3 | 61.9 | 55.6 | 30.8 |
Control was never the major concern. From 2015 to 2016 Hendricks' zone percentage increased by just 1.2 percentage points, from 47.8 in 2015 to 48.8 in 2016. Command of the strike zone, and movement on his pitches was the most important improvement that Hendricks made in 2016. Note that Hendricks' zone contact rate went down, indicating he was locating better, his outside the zone contact percentage went down (while his swinging strike percentage rose nearly 2 percentage points in 2016) as well as his outside the zone swing percentage, indicating that he had more swing-and-miss type stuff, and was locating it well.
The biggest improvements were in Hendricks' changeup, which he finally perfected to become an absolutely exceptional weapon, and the movement on his curveball. His curveball velocity decreased, averaging just 74 mph by October (he averaged as high as 79 mph on the pitch in April 2015), allowing for better movement on the pitch which is reflected here. The pitch was no longer being hung over the plate long enough for hitters to feast on: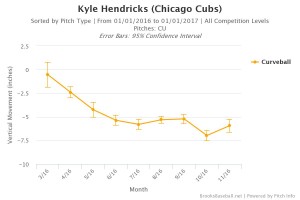 Overall, the gist of Hendricks' success was that he gained better command of the strike zone, improved his curveball thus adding a strong, improved third pitch to his repertoire, and had an incredible defense behind him in 2016. All things that will leave him prepared to enter 2017 as Kyle Hendricks 2.0.
Looking Ahead: Just as it was with Arrieta, expecting Hendricks to replicate his 2015 season would be a tall task. That's not to say that Hendricks isn't this pitcher, and that he can't or won't continue to be this dominant. But with situations in baseball like this, it's a matter of being ahead of the curve, which Hendricks was. The rest of the league simply wasn't prepared to adjust to the changes that Hendricks made that helped him improve to these levels quickly enough. This isn't a fluky thing, though; Hendricks has made legitimate changes to his performance and his arsenal so that he now can fight back when the league does adjust. He won't have his back against the wall any more.
Defense is always going to be key in Hendricks' performance as well. The defense behind him in 2016 was one of the best in baseball, and, as we saw, everything was simply working in tandem and flowing for the Cubs on the field. A large part of that contributed to Hendricks' success, and it was one of the largest trepidations folks had with the idea of him winning the Cy Young award. Part of the defensive landscape has changed for the Cubs this offseason, but they're still slated to be above average in that department.
Hendricks has improved on all fronts in 2016, and these changes are here to stay. It's time to welcome in a new and improved, more refined version of Hendricks from here on out. No one can be sure how much better Hendricks can get, he isn't going to be a mow-down-strikeout type of pitcher, but looking back at the pitcher he was in 2014 will make one stop and think that even if this is as good as it gets, it's a pretty successful outcome.
Lead photo courtesy Tommy Gilligan—USA Today Sports