One of the bright spots in the Cubs organization this summer has been the pitching performance of Adbert Alzolay. The 22-year-old right-hander from Venezuela has a fastball that has been sitting 95 to 96 most nights. While his secondaries still need work, he is an intriguing starting pitching candidate beyond this year.
With an ERA of 3.14 in 12 starts, a .214 opponent batting average, and 61 strikeouts in 63 innings, Alzolay is off to his best start as a Cubs' prospect. Alzolay credits some of his success to Myrtle Beach pitching coach Anderson Tavarez. Tavarez told Alzolay to speed up the time between pitches. In other words, Alzolay should not give the hitter (or maybe himself) too much time to think.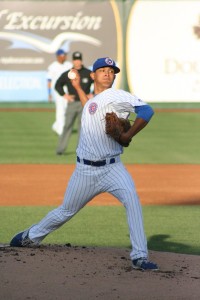 Current Info
6', 179 lbs.
22 years old
Throws Right
Starting pitcher

Strengths
Mid 90s fastball
Hard to hit down in the zone
Improving curve
Can throw up to four pitches for strikes

Areas of Concern
Consistency and Efficiency
Leaving secondaries up in the zone
Pacing
Heading into 2017
Before the season, Alzolay had one of those even/odd year career things going. In odd years, he was very good, and even years he was extremely inconsistent. Last year at South Bend, he was very good in April and May with ERAs of 2.82 and 3.27. But then, his June, July, and August ERAs were abysmal at 7.17, 5.02, and 4.29. It was not a good second half. For the year, he struck out 81 in 120.1 IP, nowhere near his 2017 rate.
Alzolay's fastball command is very consistent from start to start. Whether it's the first inning or the sixth, he pretty much puts the ball where he wants to and is usually between 94 and 96. Sometimes, he tops out a little higher at 98 or 99, but very rarely does he go below 93.
Some Struggles
Up until recently, he has been pretty consistent this year.  His last two starts have seen him give up some long balls and lose some of his efficiency. Earlier in the year, he was often going seven innings on just 80+ pitches. In his last outing on June 8, I watched him struggle to get through four innings on 86 pitches while giving up three runs. He still struck out eight, but it was not pretty.
For the first few innings, he looked outstanding. As the game went on, it looked like he started to speed up just a little bit in his delivery. At times, he looked to be flying open. Two balls ended up leaving the building before he exited.
Going Forward
To be honest, he looked to be rushing his pitches. I think the key for him going forward is to develop a pace that allows him to keep his mechanics in check. I like the fact that there is not a lot of time between pitches, and Alzolay does not give the hitter much time to think. But Alzolay also needs to get the ball and throw pitches that allow his body to do what it does best naturally and not be rushed or forced.
Two years ago, there was some talk of Alzolay staying in the bullpen, where he had just been outstanding for Eugene. I could see that with him later. But right now, I think it is best for Alzolay and the Cubs to work at this starting thing. This year he has really grown as a pitcher. It's not often that you can find a guy that can throw 96 sustained throughout a game with solid fastball command. You can build off of that.
Lead photo—Larry Kave/Myrtle Beach Pelicans
Side Photo—Rikk Carlson