What You Need To Know Part 1: Whew. After heading into the bottom of the ninth inning with a 5-0 lead and seemingly playing a game of screw the closer that was reminiscent of the 2016 season, former closer Hector Rondon and current closer Wade Davis combined to almost complete the "closer screws you" game by giving up four runs. Thankfully Davis was able to strike out Ryan Zimmerman to end the game with the winning run on second, allowing the Cubs to avoid what would have been their most gut wrenching loss in an already frustrating 2017 season.
What You Need To Know Part 2: For those of you that predicted in spring training that Eddie Butler, Mark Zagunis, Jeimer Candelario, and Ian Happ would be starting for the Cubs in late June, you should probably start day trading. The starting lineup for the Cubs tonight had an average age of just over twenty four years old, so of course in keeping with the bi-polar nature of the 2017 season, the young Cubs came through and defeated the NL East leading Nationals. Willson Contreras led off the game with a home run, since that's what new Cub leadoff hitters do nowadays. But tonight was the Javy Baez show. In typical Javy fashion he jumped out at you whenever he was on the screen, both negatively (three strikeouts in his first three at bats), and positively (single and double to extend his hitting streak to a career high eight games). As usual Baez' best work tonight came in the field.
Javy mercy. pic.twitter.com/cclJzyHy7W

— Chicago Cubs (@Cubs) June 27, 2017
Next Level: Prior to adding on what turned out to be the game winning runs in the later inning, the Cubs once again struggling driving in runners in scoring position in the early going of tonight's game. Below I've taken the 2017 RISP splits for the 2017 season.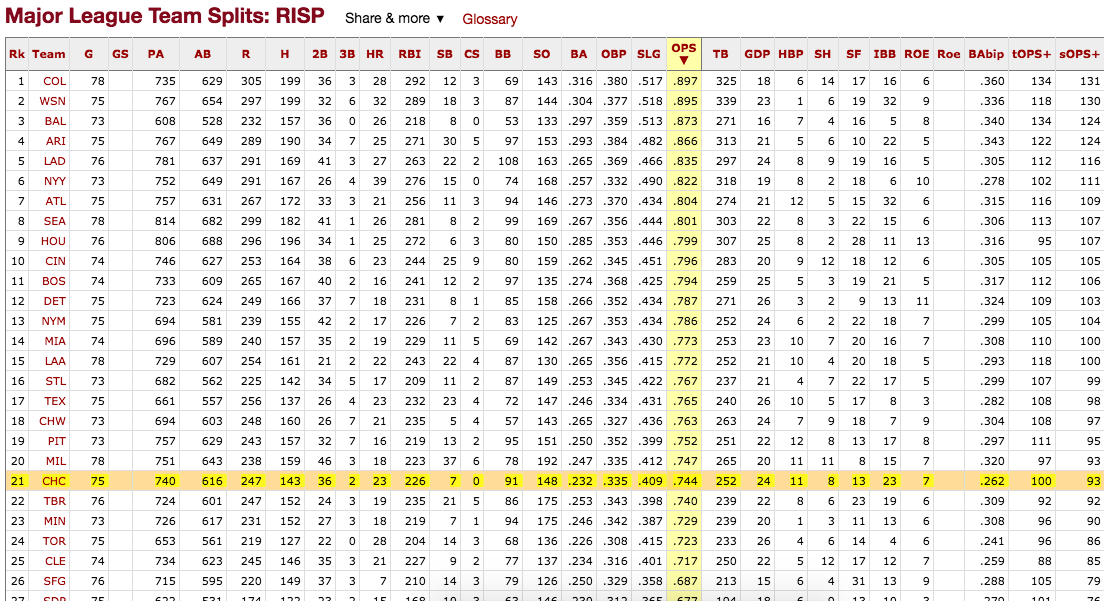 The Cubs rank twenty-first in the majors in OPS with RISP, and honestly that feels too high. On the one hand the Cubs team BABIP with RISP is at an unsustainably low .262, but on the other hand that BABIP is earned with the amount of soft contact generated off of the Cubs hitters thus far in 2017. As with everything with hitters (especially young ones), there will be ebbs and flows with the RISP numbers. All we can do is ride the roller coaster and hope that the true talent of the Cubs rises to the top.
Top WPA Play: The aforementioned Wade Davis strikeout of Ryan Zimmerman to end the game (+.244). Even on their worst days the Cubs bullpen still looked better than the Nationals bullpen, so I guess they have that going for them.
Bottom WPA Play: Bryce Harper's single off of Davis in the bottom of the ninth to load the bases and put the winning run on base (-0.084).
Lead photo courtesy Geoff Burke—USA Today Sports