What You Need to Know: 
The Cubs struck early in the first when Taijuan Walker lived up to his name: three walks and a passed ball later, the Cubs had a 2-0 lead. Kris Bryant added an RBI single in the third, and Kyle Schwarber—in his first game at Chase Field since his injury last year—crushed a long home run in the sixth. Alex Avila followed with a long home run of his own, and the Cubs would add insurance late.
John Lackey was pretty good through five and a third, allowing three runs on just three hits. Tonight was an important victory, as the Cubs try to salvage this west coast roadtrip.
Next Level:
John Lackey had another solid, if not spectacular, outing, and it's been a trend for him recently. The 38-year-old doesn't often come in for praise in the Cubsphere, but he's been good for a while now, and it's worth taking a look.
Over his last six starts and 32.1 innings, Lackey has allowed 13 runs, good for a 3.62 ERA. That doesn't jump off the page, but considering Lackey's previous performance and the fact that the league average ERA is up near 4.50 this year, it is notable. No one would mistake Lackey for anything close to an ace at this point in his career, but he is once again performing like a very viable end of the rotation starter.
Has something actually changed, though, or is this streak of better performance just randomness? Lackey is often seen as unmoving and resistant to any change, but he does seem to have made a few adjustments as he headed into July. Data points to some sort of mechanical adjustment—something in his horizontal release point changed in July. In the graph below (from BrooksBaseball), July and early August data is showing that for each pitch, the horizontal release is tighter for Lackey than it was earlier in the season. For example, if you look at the slider data, the two bubbles with the highest release points correspond to July and August.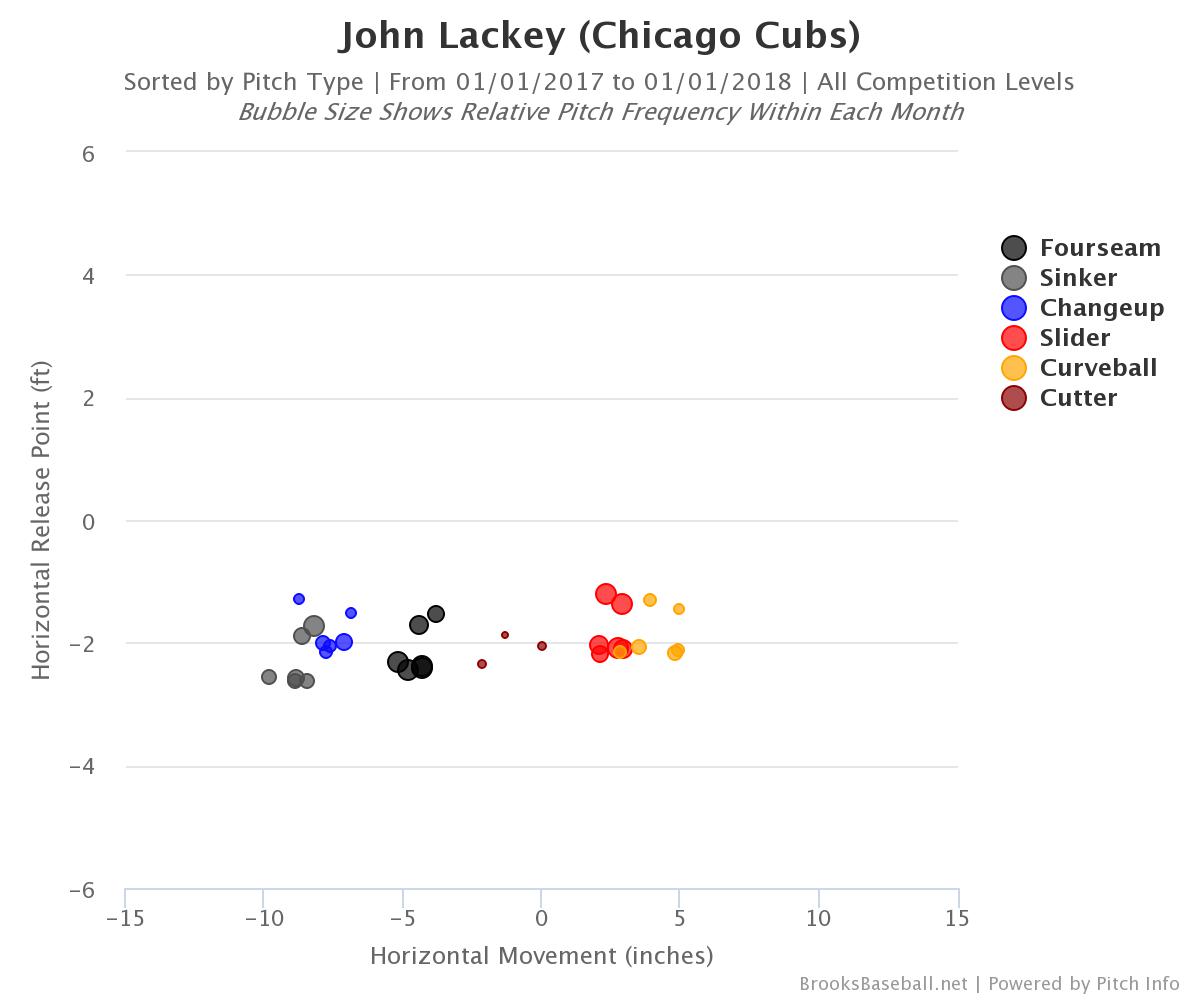 The change is even easier to see here, where you can see the fairly dramatic change in release point. It's always difficult to divine exactly how mechanical adjustments are affecting performance, but it does seem that something truly has changed—and the results Lackey has gotten has changed along with it.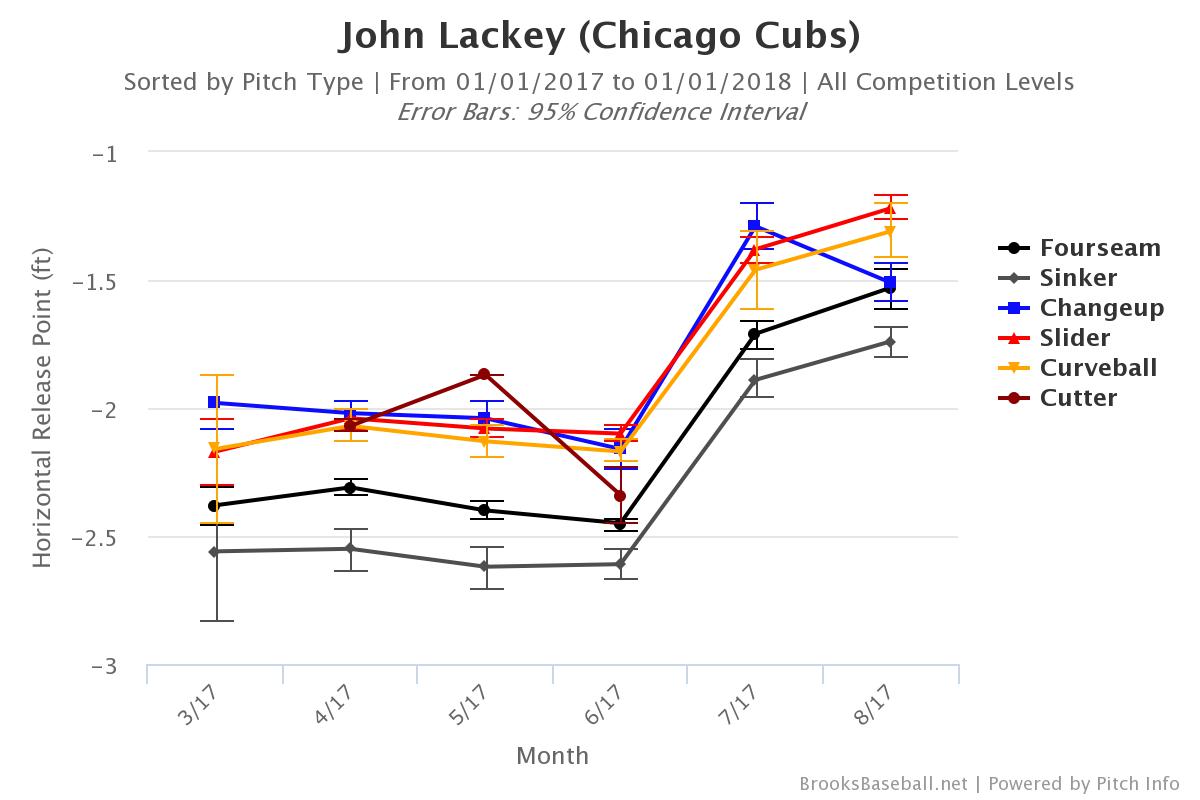 That's not the only thing that has changed. Lackey also has increased his slider usage relatively dramatically over the last month-plus, at the expense of his fastball and what BrooksBaseball labels a sinker. In the chart below, you'll notice that the highest slider usage months so far this year have been July and August. The slider does seem to produce the most swings and misses for Lackey, and Fangraphs has it as his best pitch by pitch value, so it makes sense that this would help, to some extent, with Lackey's results.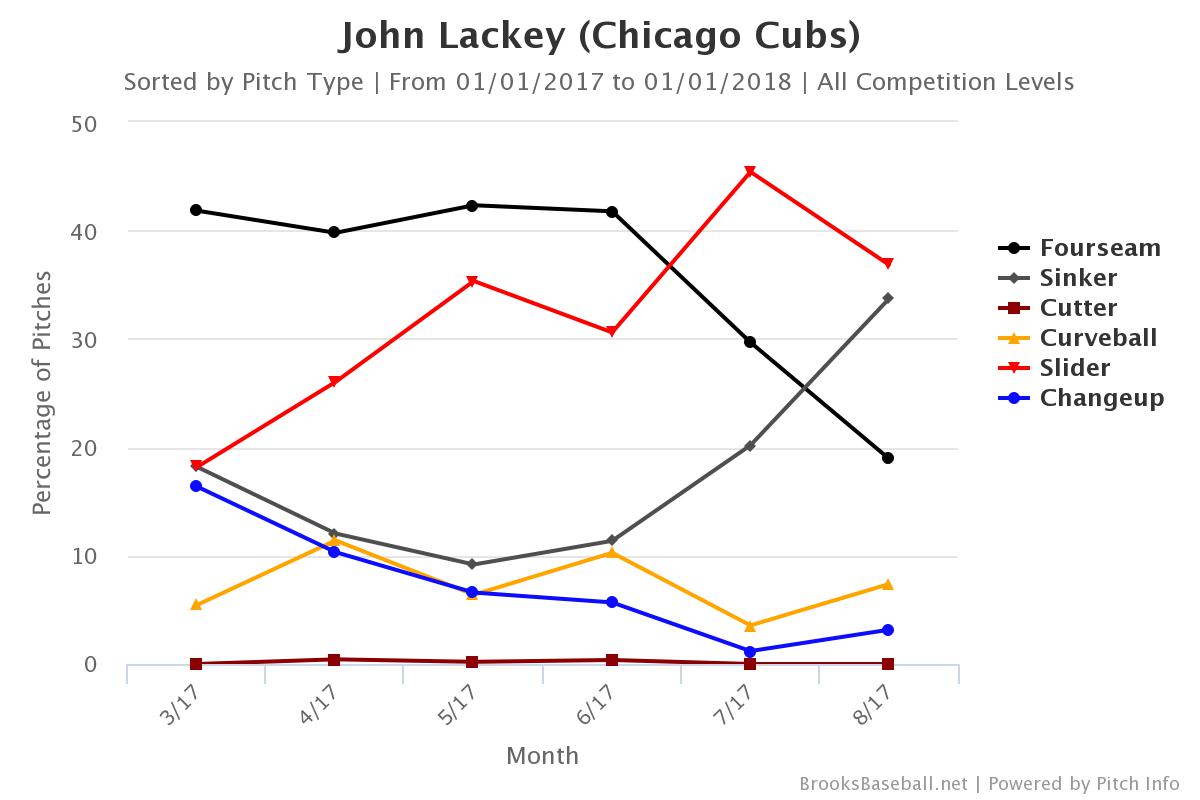 Finally, Joe Maddon has shown himself to have a bit of a shorter hook with Lackey over the last month. Lackey hasn't gone less than five innings in any start this year, but over his last six starts, Maddon hasn't let him go more than six, and in most cases, despite the better performance, he's gone only five. Lackey doesn't like this (he complained again tonight when he was being removed), but it will help his stats—he's only pitching when he's at his most effective. For a fifth starter, which is what Lackey is at this point in his career, this makes total sense.
Top WPA Play: Kyle Schwarber homered to right-center in the sixth, giving the Cubs a 4-2 lead (+.117).
Bottom WPA Play: David Peralta homered off of Lackey in the fifth, cutting the lead to 3-2 (-.193).
Lead photo courtesy Jennifer Stewart—USA Today Sports