There was a spring not too long ago where Cubs fans sincerely wondered, "Is Scott McClain for real?" Maybe you remember a March where you thought, "gee, I hope Joe Mather is a Jose Bautista-like late bloomer." Thankfully, unless Hawk Harrelson finally learns dark magic and causes the Cubs to suffer a nine man, on-field collision on the last day before leaving Arizona, this team won't need a little-known spring hero starting on opening day.
But that doesn't mean we have to miss out on the fun of looking for the next surprise star! It just means we have to look a little further into the future, and a little deeper into the system. If you're in Arizona this month, it means looking to the back fields, and higher jersey numbers. Specifically, I'm asking: where is the next Willson Contreras?
I'm not looking for the next Bryant or the next Rizzo. Thankfully, the Cubs can't get "the next Bryant," because they're too good. They can't draft the college version* of 1920 Babe Ruth, while the team ahead of them opts for "new Brien Taylor." For "the next Rizzo," we'd have to look through top prospects Theo traded away, but likes, and wants back—and it doesn't look like a Dillon Maples-for-Eloy swap is in the cards.
What do I mean by "the next Contreras"?
1) Undervalued at time of signing. Willson signed for $850,000 out of Venezuela in 2009. That same year, Guillermo Pimental and Jose Vinicio signed with the Mariners and Red Sox, respectively, for $2 million apiece. Who? Exactly.
2) Far from the majors. Contreras was a 17-year-old third baseman when JIM F*CKING HENDRY signed him. He signed less than a month after the Cubs drafted Brett Jackson, DJ LeMahieu, and Justin Bour. Rich Harden was a Cub. Contreras signed two weeks before the Cubs signed BJ Ryan. And four weeks before the Cubs released BJ Ryan.
3) One standout skill. For Willson, it was ultimately his athleticism at catcher. He's the 2nd fastest backstop in baseball according to Statcast (sprint speed of 27.5 feet per second: as fast as the average starting shortstop, and just behind JT Realmuto). Very few people with his quick-twitch athleticism have become catchers.
The first time I remember taking note of Willson as a prospect was when he was a surprise #1 on the Bleacher Nation top 40, after never appearing on a top 40 previously. Luke Blaize is a great follow if you like prospect stuff, and he went out on this limb before just about anybody else—with the possible exception of the late John Arguello. All-time Cubs tweeter Miguel Montero was an early supporter, too. From August 2015: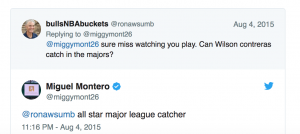 #Wooow nice call, Miggy.
So with that in mind, and with an assist from Cubs prospect aficionado and BP Wrigleyville colleague Todd Johnson (@cubscentral08 on Twitter), here are my picks for guys to keep an eye on:
Miguel Amaya, C
Amaya is the closest direct comp to Contreras. He signed for $1.25 million out of Panama in the same international class as Aramis Ademan. Amaya just turned 19, and last year in Eugene he slugged .338, which—let me plug this into my Baseball Calculator—is not good. However, a year older, at the same level, Contreras slugged .347. Eric Longenhagen at Fangraphs called Amaya "twitchy and quick" with "great athleticism for a catcher." Sounds like Contreras, right? But while Contreras hadn't begun catching at that age, Todd Johnson described Amaya as "very advanced for his age" as a pitch framer, with "defensive capabilities far beyond his years."
Cory Abbott, RHP
The Cubs snagged Abbott in the 2nd round last year, after spending their 1st round picks on pitchers Alex Lange and Brendon Little. Abbott has already broken out once: in his sophomore year, he was completely average: 5-5, 4.24 ERA. Then he decided to add a slider, got a look at Noah Syndergaard's grip, and worked on it in the Cape Cod league. As a junior, he threw a perfect game, struck out 130 in 98 innings, put up a 1.74 ERA and made 1st team All-America.
So, it's a good slider.
He started five games in Eugene last year, and should begin this year in South Bend.
DJ Wilson, CF
Baseball America calls him the fastest runner in the Cubs system, and while he's only 5'8" he has surprising pop, swatting 12 homers last year. The downside: he struck out in 28.3% of his ABs last year. If he can make a little more contact to get to his power and use his speed on the bases, he could move quickly.
Fernando Kelli, CF
Looking for standout tools? Kelli is all about speed. In 2017 he led the Dominican Summer League, stealing 58 bases, out-stealing the runner up by 23. He's listed at 6'0" and 180 pounds but after seeing him, that weight seems like it includes his jersey, cleats, helmet, and maybe a heavy bat. He's skinny, is what I'm saying.
He also hit .320 with a .437 OBP in the DSL, but this year the 19-year-old center fielder will come stateside and we'll get a better look at how he fares against advanced competition.
Others of note:
Austin Filiere
An 8th round pick in 2017, this 3rd baseman out of MIT used that elite education to engineer a launch angle that led to 13 homers every year in college. Also led nation in walk rate as a junior. Walks + homers = good.
Bryan Hudson
A 6'8" lefty, former high school basketball star who has a curveball that flashes plus, a fastball that touches 94-95, and an ability to get a ton of groundballs (3.08 GB/AO last year in South Bend). Weirdly low strikeout rate for size and stuff.
Bailey Clark
The hard-throwing right-hander out of Duke is throwing in mid-to-high 90s now that he's healthy again and able to weight train, according to Johnson.
Joe Martarano
Spent three seasons splitting time between playing linebacker at Boise State, and baseball in the Cubs system. Now the 6'4", 235-pounder is now a full-time baseball player for the first time.
According to most people who rank these things, the Cubs minor league system is currently near the bottom of the league. But all it takes is a couple breakouts to flip those rankings, and the Cubs lower levels are packed with intriguing talent worth keeping an eye on—you know, whenever you get bored of the big team doing all that winning.
*Check out that sophomore who finished tied for third that year. Apparently Theo and Jed found a market inefficiency: home runs are good.
Lead photo courtesy Rick Scuteri—USA Today Sports