What You Need to Know
The Cubs fell behind 10-2 after Jose Quintana couldn't make it through the third inning. But a nine-run eighth punctuated an improbable comeback.
Next Level
Many moons ago, in the first inning of this long, stupid game, Albert Almora Jr. hit a solo home run that looked like it took place in a soap opera flashback sequence.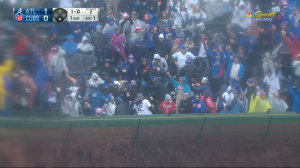 Like sands through an hourglass, so are the dingers of our lives.
One of the purposes of a flashback is to hamfist foreshadowing into a narrative, and Almora's home run did just that. Almora's dinger tied the game at one, giving the Cubs a glimpse of what coming from behind feels like before Jose Quintana and Eddie Butler combined to give up ten runs in four innings. But Almora would not be the only Cub to have a game-tying hit. The Cubs manufactured runs with productive outs and small-ball but squandered a bases-loaded situation in the sixth. Ultimately, the Cubs exploded (or the Braves crumbled) and the Cubs came all the way back from their 10-2 deficit to tie the game on Javier Baez's bases-clearing double.
Even more exciting was how the Cubs took the lead, which looked like this: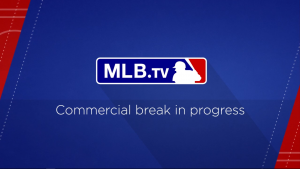 MLB.tv crapped out and didn't come back from commerical until the Cubs had tacked two more runs on and loaded the bases again. So I didn't actually see what happened. Apparently, Russell was walked intentionally, and then Heyward, Schwarber, and LaStella all walked. Then two runs scored on a wild pitch and a throwing error.
At the end of the eighth, the Cubs had managed to score nine runs on three hits, flipping a five-run deficit to a four-run lead.
The symmetry of this game was unreal. For the first half of the game, the Cubs couldn't throw strikes or field the ball cleanly. It looked like the Cubs were being hampered by the cold while the Braves looked unhindered like wildings come from the north to pillage Chicago's W's. For the second half, it was the Braves who couldn't do anything right and the Cubs who looked impervious to the long winter.
Of course, for the Cubs to have such a thrilling comeback, they needed to play like bozos for a while, and the biggest bozo today was Jose Quintana, who didn't make it through the third inning. There's not a lot of #analysis I can offer in terms of Quintana's start right now. He didn't throw strikes and when he did, it was right over the heart of the plate. On the season, Quintana has walked ten and struck out nine. Good things don't happen when a pitcher walks more than he strikes out. There'll be hand-wringing about Quintana in the days to come, but tonight we dance.
Top WPA Play
The way this game had been going until Baez stepped to the plate in the eighth, it seemed all but inevitable that Baez would strike out swinging out of his shoes. But Baez put together a beautiful at-bat, taking a couple close pitches below the zone to work the count to 3-2. The pitch Javy finally drilled into the gap wasn't a mistake either. Kurt Suzuki had set up down and away and Ramirez hit his spot. Baez just beat it. (+.443)
Bottom WPA Play
Chicago's defense was lousy in the early going, from Javier Baez Knoblauching a throw from second to Addison Russell making a throwing error to Willson Contreras still trying to block balls with a backhand. Almora letting Ozzie Albies' double get by him wasn't the most egregious defensive muff, but it came at the game's first turning point. Almora got a decent jump and took a fine enough route. He just tried to make something out of nothing and dove though there was no chance of catching it. (-.104)
Lead photo courtesy Denis Wierzbicki—USA Today Sports