What You Need to Know: The Cubs decided to let you watch Sean Manaea's no-hitter by rolling over and dying. The bats were quiet and Yu Darvish fell apart suddenly and completely.
Next Level: After last night's sixteen-run outburst, there were some feelings that the Cubs would be stymied by Tyler Anderson through some gambler's fallacy fueled karma. The Cubs appeared to assuage those fears early by putting two runs on the board, as they took advantage of the spacious outfield. Willson Contreras was inches away from hitting his first dinger of 2018. It probably should have been a dinger, and probably would have been if the call on the field had originally been a home run. Oh well. The Cubs were bound to get more runs.
The Cubs did not get more runs.
They had opportunities, though! For the first few innings, the offense was all over Tyler Anderson. Even Ian Happ was hitting the ball hard against him. Chicago wound up outhitting the Rockies but they couldn't get the right sequencing. Part of it was Jordan Baker's inconsistent and weird strike zone, but the Cubs also weren't smart on the base paths. Albert Almora and David Bote both ran into unnecessary outs at third base. While that probably didn't make a difference in the outcome of the game, it would have been nice to see what would have happened if Almora didn't think he could advance to third on a ground ball that was hit right where his body needed to be.
***
Yu Darvish's struggles continued tonight, though things looked promising early on. Last time out, Darvish's pitches had life and movement but he couldn't spot them. Tonight, he had the fastball command, but he didn't have the movement. He was able to make it through four scoreless innings but suddenly, the command went away and things broke bad quickly. Right when Darvish looked like he would coast through the fifth, Darvish walked Tyler Anderson and gave up hits to DJ LeMahieu, Gerardo Parra and Nolan Arenado. Darvish even got a break when LeMahieu's double didn't clear the bases because it bounced over the fence. But Darvish apparently hates the ground-rule double as much as I do and gave the Rockies those runs anyway. Four starts into his Cubs career, Darvish is sporting a 6.86 ERA, but his FIP is a full run lower than that. Really, he's only been bad—not terrible.
***
While this may have been a ho-hum loss, David Bote will remember it for the rest of his life. Bote made his major league debut near his hometown, and from the shots of his family, everyone he's ever met was in attendance like the ending of Big Fish. And in his first at bat, he doubled off a fastball at the bottom of the zone. It was a great moment. But then he got thrown out trying to steal third for the final out of the inning. I don't know if it was called from the bench of if Bote felt embiggened by his double, but it was a pretty dumb.
Welcome, David Bote. Keep hitting doubles and stop trying to steal third at inopportune moments.
***
"The behavior of these Cubs fan is highly improper. Dancing in their seats like heathens."
"But my god, the beauty of it."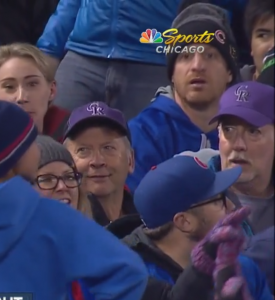 "The beauty."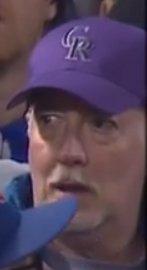 Bottom WPA Play
The hit that did the Cubs in wasn't exactly scorched. After DJ LeMahieu hit his ground-rule double, Gerardo Parra hit a ground ball up the middle. It was exactly the hit the Cubs were trying to get in the first half of the game (+.201).
Top WPA Play
Fielding Runs Above Average for this guy: 1.0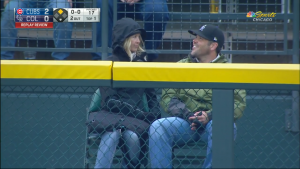 It should have been a dinger, Willson (+.136).
Lead photo courtesy Russell Lansford—USA Today Sport