After what was a tumultuous 2017 season for several reasons, Addison Russell probably wanted to have a good start to the 2018 season, but the results have been the opposite. While he's been sure-handed defensively, his offensive production has left a lot to be desired, the biggest concern being his inability to drive the ball.
While April numbers aren't a sign of a good or bad season, especially for teams that play in the cold climates, Russell's slugging percentage (.290) and isolated power (.068) are slightly concerning since his unique skill set offensively revolves around his power and run-producing ability.
If you were to do a side-by-side of Russell's swing from 2017 and 2018, you would be hard-pressed to find a significant change at the plate, the only change being the inability to consistently hit the ball with authority.
So what's the issue?
After watching for a few weeks and seeing at-bats over this first month of the season, there are a few different things that I think may be behind Russell's power outage. One factor may be how Russell is being pitched. The eye test from watching at-bats and looking at data show that teams have a specific plan of attack for Russell.
Below are charts of the pitches Russell has seen in the last three seasons.
2016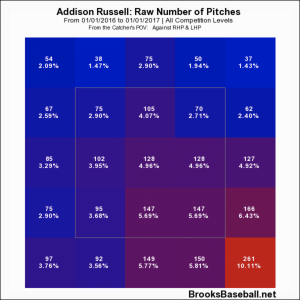 2017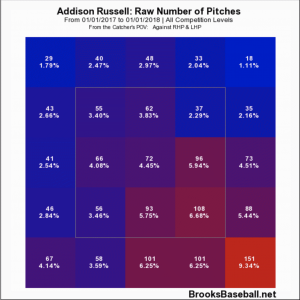 2018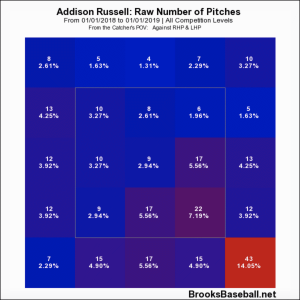 These graphics are pretty self-explanatory, but you can see what the plan of attack to Russell has been. Pitchers are looking to get Russell out on pitches on the outer third of the plate, specifically low and away. Most young hitters are attacked this way and struggle until they prove they can lay off that pitch and force pitchers to bring the ball up.
The second factor in Russell's dip in power may also be the Cubs' new hitting philosophy. Hitting coach Chili Davis has been getting his hitters to make a concerted effort to keep the ball in the middle of the field and that has been on display during the team's recent road trip to Colorado and Cleveland. Looking at Russell through the first month of the season, over 78 percent of the balls Russell has put in play have been up-the-middle or to the opposite field.
Despite the lack of power, Russell has had positive effects with his new approach at the plate. He's raised his walk rate from 8 percent last season to 14 percent this season, and he's cut his strikeout rate to 14 percent, down 10 points from from a year ago.
One reason for optimism is that Russell, despite the low offensive numbers, is having quality at-bats. If he had this power outage and was going to the plate having listless at-bats a la Mike Olt in 2014, Jason Heyward in 2016, or even Kyle Schwarber in 2017, there would be a serious cause for concern. Through 21 games, Russell has seen just under four pitches per plate appearances, which is second on the team after the aforementioned Schwarber and ranks 36th in the National League.
The good news is that Russell's power is not gone, and as the weather warms and pitchers begin to challenge him more, his luck should turn. The Cubs have been able to find production without Russell being at his best offensively and, more importantly, it seems as if the adjustments Davis has made with Cubs' hitters are carrying over from the cage to the field. Russell's peripherals (higher BB%/low K%) should give some the Cubs confidence that a breakout is soon to come. If he's able to maintain his current mindset at the plate and rediscover the power stroke, the Cubs' lineup becomes that much deeper.
Lead photo courtesy Dennis Wierzbicki—USA Today Sports