April can be a rough month in Chicago. We're all waiting for summer's arrival after a brutal winter, and what we usually get are 40-degree days with some teases of nice weather in between. But you're damn well right we're gonna wear shorts the until September roles around once that first 60-degree day pops up, even if there is rain and sleet for three weeks before spring actually shows up.
But that's what it's like in Chicago, we fight through the rough period to get to what everyone knows will be the big payoff come summertime. That hasn't really been the case with the baseball team on the North Side of town. In the last five seasons, the Cubs have finished in fifth place in the NL Central and in each case they failed to have an above-.500 April.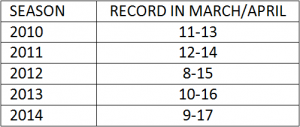 "Really to focus on getting off to a good start," president of baseball operations Theo Epstein said when asked what he thought was important for this season. "I think it's so important in this division. That's key for us. We've put ourselves in a big hole the last few years. We have more talent this year and a more realistic chance to go do some damage and really compete this year. But the start is just so essential, especially when you're in a really competitive division."Granted, of those seasons, last year was the only time the Cubs had multiple (two) above-.500 months, so it's not as if they were tearing things up the rest of the way and April was the outlier. But that's kind of the point; the belief is that those struggles early in the season set the tone for the rest of the way. And when it came to 2012-2014, the poor start certainly led to a purging of the roster come the trade deadline.
Epstein pointed to how the team ended the spring nicely—starting 0-6, then finishing with a 14-15 mark on the month—and he hoped that positive momentum would carry over into the season. While getting wins in March is nice, it doesn't mean much. What means more is the confidence that's built as a team, the ability for veterans, like David Ross, to show young players who are unfamiliar with winning how to go about one's business when preparing for a championship season.
"I think it started in spring training," Ross said of being able to get off to a good start. "You start showing yourself how we're going to win as a team, how we're going to do the most for each and get the most out of each other. Is it important? Yeah. I mean, winning is important, you're not considered a winner until you win. Every year is new. Even though St. Louis has a great historical background and they've won a lot lately, it's still a new season for them. It's a new season for us. They have confidence and we have confidence. But to solidify that confidence and keep that confidence, you have to win."
The notion that a good start to the season is essential has been rather prevalent in the Cubs clubhouse of late. This team has been filled with young players, most, if not all, of whom have spent much of their young careers losing. The bad starts they've endured have obviously had an effect on the standings, but it likely had a significant mental effect on the players as well—as Ross pointed out, it can affect a player's confidence.
"How do you prevent that?" manager Joe Maddon asked, referring to losing affecting a player's mindset. "It's just an everyday thing, man. I'm big on winning hard for 30 minutes, I'm big on losing hard for 30 minutes, and then moving on to the next day. The moment you start permitting a negative day or experience to carry over, you're going to get yourself in bad spots. I'm relying on the talent of our guys, on the attitude of our guys and of course me and the coaching staff to try and prevent that."
Many Cubs fans will point to 2007—a team that hired a big-name manager, made some big offseason additions, and was nine games below .500 in early June before turning things around and making the playoffs—as a reason not to stress too much about a slow start. However, Maddon knows what it can take out of team just to climb out of that hole you've dug, let alone make it to October.
"It's very beneficial. Always get off to a good start," Maddon said prior to Sunday's game. "When you're playing in a five-team division and you have good teams and you get stuck behind people early, then you gotta claw your way back. There's a lot of energy involved in that. Even last year, we (Tampa Bay Rays) were 18 games under .500—which is unbelievable—and we got back to .500, which to me is one of the most staggering things that we did in Tampa Bay. But it takes a lot out of you is my point, I mean it really does. You get back there and all of a sudden, 'whoa!' And then you gotta still play at that ridiculous clip, so it's really important not to put yourself in that position."
Maddon is relying on guys like Ross to make sure negativity doesn't seep into the clubhouse and permeate a young, impressionable club. Maddon, Ross, and other veterans are there to ensure an 0-for-13 night with runners in scoring position—which occurred in Sunday's 3-0 loss to the St. Louis Cardinals—is something that's forgotten about soon after that game. Tuesday needs to be a new day for this group, otherwise 2015 will look no different than what we've seen over the last five years.
"That's the job of me, the veteran guys, and Joe and the coaching staff," Ross said of keeping things positive. "There's nobody in here who's going to panic over a loss. Joe's already said it a billion times, there's going to be some times in the season where we're gonna stink for a while. We're gonna lose plenty of games in a row. And it's how your respond to losing, how you lift each other up and always have each other's back. That's when a nine-game losing streak turns into six. Or it could turn into 12. It's important for us, as the veteran players, to just keep reiterating that all we need is to go out there and play hard on a nightly basis. There's enough talent here that we're going to win."
It's playing with consistency. It's coming to the ballpark every day and building the same daily routine and preparing in the same diligent manner. These are the things that lead to a team that's unfamiliar with winning to change its ways. Ross understands that. Maddon certainly does as well. Jon Lester understands it.
Lester knows that his 4 2/3 innings on Sunday night won't be the norm, and while he was certainly disappointed he understands that if three runs with six strikeouts and two walks is one of his worse outings of the year, things are going to be just fine.
"Opening Day is a wonderful tradition, it's a holiday, it's a celebration," Epstein said while crowded by reporters in the Cubs dugout late Sunday afternoon. "It's special for everyone in baseball, whether you're a casual fan, a die-hard fan, or work in the game. But it does tend to have an exaggerated effect. People extrapolate these grand conclusions from one game. I really like from game two on, where you can get into a nice rhythm. To me, one of the best parts about baseball is the rhythm of the game, the daily routine, knowing that there's a game tomorrow and the next day and the next day. Opening Day doesn't feel like that, it feels more like a holiday, a celebration."
The Cubs believe that Anthony Rizzo won't go 0-for-3 with two strikeouts on a regular basis—we certainly know his 0-fer with 3 Ks last Opening Day wasn't a sign of things to come. Jorge Soler won't consistently go hitless when he makes they type of solid contact he did Sunday night—and Matt Holliday isn't going to be making many more sliding grabs either—and Joe Maddon seemed to indicate that Soler's defense Sunday night was just a blip on the radar. Lester isn't going to fail to make it out of the fifth very often, he'll be the first to tell you that. And maybe next time, Chris Coghlan hits one hard with the wind blowing out, starting a rally, instead of ending one.
The Cubs have to believe all those things. As Ross said, and as Maddon has repeated all spring, they can't let the negativity of one bad game or stretch seep into their everyday experience. For this team to succeed, they must believe, like Epstein, that the fun really begins with game two.