Date: April 5
Opponent: St. Louis Cardinals
Location: Wrigley Field
Welcome to 2015
By the time Jon Lester threw the first pitch of the 2015 season, a fastball to Matt Carpenter, he had been warming up in the left-field bullpen since, and this is a rough guesstimate, early March. The pitch was a called strike, but the night, and the inning, was downhill from there.
From that first inning, things just felt out of synch. Whether it was leaving pitches up over the plate, a Twitterversally ( © pending)  agreed upon poor strike zone, or what appeared to be a  miscommunication between Starlin Castro and Chris Coghlan, Lester could not catch a break or find a rhythm. Suffice to say, this was not the Opening Day start envisioned by the Cubs and the fans throughout the winter.
Traditional Line
4.1 IP, 8 H, 2 BB, 6 K, 3 ER
Pitch Breakdown
89 (57 strikes)

Lester, as he has throughout his career, relied almost exclusively on his four-seam and cut-fastball, throwing them a combined 67 of 84 pitches (80 percent). For his career, he has thrown them a combined 63 percent of the time.
Looking at the numbers from Sunday night, it becomes clear those were the only two pitches in which Lester had confidence, as he and David Ross opted not to deviate.
Lester's two-seam fastball was virtually nonexistent, after he threw it no fewer than eleven times in his final seven regular season appearances in 2014. Similarly, Lester's ten curveballs were the fewest he has thrown in a game dating back 24 starts to last May 22 at Toronto. Last season, Lester threw his curveball third most of any pitch (16.4 percent), and held opposing hitters to a .160 average and .208 slugging.
Lester, as you can see below, was unable to induce Cardinals hitters to swing at many pitches outside of the strike zone. On the night, Lester produced eleven whiffs, with just two coming on pitches outside of the zone. The Cardinals, unsurprisingly, did the majority of their damage when Lester was around the middle of the plate.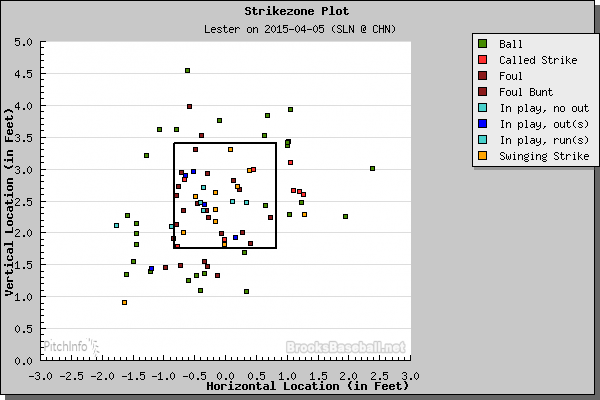 For the most part, Cardinals hitters were patient and waited for Lester to leave fastballs out over the plate. Unfortunately, on this night, he obliged.
For comparison, when Lester is on his game, he is inducing outs and swings and misses outside of the strike zone. Below is a chart from Lester's start last May 3 against Oakland, when he went eight innings, allowing one hits, two walks, and striking out 15.
Trends
The Cardinals lefty-heavy lineup had little trouble figuring out Lester, finishing 6-for-11, with two doubles and a walk. Obviously, it remains to be seen if this an aberration, or a continuation of a trend that began last season. In 2014, left-handed hitters (.254/.307/.389) had significantly greater success against Lester than right-handed hitters (.227/.273/.344), for only the second season in his career.
Lester spent the majority of the night trying attempting to get lefties to chase his four-seamer and cutter down and away.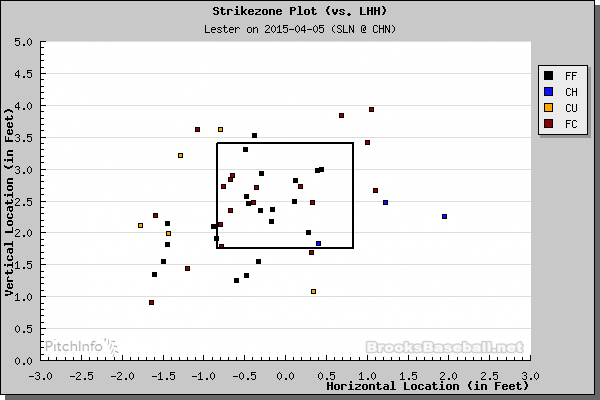 As you can see, below, though, Cardinals left-handed batters mostly laid off the pitches away, and waited for Lester's fastballs to come back over the plate.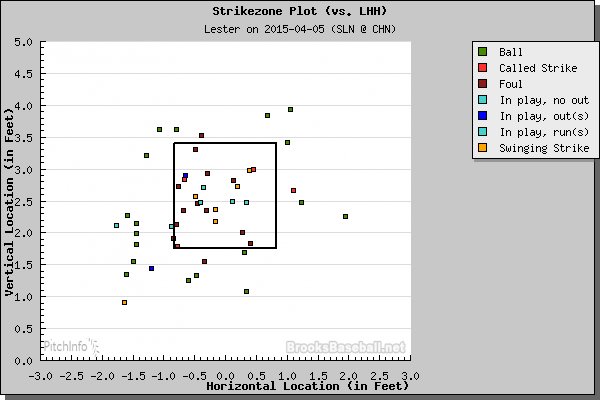 Lester's four-seam and cut-fastball did minimal damage, as against those two pitches, the five Cardinals lefty hitters were 4-for-9 with a walk. 
Also, worth monitoring throughout 2015 is Lester's velocity with his four-seam fastball. On average, he lost nearly a mile per hour from 2013 (93.9) to 2014 (93.06). It was lowest average velocity since 2007 (92.46).
Key At-Bat/Sequence
Kolten Wong – Second Inning
After Matt Holliday's one-out single in the first inning scored Jason Heyward, Lester settled in to a brief groove, striking out Jhonny Peralta, Matt Adams, and Yadier Molina.
Lester, however, proceeded to issue a one-out walk to Wong on seven pitches. After moving to third on a Jon Jay single, Wong scored on Carpenter's two-out single, giving the Cardinals a 2-0 lead.
For his career, Wong has posted just a .244 batting average and .371 slugging against fastballs. Lester and Ross pitched him accordingly, throwing him six fastballs in the at-bat. Wong, as you can see below, laid off a high fastball to draw the walk.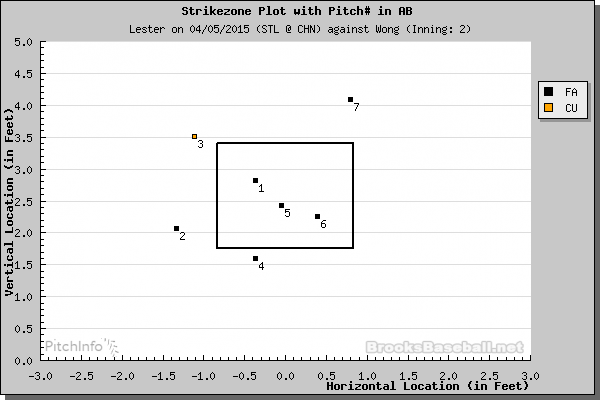 Lester's failure to find the strike zone to put away a poor fastball hitter was emblematic of his entire start.
Keep In Mind
Opening Day starts have not always been kind to Lester. In 2013, he threw 96 pitches and allowed seven baserunners in just five innings at Yankee Stadium. He ended that season with a 1.57 ERA and 0.961 WHIP in five postseason starts for the World Series champions. When you couple that with the fact he threw just 70 pitches in spring training, there is every reason to believe it will only get better. There is no need to drown yourselves in White Russians at Redmond's . Yet.
Conclusion
First the positives: With little spring training, Lester was still able to hit 95 on the radar gun and maneuver around further damage. He was the victim of a few bloop hits falling in, and looked sharp against Adams, Peralta, and Molina.
However, Lester's inability to command his four-seam and cut fastballs, along with having no feel for a reliable third pitch, doomed him from the first inning. As we detailed above, when Lester is successful, he is making batters chase his cutter, while producing swings and misses both in the zone and up and out of the zone with his four-seamer.
Perhaps, in hindsight, this start was inevitable, when you factor in the following:
Lester's limited spring training, making it all the more likely he'd default to the pitches he is most comfortable throwing.
An unusual start time and prolonged pre-game introductions.
The added adrenaline of making your home debut in a nationally televised prime time game against your most bitter rival.
Like I wrote above, there is every reason to believe Jon Lester's 2015 will get better. Maybe stash away a bottle of Kahlua, though, just in case.
Season-to-Date
0-1, 6.23 ERA, 2.31 WHIP, 9.1 BB%. 27.3 K%
Next Start
Saturday, April 11 at Colorado vs Kyle Kendrick