Date: April 19
Opponent: San Diego Padres
Location: Wrigley Field
Introduction
For 15-20 brief, tantalizing minutes we got a glimpse of what this will look like when everything clicks. Lester had a shutdown first inning, punctuated with a strikeout of Matt Kemp. In the Cubs half of the first, they scored twice. Wrigley Field, despite being gray and frigid, was abuzz. Then the second inning began.
Despite the disappointing final results, though, it was progress, right? Lester allowed the fewest hits (six) and base runners (eight) of any start. He threw the most pitches (97) and recorded his first 1-2-3 first inning of the season.
Something still just felt off, though, didn't it? To be fair, Lester ran into a pretty good offense.
In 2014, the San Diego Padres finished last in baseball in runs scored, slugging percentage, and offensive WARP. The Padres responded by spending the offseason acquiring roughly half the offensive players in baseball.
As a result, this isn't your father's Padres offense from a year ago when your father was a year younger. After this weekend, the Padres are third in the National League in team OPS, third in BABIP, and fourth in slugging percentage.
As we have covered (too) extensively in 2015, left-handed batters have hit Lester at a rate of .529/.556/.824 with four extra-base hits. Lefties have refused to chase pitches down and away, and waited patiently for Lester to be over the plate with his cutter and four-seam fastballs. Unlike the St. Louis Cardinals (Jason Heyward) and Cincinnati Reds (Joey Votto and Jay Bruce), though, the Padres do not have a premiere left-handed batter. Their best lefty, first-baseman Yonder Alonso, received his first day off of the season. Traditionally, Alonso has struggled against left-handed pitchers (.247/.312/.349), but he has started the season by going 4-7 with a walk. Right-fielder Will Venable was the only lefty in the lineup, and he struck out twice in two at-bats against Lester. Thankfully, for one start at least, we can table the left-handed batter discussion.
There is, however, still plenty to dissect about Lester's third start. It was a loss, but there are reasons to be encouraged. Let's jump in.
Traditional Line
5.1 IP, 6 H, 4 K, 2 BB, 3ER
Pitch Breakdown
97 pitches (57 strikes)
| | | | | | |
| --- | --- | --- | --- | --- | --- |
| | Total | Velocity (Max) | AVG | SLG | BABIP |
| Four-Seam | 32 | 93.53 (96.1) | .000 | .000 | .000 |
| Cutter | 25 | 88.52 (92.0) | .200 | .800 | .000 |
| Sinker | 18 | 91.85 (93.8) | .571 | .571 | .571 |
| Change-Up | 11 | 84.93  (87.5) | .500 | .500 | .500 |
| Curveball | 10 | 75.47 (80.2) | .000 | .000 | .000 |
As mentioned above, Lester set a season high in pitches. His reliance on his four-seam and cut fastballs dropped to 59 percent, after hitting 80 percent in his first start and coming in at his average of 63 percent in his second start.
Lester, encouragingly, had his best success to date with his four-seam fastball, going to it to record three of his four strikeouts, not allowing a hit, and adding a mile per hour to his average velocity. In the first inning, he won the battle with Kemp by freezing him with a 95 mph four-seamer on the outside corner: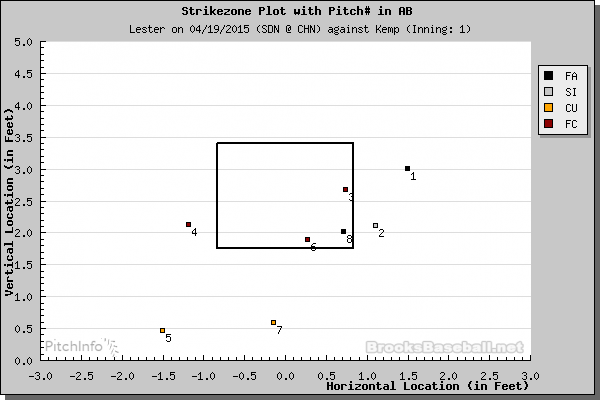 He located a four-seamer on the outer edge. It was vintage Lester, and bona fide reason for optimism.
Lester's and Ross's continued refusal to go to the curve ball with greater frequency remains a mystery. Opposing batters have yet to reach base against the curve this year, but he has only thrown it 12 percent of pitches (10 percent against the Padres). We discussed it in greater detail in last week's column, but Lester has shown excellent command with curve, consistently keeping it down in the zone.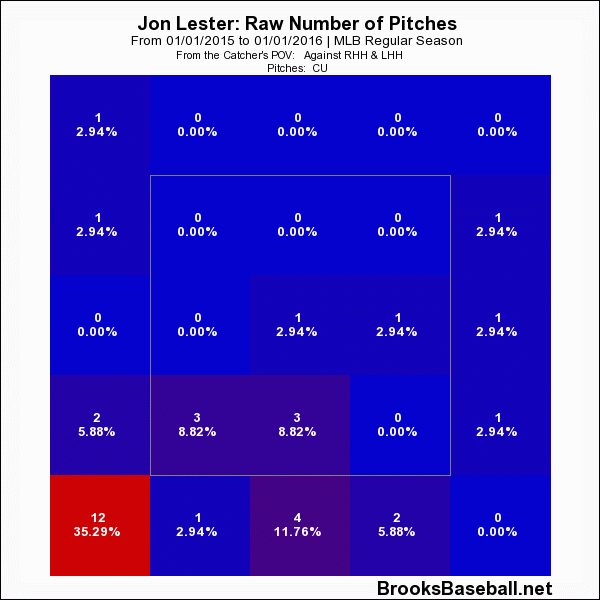 With Lester's sinker and cutter largely ineffective, and opposing batters yet to solve his curve, will he turn to his breaking pitches?
Trends
Cut fastballs, by definition, are designed to cut. Lester's have not. In 2015, Lester has thrown cutters 28 percent of his pitches, the second most of any pitch. All batters are hitting .500 and slugging .750 against the cut-fastball. For the season, righties have hit .500 and slugged .857 against Lester's cutter, including Will Middlebrook's second-inning home run detailed in the section below.
As BP Wrigleyville writer Matthew Trueblood noted during the game:
Lester is missing every target about 10 inches high. It's an invitation to disaster.

— Matthew Trueblood (@MATrueblood) April 19, 2015
Against right-handed batters, Lester is living up and out over the plate: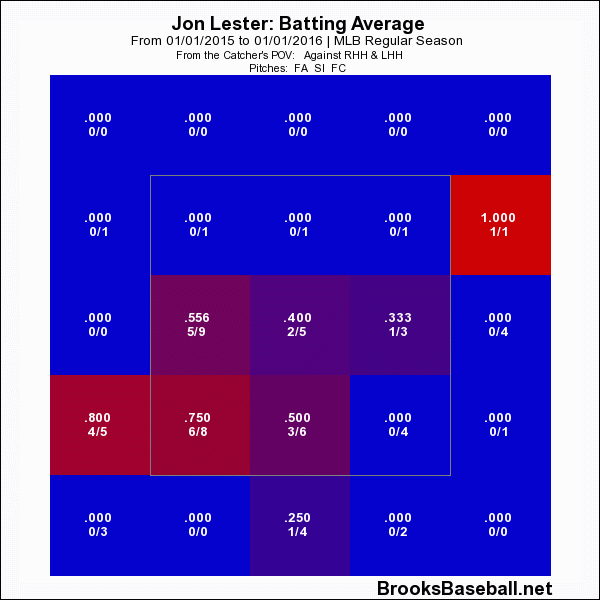 Middlebrook's home run came right in that zone, with the pitch staying up and out over the plate. While he saw better results against the Padres, it remains a trend worth monitoring in 2015.
Key At-Bat/Sequence
Inning: Second Inning
Score: 2-0, Cubs
Situation:  Runner on first,
Batter(s): Will Middlebrooks
Initially, I was tempted to delve deeper on the first inning. For the first time in 2015, Lester recorded a 1-2-3 first inning. He even finished the inning with a strikeout of the fast-starting Kemp. Through the first two starts, Lester owned an 18.00 ERA and 3.000 WHIP in that initial frame. Opposing batters were hitting 500/.500/.833 with two doubles and a triple. While 2015 had been abysmal, Lester has never had great success in the first inning. In his career, the first inning has been his second-worst inning by opponents' on-base percentage (.338), slugging percentage (.395), and OPS (.732).
Instead, the key sequence remains the first two batters of the second inning.
Derek Norris led off the inning with a single off a changeup, the first hit all season Lester has surrendered on a changeup or curveball. It was not a bad pitch, and Norris had to go up to hook it into the hole between short and third.
Up next was Will Middlebrooks. If there is a pitch Middlebrooks can handle from left-handed pitchers, it's cut-fastballs. In his career, he has hit .357 with a .857 slugging percentage on cutters from lefties. As you can see, when lefties leave cutters slightly elevated, Middlebrooks has hammered the pitch:
You probably know what comes next. After two sinkers away from Middlebrooks, Lester tried to come in with a 91 mph cutter. Unfortunately, the pitch stayed up and caught too much of the plate.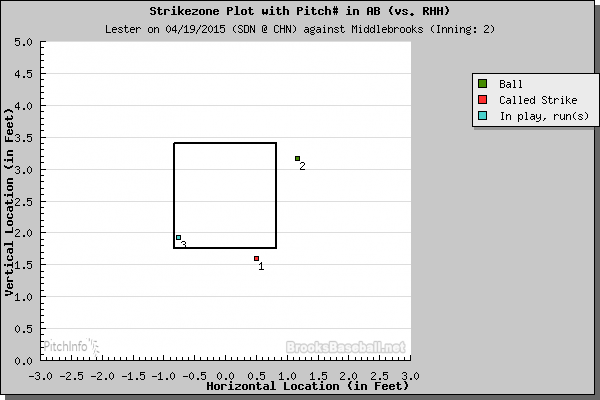 Locating his pitches in the strike zone continues to plague Lester. On the home run to Middlebrooks, Lester's cutter never fully cut, and the Cubs would never again lead in the game.
Keep In Mind
Let's keep it simple. I will spare you another recap of Lester's brief spring training, extreme slow start and historic finish in 2013, etc. It has been a slow start, but it has only been three starts. Perhaps a start away from the chilly, yet friendly confines will only help Lester.
Conclusion
Obviously, this is not how Theo Epstein and the Cubs envisioned Lester's first three starts. His cut-fastball is still not cutting. His breaking and off-speed pitches continue to be very effective, but he has shown a reluctance to go to them more than a combined 20-25 percent of the time. He did see improved results from his four-seam fastball, the pitch he throws with the greatest frequency. It has yet to all come together, but like those middle innings in his first two starts, we saw flashes of Lester the ace.
Season-to-Date
0- 2, 6.89 ERA, 1.79 WHIP, 19.4 K%, 5.4 BB%
Next Start
Friday, April 24 at Cincinnati (Mike Leake)