Photo courtesy of Jeff Curry-USA TODAY Sports
Top Play (WPA): It was the third time facing the top of the order that unraveled Kyle Hendricks. Facing Matt Carpenter with two runners on and one out, Hendricks threw an 0-1 cutter right down the middle of the plate that was lined into the right field seats in a hurry, tying the game at four (.320).
Hendricks hasn't been relying on his cutter as heavily in 2015—and perhaps for good reason—dropping from 16 percent in 2014 to 10percent. Interestingly, though, he uses it with a higher frequency the second and third time through the order. Hendricks has allowed  a .462 batting average against his cutter the third time through the order for his career—the highest of any of his four pitches—and Carpenter's blast on that very pitch erased the Cubs' third multi-run lead in two days.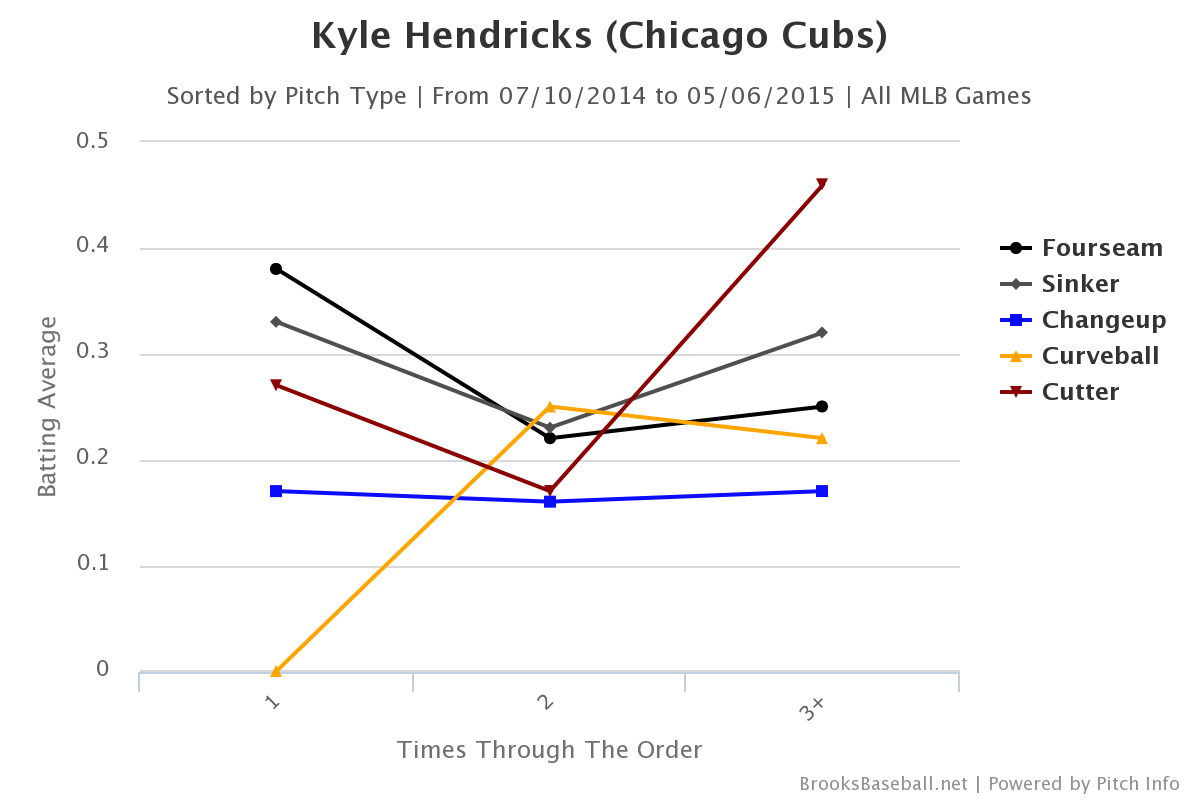 Bottom Play (WPA): Before struggling in the fifth, Hendricks worked his way out of early jams in the first and fourth inning with a lot of help from the left side of his infield. On a Matt Adams fly ball that sent Starlin Castro in to shallow center, Jon Jay tagged from third base and stumbled immediately, never regaining his balance and was thrown out at home on a diving tag by Miguel Montero (-.116). Considering how the carry of the ball caused Castro to catch it with his momentum going towards the outfield wall, it was a fairly accurate throw home, hitting Montero on one hop and beating Jay by roughly a step.
In the fourth, Yadier Molina hit a sharp ground ball to third that Kris Bryant handled cleanly and twisted into a double play that would end the inning and the threat in what was a 1-1 game (-.144). Perhaps unaware he had time at second base to gather himself and make a strong throw, Addisson Russell rushed the throw to first, pulling Rizzo off the base just slightly. Molina was originally ruled safe, making it a 2-1 game as Matt Adams had scored from third on the play. Joe Maddon challenged the call and the ruling was overturned. As you can see on the replay, Rizzo had secured the ball in the glove before the split caused his left foot to pull off.
Key Moment: Matt Carpenter's blast was not only a major shift in momentum, it sent Hendricks to the showers and caused Maddon to call on his bullpen a bit earlier than he probably would have liked. Collectively, Cubs relievers had thrown four innings the previous day and didn't have much success retiring batters or holding leads. One experiment that had been working, though, was Edwin Jackson: Middle reliever. In nine innings of work this season, Jackson had yet to give up a run, and as a former starter, he was an ideal candidate to eat up some innings. That's where things got ugly. Jackson could only retire two batters and the Cardinals tagged him with four hits and two runs to make it a 6-4 ballgame.
Another metric to monitor is the usage percentage of Hendricks's four pitches and the batted-ball results. As a pitcher that has just average velocity and doesn't generate a lot of swings and misses, Hendricks may become even more reliant on his sinker and changeup to induce weaker contact and ground balls. So far in 2015, opponents are making contact an astounding 96 percent of pitches thrown inside the strike zone, and at 30 percent (as compared to 33 percent last year) they're swinging at less pitches outside of the zone. They're also making hard contact on 31.7 percent of balls put in play, up 7 percent from last season.
Trends to Watch: One thing to keep an eye on is Addisson Russell, who is now the owner of an eight game hit streak and is looking increasingly more comfortable in the batter's box. In the past two nights, the 21-year-old has flashed pop that is rare for middle infielders, collecting three extra-based hits to go with a single, raising his batting average to .261 and his slugging percentage to .500 in the process. Not bad for your rookie, nine-hole hitter. The 45 percent strikeout rate is still a concern, but when Russell is making contact, he's driving the ball. The .381 BABIP makes some sense when its backed by a line drive rate of 30.4 percent. In reality, none of those three underlying numbers appear sustainable, but when they regress, it should hopefully balance out into Russell continuing to be a very productive player at the plate.
Coming Next: The Cubs will look to stop the bleeding of their four-game losing streak and snap the Cardinals' eight-game winning streak in the process in game three of this four game set. Chicago will send Jon Lester (4.71 ERA/ 2.36 FIP) to the mound and St. Louis will counter with Lance Lynn (3.07/2.04). After a rough start—12 earned runs through his first three games—Lester has settled into form, allowing only eight hits in the last 50 batters he's faced, striking out 14 of them. With the right-hander Lynn on the mound, I think we might see a heavy left-handed hitting top of the order perhaps with Chris Coghlan manning the two slot. Currently, lefties are slugging .447 against Lynn with a .339 wOBA. For his career, Lynn walks left-handed batters at a rate more than twice that of right handers—5.03 compared to 1.89—and driving up his pitch count tomorrow evening could help the Cubs get to a tired Cardinal bullpen earlier in the evening.