Photo courtesy of Jeff Curry-USA TODAY Sports
If I were to ask three separate people the question "Who played center field for the Cubs in 2014?" I would probably gather three different answers. This is because last year, between trades, flip-flopping players between the majors and minors, and prospects getting the call-up, the Cubs had three players holding down this position for the majority of the season.
However, none of these three players were really quite adequate enough to be worth a permanent position in a batting lineup. These three players were Junior Lake, Arismendy Alcanatara, and the one who played the most games at the position in 2014, Emilio Bonifacio.
Offensively speaking, this was a very weak position for the Cubs in 2014. Bonifacio, who was traded to Atlanta at the trade deadline and made the most appearances in center with 66 games, also had the best slash line of the trio at .241/.276/.355 and the highest wRC+ of the three at 74. None of that exactly bodes well for someone who consumed the most amount of playing time at a position for their ball club.
Then low and behold came the date of January 29, 2015. This was the day that the Cubs sent Luis Valbuena and Dan Straily to the Astros, in exchange for Dexter Fowler who, as stated in the BP annual, has numbers "so darn steady that even silent-era projection system have a good understanding of what his 2015 will look like."
Not only is Fowler's line steady, but it's quite noteworthy as well. It is especially noteworthy though, when your ball club was going through a non-stop revolving door of sub-par offensive performers in what is now Fowler's full-time role. Fowler's 2014 line was .276/.375/.399 which doesn't look much different from his career line of .270/.365/.418. He's basically been the definition of consistency at the plate.
Fowler is not going to be a power hitter, he only ever put up pseudo-power numbers in his days with Colorado, where he slugged .485 with the Rockies. But that's okay, because that's not what that Cubs brought him in to do, in theory, they should have plenty of power. Fowler's best asset is, of course, his impressive ability to get on base. The career .365 OBP that Fowler brought with him to Chicago is attractive, and with that he's flourished under Joe Maddon's aggressive approach on the basepaths. Fowler is tied for the team lead in stolen bases with Anthony Rizzo at seven—with just once caught stealing—which puts him on pace to steal more than 40 bases, which would blow away his previous career high of 27 set in 2009, his lone season over 20.
Fowler has started May off in a bit of a slump, batting just .115/.179/.115 in six games this month, but that comes on the heels of batting .345/.500/.500 in the final five games of April.
A small slump is a small slump, and no reason to discredit Fowler's abilities in the leadoff spot. He's most definitely an upgrade for the Cubs and comes with the resume to prove it.
One of the great things that Fowler shows in his superb abilities at the plate is, as the below chart shows, how well he is able to make productive contact with pitches outside the zone.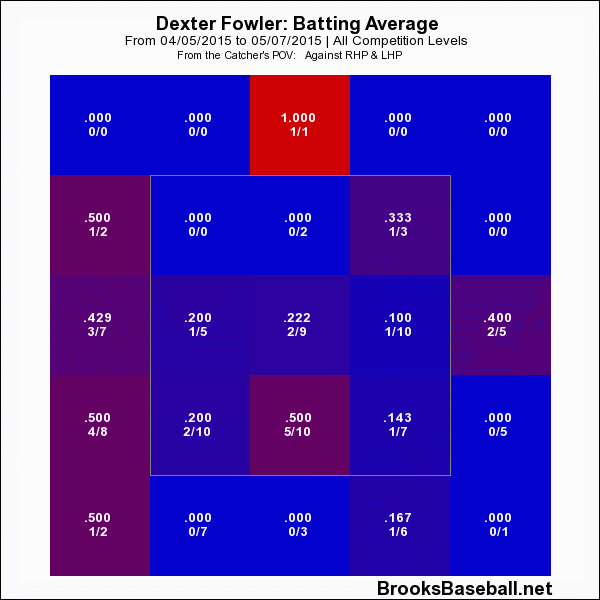 As our own Matthew Trueblood pointed out in this piece, Cubs hitters are seeing a large percentage of pitches outside the strike zone—which won't phase a hitter like Fowler much, as this map illustrates for us.
Fowler's pitch recognition on fastballs is fantastic as well, he swings mostly at pitches inside the zone, and only has a slight problem with swinging at inside fastballs off the plate.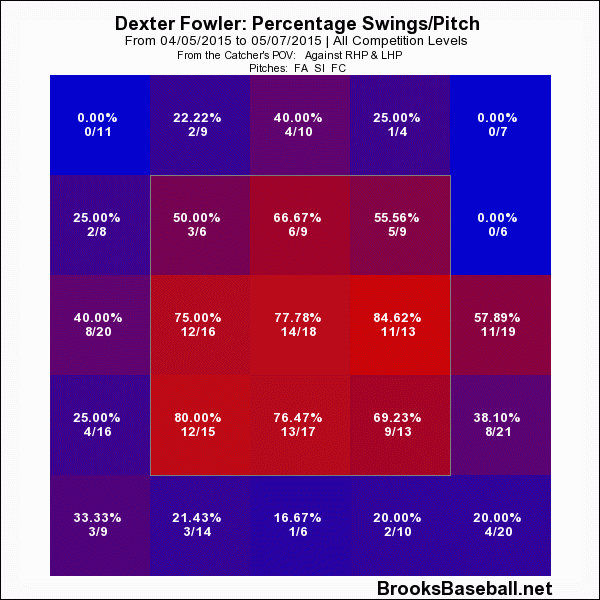 While we're talking about hard pitches though, Fowler does exceptionally well against sinkers outside and away too, with virtually all of them that he hits going into play, and when they go into play, a lot of them go decently far, as illustrated by this spray chart. And while you're looking, checkout where his four-seamers end up, too.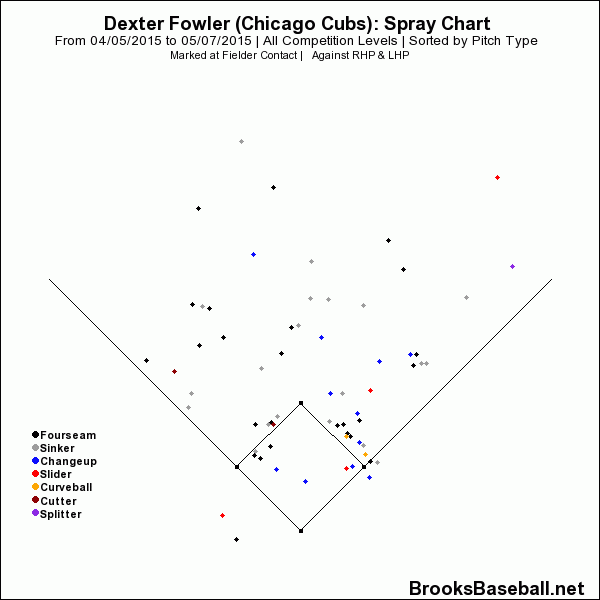 Fowler sees, four-seamers 53 percent of the time when the pitcher is ahead and he's hit a solid percentage of those four-seamers for line drives and fly balls, as seen here and here, respectively. While those fly balls could easily make for outs, the ones he's hitting from lower in the zone account for a portion of his slugging percentage as shown here. Pitchers: don't sleep on Fowler in the 0-2 count, that four-seamer won't always put him to bed. Fowler is also seeing a lot (52 percent to be exact) of sinkers when he's ahead in the count. What does he do with sinkers? He puts them into play, and quite often when he's in two ball and three ball counts.
One problem thing Fowler does struggle with though is his unquenchable desire to swing at the changeup. Obviously, opposing pitchers have noted this, as he's seen the highest percentage (15.1 percent) of changeups thrown to him of any batter on the Cubs roster with a minimum of 40 plate appearances this year. Fowler sees almost all of his changeups low and away, and while he swings at quite a few of them that are in the zone, he also swings at quite a few of them that are outside the zone, creating ground balls (see the spray chart) on a majority of those.
Fowler has some incredible prowess at the plate, and his talents at getting on base will surely not go to waste. The Cubs are just in a collective slump offensively right now when it comes to swinging at bad pitches outside the zone, and Fowler has fallen prey to that mantra the last few games. But as April and his career number show, he will soon return to form and be the leadoff man we all know he is and the center-field bat the Cubs lacked for the majority of last season.