Photo courtesy of Jeff Curry-USA TODAY Sports
Date: May 6
Opponent: St. Louis Cardinals
Location: Busch Stadium
Introduction
WARNING: Cliched, one-sentence paragraph baseball speak coming up in 3…2…1…
On a hazy, humid St. Louis night, Jon Lester strode to the mound for the first time in a Chicago Cubs uniform.
It was for nights like this the Cubs granted him the largest contract in team history, effectively saying, "You're our guy."
This was the game the Cubs needed him to be "Jon Lester: Staff Ace." The Cubs entered the night having list four consecutive games, including the first two games of this series, and had fallen 6.5 games behind the Cardinals in the division. A team at a crossroads, playing in the Gateway to the West, needed a stopper.
For much of the night, Lester proved to be up to the task, allowing a team, a fan base, a city, and yes, maybe even a country, to breathe a slight sigh of relief  Wednesday evening. He wasn't perfect, but much like our great nation, he was still good enough.
Aaaand scene.
I apologize. Don't you feel dirtier for having read that? Now that it's out of the way, though, and I have showered, we can get to breaking down Lester's sixth start of 2015.
Like Opening Night, Lester had a prolonged wait following his warmups. In April, it was due to the primetime extravaganza orchestrated by Sunday Night Baseball starring Kevin James John Kruk. On Wednesday, he had to wait 17 minutes as the offense spotted him a 2-0 lead.
Lester, once he took the mound, was not at his best, but there was still plenty to like about the start. He went seven innings for the second consecutive start, and set a season high in pitches (107). This was crucial for a bullpen that had been pressed into 13 innings over the previous four games. For the first time this season, Lester did not have a 20 pitch inning. His four-seam and cut-fastballs were very effective (see next section).
Most importantly perhaps, Lester got ahead of a season-best 68 percent of hitters (21 of 31). Not only was that better than his season average entering the game (53 percent), but it was a stark improvement on the 43.5 percent (10 of 23) from Opening Night.
The Cardinals, who entered the game hitting just .244/.344/.309 against left-handed pitchers, went with a different look against Lester than they did in April. That night, the Cardinals put five left-handers in their lineup. Those lefties went a combined 6-for-11, with two doubles and a walk. They had little trouble with four-seam and cut fastballs, finishing 4-for-9 with a walk. The Cardinals hitters were patient, whiffing on just two pitches outside of the strike zone (see below for Trends).
However, on Wednesday night, Carpenter and Heyward were the only left-handers in the starting lineup. It was a different Cardinals lineup and a different Cardinals approach at the plate.
To break down how Lester picked up his team with a much needed victory, follow me an inch down the page.
Traditional Line
7.0 IP, 7 H, 6 K, 2 BB, 4 R (1 ER)
Pitch Breakdown
107 pitches (73 strikes)
| | | | | | |
| --- | --- | --- | --- | --- | --- |
| | Total | Velocity (Max) | AVG | SLG | BABIP |
| Four-Seam | 51 | 93.0 (95.0) | .200 | .200 | .333 |
| Cutter | 22 | 88.8 (90.3) | .250 | .625 | .200 |
| Sinker | 11 | 91.0 (93.0) | .000 | .000 | .000 |
| Change-Up | 5 | 85.3 (86.5) | .333 | .667 | .333 |
| Curveball | 17 | 75.6 (77.5) | .400 | .600 | .400 |
In the season's opening game, Lester threw his four-seam and cut fastballs a combined 72 pitches (81 percent). Cardinals hitters went 8-for-19 with two doubles.
In this start, Lester threw the two pitches a combined 73 pitches (69 percent), exactly at his season average. This time around, Cardinals hitters finished 3-for-18 with six strikeouts. So, what changed?
For starters, Cardinals hitters were significantly less aggressive in the strike zone than they were in Lester's first start. In that game, they swung at 91 percent (29 of 32) of the four-seam and cut-fastballs in the strike zone: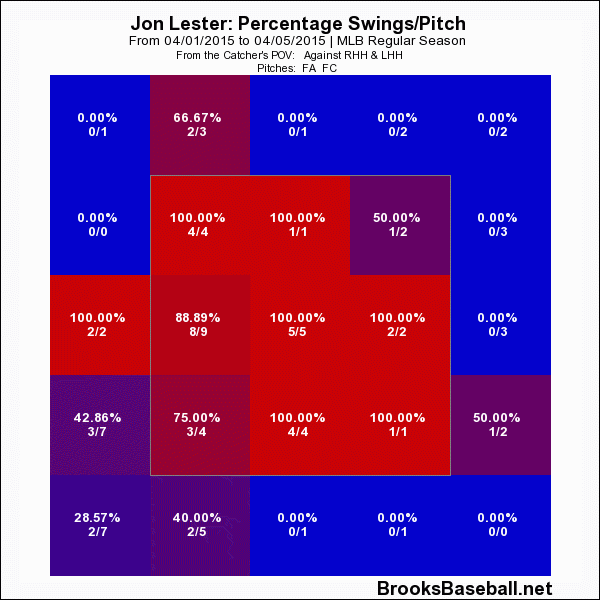 On Wednesday, though, they swung at just 62 percent (18 of 29) four-seam and cut fastballs in the strike zone. Lester used this passiveness to his advantage, utilizing his four-seamer and cutter to get ahead of Cardinals hitters, like we detailed in the introduction. Lester started 23 of 31 batters with the four-seam or cut-fastball. Of the 23, 17 were for strikes, with only seven swings. And of the seven swings, only two balls were put in to play, both for outs.
As we noted after Lester's last start against Milwaukee, the four-seam fastball continues to be his dominant pitch, with opposing batters now hitting just .185 and slugging .259. Right-handed batters, in particular, have struggled against the four-seamer, with a .140 AVG and .140 SLG.
After griping about his lack of curveball usage the first four starts, it has emerged as his third most thrown pitch in 2015 (13.4 percent, career is 16.4 percent). He threw it a season high 17 times at the Cardinals, and while they went 2-for-5 against the pitch, opposing batters have produced just a .200 AVG and .267 SLG. Right-handers (.167 AVG and .250 SLG) have especially struggled, as Lester has been extremely effective at keeping the ball down: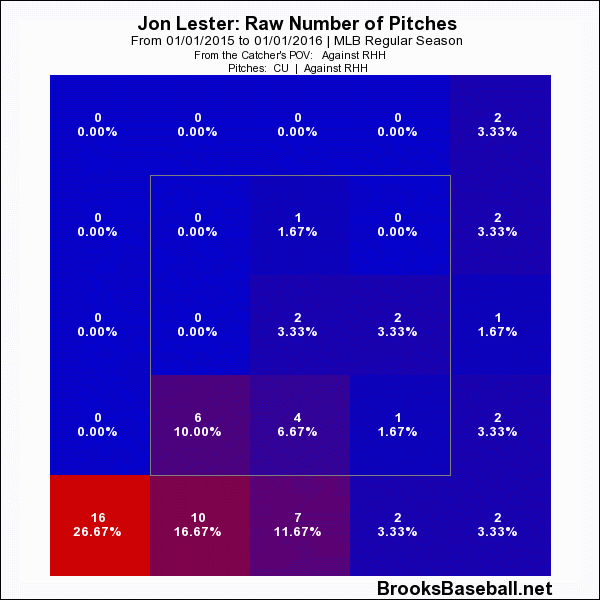 Trends
For a third consecutive start, we are examining a positive trend. Viva life! Like his last start, Lester hit his spots with much greater frequency than at the season's outset. Honestly, I do not know if this reflects more on the efficacy of Lester or the different approach of Cardinals batters.
On Wednesday, Lester produced the following:
Whiffs on pitches outside of the strike zone – 5
Called strikes on pitches on the edge of the strike zone – 17 (!)
Outs recorded from pitches outside of the strike zone – 7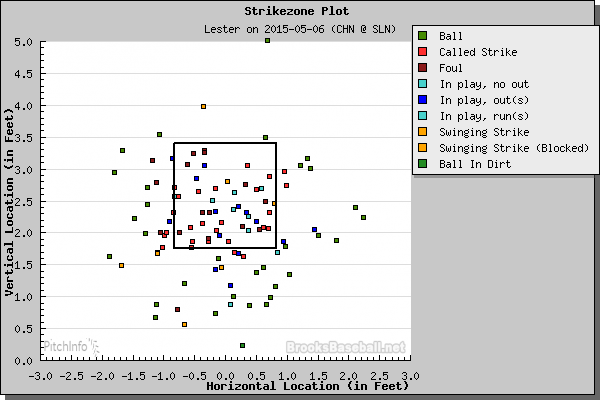 Lester spotted his pitches on both sides of the plate, causing Cardinals batters to expand their zone and go after pitches outside of the strike zone (see Key At-Bat section).
Compare that to his first start against the Cardinals, when Lester produced the following:
Whiffs on pitches outside of the strike zone – 2
Called strikes on pitches on the edge of the strike zone – 6
Outs recorded from pitches outside of the strike zone – 1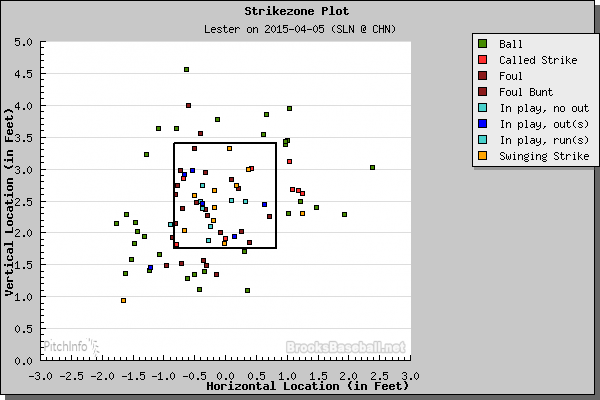 In his first start, Lester could not induce swings on pitches outside of the strike zone. He also struggled to locate his pitches, with the majority of pitches either ending up out over the plate or way off the plate. Cardinals batters were patient, and waited for Lester to come back over the plate with flat four-seam fastballs and cutters that did not cut. Lester obliged, and the Cardinals were very aggressive on pitches in the strike zone.
Last night, though, Cardinals hitters were more reticent on pitches in the strike zone, often falling behind, and being forced to expand their strike zone. If this Trend continues, Lester will only continue to round into his true form.
Key At-Bat/Sequence
Inning: Sixth
Score: Cubs lead 5-4
Situation: Yadier Molina on third base, Pete Kozma on second base, Two outs
Batter(s): Matt Adams
In the span of four batters—an error, an infield hit on a ball Lester should not have played, a check-swing single, and a solid single to center—the Cardinals two-out, two-run rally had cut the Cubs lead to 5-4. With the pitcher's spot due up, Mike Matheny called on Matt Adams, who was in the Opening Day lineup against, to pinch hit.
Entering the game, Adams had struggled in his career against cut fastballs from left-handed pitchers (.231 AVG and .346 SLG). In that situation in 2015, he had already struck out twice and owned a 33 percent whiff rate in eight plate appearances.
The at-bat proved crucial in the game's outcome, while also highlighting Lester's improved confidence and ability to locate his fastballs as the season progresses.
Lester began the at-bat with 93 mph four-seam fastball up in the zone that Adams took for a called strike. Lester then moved slightly away with another 93 mph four-seamer, which Adams fouled off. After two four-seamers slightly up and away, Lester came with a fantastic 89 mph cutter that Adams flailed at for strike three.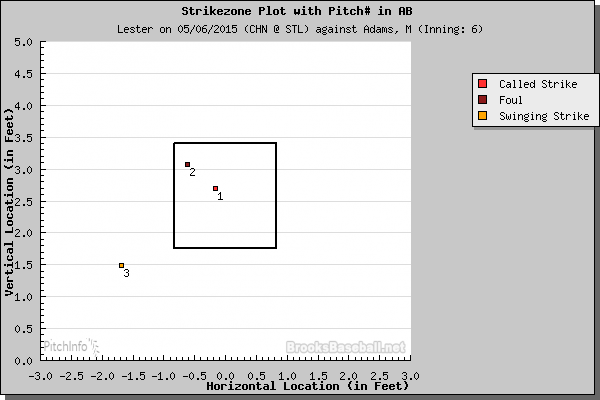 While Lester's fastball remains a mixed bag, he and David Ross did an outstanding job of setting up Adams for the pitch. He has not executed it consistently so far in 2015, especially against left-handed batters, but he did for one of the game's critical pitches.
Keep In Mind
Lester was the victim of some bad luck, with some of it his own doing. Like we mentioned at the outset, though, he was able to minimize the damage. His season outlook is much more positive than it was just three starts ago. As we mentioned in KIM © last week, though, Lester is still having the occasional problem locating his cut-fastball, as can be seen on Jhonny Peralta's fourth inning home run. On an 0-1 pitch, Ross set up low and off the plate: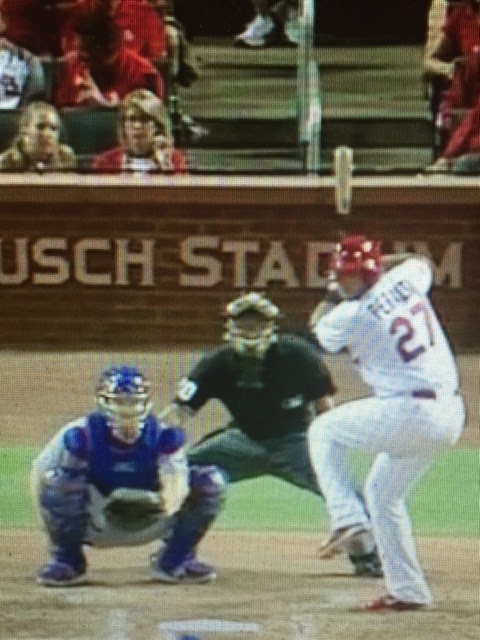 Lester, unfortunately, missed that spot: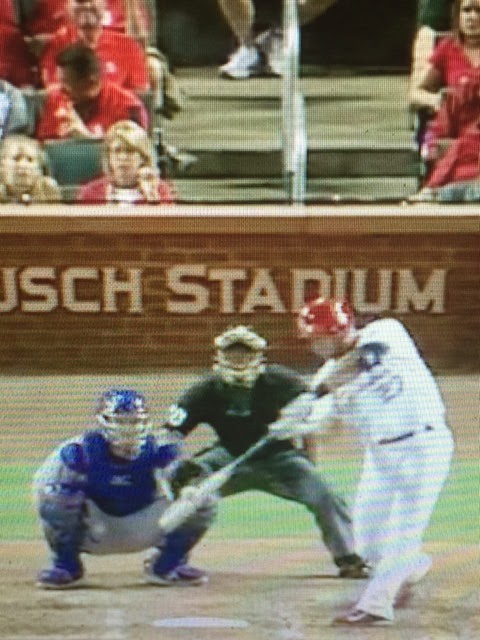 He came up and back over the plate with an 89 mph cutter. Peralta deposited it deep in to the left-center field stands. On the season, seven of twelve extra base hits have come off the cut-fastball. Lester throws the cutter with the second most frequency of any pitch (25.7 percent), necessitating improved results as the season progresses.
Conclusion
Lester's 2015 has already been a tale of two three-start stretches:
| | | | | | |
| --- | --- | --- | --- | --- | --- |
| | IP | K% | BB% | ERA | WHIP |
| Starts 1-3 | 15.1 | 19.4% | 5.6% | 6.89 | 3.11 |
| Starts 4-6 | 20.0 | 24.7% | 4.9% | 1.80 | 1.67 |
As you can see, he is pitching deeper into games, while allowing fewer baserunners and recording more strikeouts. Wednesday night was not aesthetically pleasing, but he gave his team the effective innings by locating his pitches and getting ahead of the Cardinals hitters. The Cubs needed Lester to deliver and he did.
Season-to-Date
2-2, 4.04 ERA, 1.32 WHIP, 22.2 K%, 5.2 BB%
Next Start
Monday, May 11 vs New York Mets (Bartolo Colon)