Baseball is a game of adjustments. We've all heard that line. We've heard it so much that I wouldn't blame someone for saying it's a cliché. But it isn't a cliché. It's true. Baseball is a game of adjustments, especially at the major-league level. One trick ponies—whether they're position players or pitchers—tend to have limited success at the MLB level. Here are two players who got their first taste of the bigs last year, and due to their struggles were sent back down to Triple-A.
Ah, Javy. Our dear Ednel. It feels like just yesterday he was swatting home runs over the batter's eye at Dozer Park while with the Peoria Chiefs. That's when I fell in love with Baez. When was it for you? The four home-run game in Daytona? Home runs seemingly every other day while with the Tennessee Smokies? It was probably when he hit this bomb in front of thirsty Mets fans.
But our beloved Javy has a problem. A huge problem, some might say. I don't need to beat around the bush. Baez broke the record for highest strikeout percentage (41.5 percent) by a player who took 200 or more turns at the plate, previously held by Melvin Nieves (38.8 percent in 1997). That's, uhh, not okay.
So what did he do? He took to winter ball in Puerto Rico to work on it. After spending the spring being the center of roster decisions, Baez was ultimately sent to Triple-A. However, after the tragic passing of his younger sister, Baez missed the first few weeks of the season to be with his family. Since then he has absolute raked. The 22-year-old has hit .325/.397/.550 in Triple-A over his first 32 games. His strikeout percentage is 24 percent and his walk rate is at 7.3 percent. That's the best start to a season he's ever had in his professional career. The adjustments aren't only visible in the statistics, though.
I tweeted out these screenshots early in the morning as I waited for a station to open up at the gym (So what? I'm addicted to this baseball stuff). Baez's batting stance is notably closed off this season. He is crowding the plate a lot more.
Baez's stance in 2012: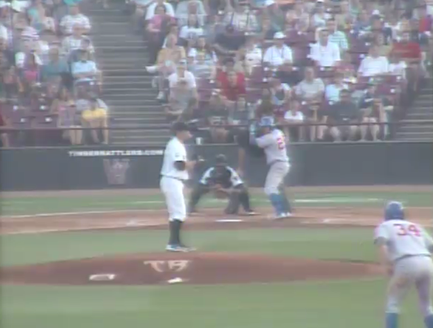 Baez's stance in 2013: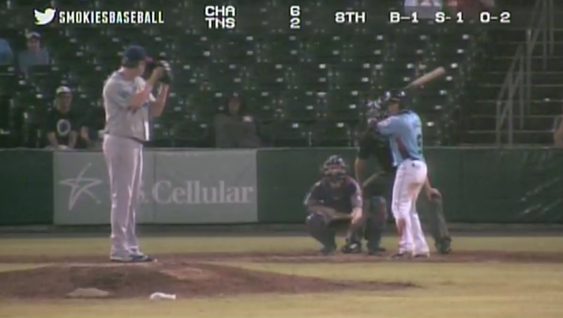 Baez's stance in 2014: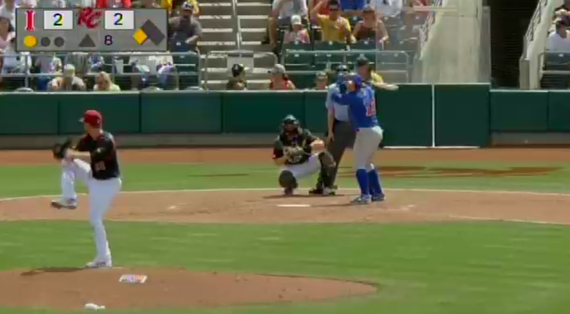 Baez's stance in 2015: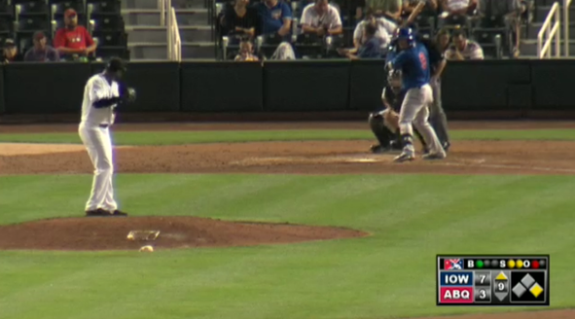 Now I know what you're thinking. That's the same adjustment Anthony Rizzo made after a miserable 2013 against same-side pitching. Did Baez have a problem against right-handed pitchers last year? Well, yeah. But he had a problem against all MLB pitching.
Here are some of Baez's 2014 heat maps via Brooks Baseball. You might even call them cold maps. He was swinging at everything: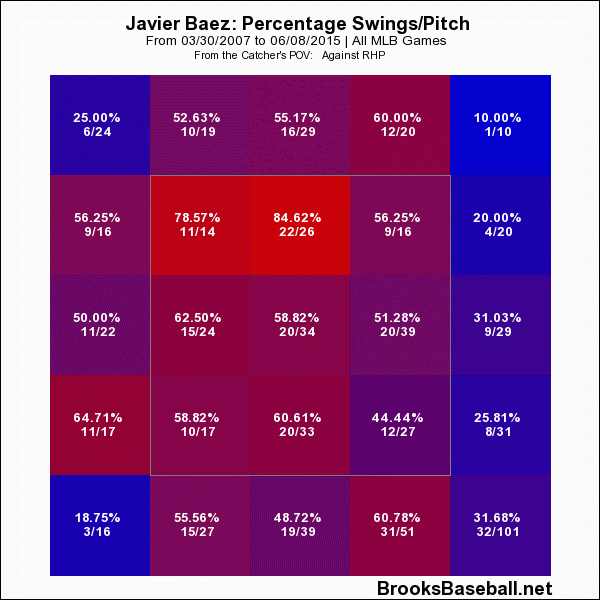 Pitchers were making him chase nasty breaking stuff low and away: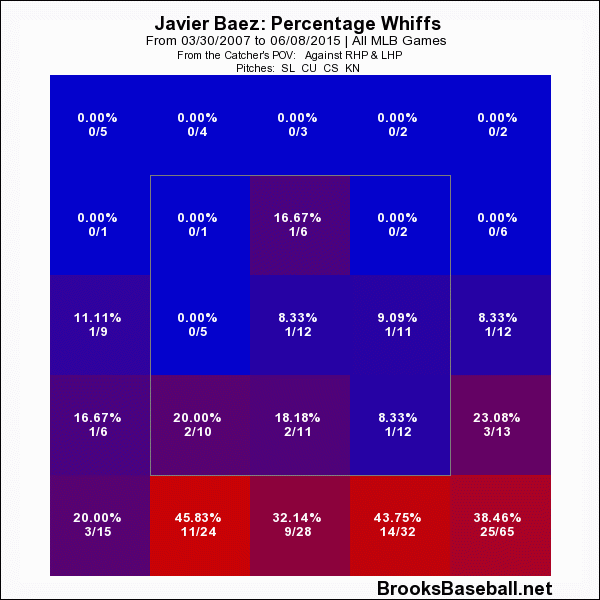 And they were baiting him with fastballs high and out of the zone: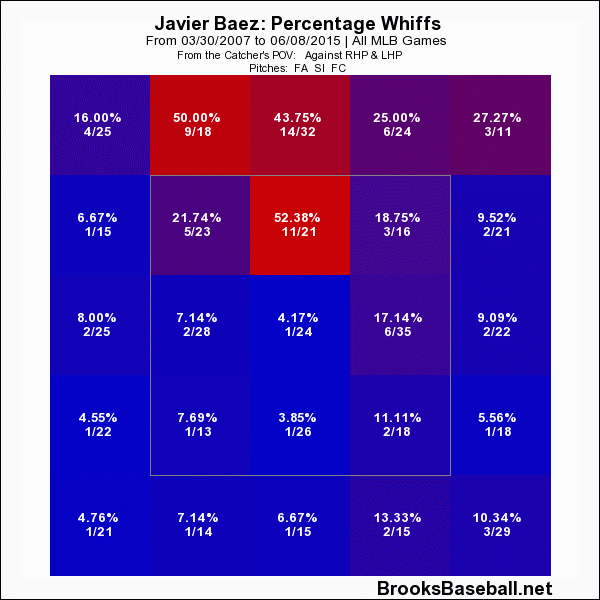 Baez had plenty of holes in his swing. And heck, he might still have them. But what's important is that he is making adjustments and actively working on minimizing those holes. For example, there was also this little change.
Baez in 2014: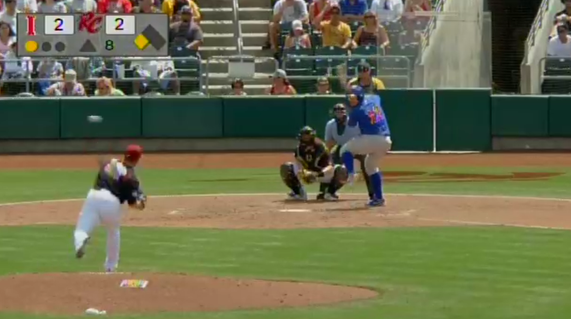 Baez in 2015: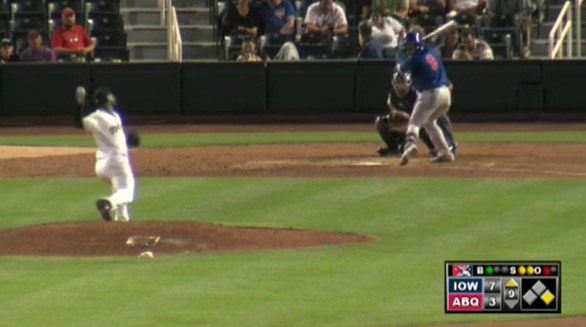 The pronounced leg kick is as popular a characteristic of Baez as his inhuman bat speed. He's had it since he was in high school. I'm no hitting coach (and I certainly am no baseball player), but it cannot be easy to maintain your balance and adjust mid-swing to breaking balls when you're completely dedicating yourself to smacking a pitch as hard as you can the way Baez used to.
I'm not sure if Baez has completely 86ed the leg kick, but this new toe tap has gotten him results and it's even more aesthetically pleasing.
Those are three adjustments Baez has made as he works his way back to MLB. I've said it for a while now: You should not doubt a kid with a good work ethic, raw talent, and the ability to make adjustments. The future, at least in my eyes, looks bright for Baez.
As wonderful as it was to see all these adjustments taking place and finally being properly executed by Baez, we were all hit with a dose of bad news on Sunday. Baez was diagnosed with a non-displaced (meaning the bone is still aligned) fracture of his left ring finger; he'll be reevaluated in the coming days, but that puts to rest any idea of having Baez come up to the big leagues sometime soon. His future? It looks bright. Just with a couple of splints holding up his finger. Heal up, Javy.
Back in 2012, Arismendy Alcantara was playing for the Daytona Cubs. This was before Baez's promotion to the High-A club, and Alcantara was hitting an extra-base hit every other day, it seemed. I instantly felt attached to the guy. Here's a 160 pound shortstop hitting the ball with authority. What wasn't to like? He wasn't a household name, but shortly after that he cracked the Baseball America Cubs top 10 and then landed on some top 100 lists. I was ecstatic.
I share that story because I want you to know that I like Alcantara—I really do! The Cubs decided to promote Alcantara to the big leagues last July and he was an immediate spark plug. For the first week and a half, everybody argued that there was no way they could demote him. He was doing it all—playing outstanding defense at second base while filling in at center field when he was needed, stealing bases, and hitting everything in sight. But then MLB pitchers adjusted to him and figured him out.
However, just like Baez, Alcantara struck out way too often to survive in the majors. His strikeout percentage was 31 percent. Over the course of a full season, he would've struck out over 180 times.
Once again, using heat maps from Brooks Baseball, we can see that pitchers were able to beat Alcantara by pitching him away. It was frustrating to see the small guy with big power attempt to pull everything into the right field bleachers. Pitchers took advantage of that tendency.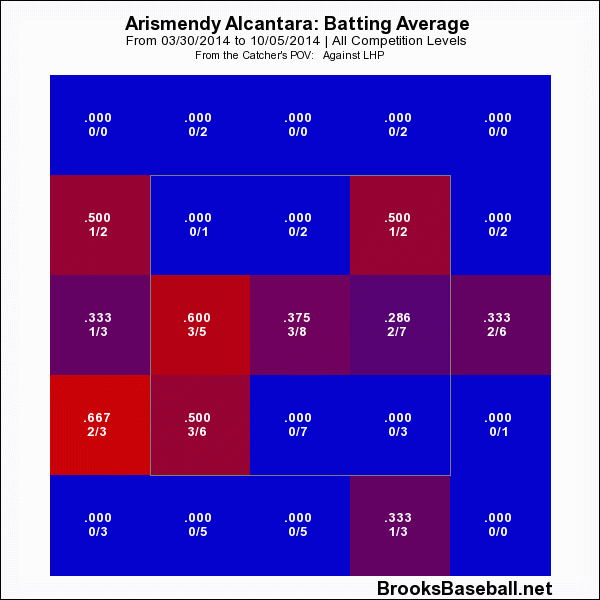 Alcantara knew he had a problem—or maybe the Cubs did—so he too took to a winter league to work on his center-field defense and his strikeout problem.
The Dominican Winter League is a weird place. Games are electric. There are historic rivalries that date back 70, maybe 80 years. The competition varies from High-A organizational arm to top prospect to rehabbing MLB veteran and even some working on a new position. On any given day you could face a team that's starting Hanley Ramirez, Jake Fox, Nomar Mazara, and Starling Peralta.
Alcantara started in center field every few days (the Cubs wanted to rest him at the same time, too) for my family's favorite team, the Licey Tigers. There I saw the exact same tendencies he had in while with the Cubs. He was hitting the ball to all parts of the field, but that was because he's a switch hitter. Alcantara was still pulling everything. It was frustrating.
The most aggravating part of Alcantara's DWL performance was seeing Junior Lake (often times on the opposing team, since it's a six-team league) making radical changes to his approach, while Alcantara whiffed on soft stuff away or pulled a ball 420 feet. Alcantara's season ended and his habits persisted.
Enter 2015 Spring Training.
The offseason leading into 2015 brought a lot of hope for the Cubs. Sadly, Alcantara didn't do much to bring me hope. During Spring Training our beloved utility boy with a man's wrists kept on pulling the ball and striking out on soft stuff away. He broke the season with the team, but that was heavily dependent on the positional flexibility he brought the club with his glove.
Alcantara didn't change, so big-league pitchers didn't have to either. In 32 plate appearances, he hit .077/.226/.077 with 11 strikeouts. Back to Iowa it was, buddy.
Now it's June and Alcantara is once again hitting well in the Pacific Coast League. Through 39 games, he's compiled 17 extra-base hits, seven stolen bases, and a slash line of .279/.345/.526. His strikeout and walk rates are 24 percent and 9 percent respectively. I don't think he's a product of the league. No, I know he has talent. Plus he's only 23. But he has to stop pulling the ball every time. On a nightly basis I check box scores and every time Alcantara collects an extra-base hit, I check to what field. You can count on your left hand how many times he's been able to collect and extra-base knock to the opposite field. To prove it, I have these spray charts from MLBFarm.com. They aren't pretty.
Alcantara from the left side: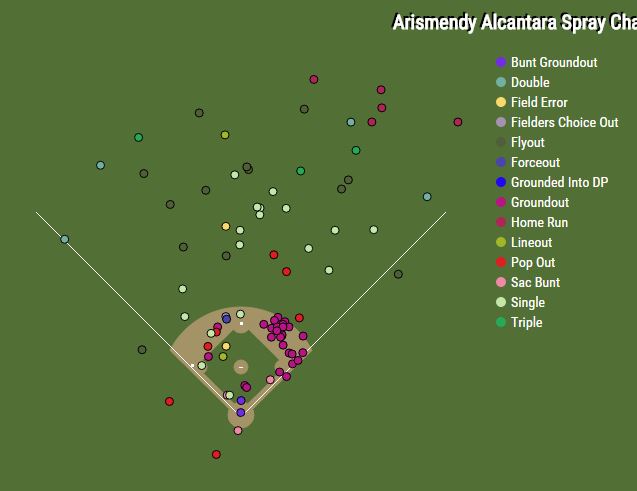 Alcantara from the right side: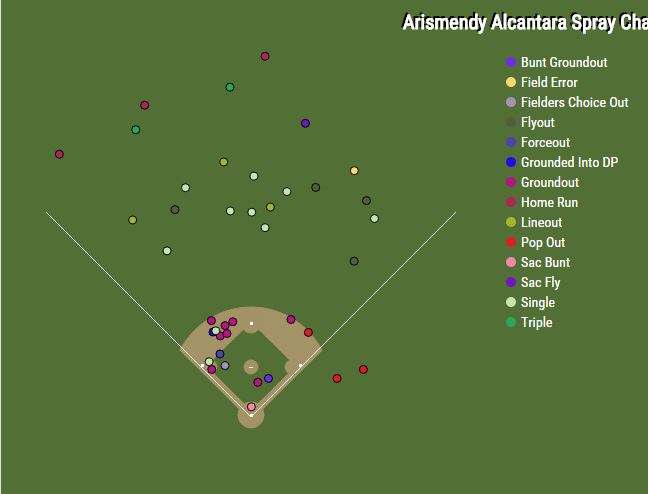 Yeah, he's hitting, but Alcantara hasn't really made any adjustments. Physically, he looks the same. The numbers tell the same story. I'm really rooting for the guy, but that just isn't going to work in the majors. If you limit yourself to using only half of the playing field, you won't hit for a high average. Teams will shift on you. You will never see a pitch inside again. We're back to the phrase again: Baseball is a game of adjustments, and Mr. Alcantara ain't making them.
Who Will DH for the Cubs?
The Cubs are coming up on a stretch of 13 games of which seven will be played in American League ballparks. You know what that means: Designated hitter, baby. So who will it be? What will Joe Maddon do?
The easy guess was Baez. All you had to do was connect the dots. Kris Bryant was seeing time in the outfield. Baez got a couple of games in at third base. You could then assume Chris Coghlan would move from left field to DH, Bryant takes over in left, and Baez fills in at third. Well that was probably more of a stretch than we're assuming, but it's moot now that it appears he'll miss four to eight weeks with a fractured finger.
Then there's the thought that you could do the same thing, except replace Baez with Alcantara, but I still think he needs to remain in Iowa and work on using the whole field. MLB pitchers would probably just end up destroying his confidence once again.
The boring option would be to recall a shuttle name such as Mike Baxter. They wouldn't be able to recall Matt Szczur due to the 10-day rule.
The sexy option? Well let's allow our imaginations to run freely a bit. Not too long ago I wrote about a roster jam the Cubs will have this offseason due to the Rule 5 Draft. You may think I'm going to say Kyle Schwarber, but I'm going another direction with this: Dan Vogelbach should make his MLB debut this week as Chicago's designated hitter.
Prior to being sidelined by a hamstring injury, Vogelbach had been hitting .320/.436/.497 for Double-A Tennessee, well deserving of a promotion. Every time he would get on base, I would tweet about the #Roadto400, alluding to the dream of one of the Smokies' Bash Brothers' road to a .400 on-base percentage. My thought was that for the Cubs to extract maximum value out of Vogelbach, he would need to show he can dominate an advanced level. He hasn't disappointed so far. Well, other than that hamstring thing. But wait there's good news:
#Smokies manager Buddy Bailey says 1B Dan Vogelbach "should be able to return tomorrow". Has been on DL since May 28. #Cubs

— Justin Rocke (@JustinRocke) June 7, 2015
How perfect is that, really? His manager Buddy Bailey says Vogelbach should return Monday. Here are some benefits to calling up Vogelbach for this stretch:
A two-week audition showcases Vogelbach to American League clubs
Vogelbach is added to the 40-man roster now instead of in September
He could easily be sent down to the minors, but technically given a promotion to fill in for Baez in Iowa as Christian Villanueva returns to third base
Unlike Kyle Schwarber, Vogelbach does not need time in the minors to work on his glove (that's as good as it's gonna get, folks)
Trade season is starting to heat up as clubs will stray their focus from the draft and onto the International Signing Period and Trade Deadline
I could go on, really.
With Monday an off day for the Cubs, Maddon will have just enough time to consider getting the big man on a plane to Detroit. Let's have some fun here, fellow Cubs fans. Root for Vogelbach.
Lead photo courtesy of Allan Henry-USA TODAY Sports