Hello, readers. Welcome to another edition of "Young Cubs." Reports of Cubs draftees signing have begun to roll in, including first round selection Ian Happ confirming that he is heading to Arizona soon.
Excited to start my journey with the @Cubs First stop Arizona

— Ian Happ (@ihapp_1) June 14, 2015
This is exciting, as the arrival of these players should provide us with an entertaining second half of the minor-league season. Happ and Donnie Dewees, in particular, are players to watch going forward and could rise through the Cubs system quickly. This also means that midseason promotions are likely on their way, as room is made for the new prospects. To that end, you should also watch for who will be opening the season on the roster of the short-season Eugene Emeralds, who begin their season on Thursday this week. All of that being said, let's begin!
BP Top 10 Update (Stats for 6/12-6/14)
The Non-Prospects
Javier Baez: He's still hurt. I am sad. That is all.
Arismendy Alcantara: Mendy had a decent weekend, but not a great one, as he went 2-for-12 with a triple and double. I continue to believe in his ability and even think he may be close to getting brought back up to the majors. If, as discussed above, Schwarber does get called up to DH for the Cubs this week then it is wholly possible that Mendy could be the player to take his spot on the roster when he would go back to Triple-A. Alcantara has looked more confident at the plate for quite some time now, and the Cubs are desperate for a utility man who can move around the field without killing the team offensively. It is certainly debatable whether Mendy can come up and hit well enough to stay in the majors, but I think he has earned another chance and that the current major-league roster needs would be best addressed by his promotion.
Team Updates/Standings
South Bend Cubs, Low-A, Midwest League: 27-34, 9 GB of first place, eighth place in the Eastern Division; South Bend has been eliminated from the first half division race.
Myrtle Beach Pelicans, High-A, Carolina League: 36-26, first place in the Southern Division; first half ends on Monday, June 22nd
Tennessee Smokies, Double-A, Southern League: 34-29, 4.5 GB of first place, second place in the North Division; first half ends on Monday, June 22nd; The Smokies haven't been mathematically eliminated, but they're hanging on by a thread and would basically have to win out to even have a remote chance of winning the first half division title.
Iowa Cubs, Triple-A, Pacific Coast League: 33-29, 8 GB of first place, second place in the American Northern Division; The PCL is a full-season format, so the Iowa Cubs still have a chance to make the playoffs, but it would take a dramatic downward turn from the Oklahoma City Dodgers, which could happen since several of Oklahoma City's most important players are likely candidates to be called up to the majors (Austin Barnes, Hector Olivera, and Corey Seager).
Player to Watch: Jacob Turner, 24, RHP
Turner made his second Double-A rehab start on Sunday and mostly looked excellent. He went five innings, allowing no runs on two hits. The recent struggles of Tsuyoshi Wada have once again restarted the conversation about who should be the final starter for the Cubs. Turner, if not for his spring training injury, would have been one of the strongest candidates to slide into the back end of the major-league rotation, so it's great to see him healthy and pitching well. Turner could bolster the Cubs rotation very soon, and getting him that chance could be vital to determining the precise nature of the Cubs needs in trade season.
Tweet(s) of the Weekend
Corey Black has been pitching quite well lately in his new role out of the bullpen for the Tennessee Smokies. He's also been showing off a pretty impressive Twitter game. If you had the chance to watch Sunday night's Cubs-Reds game, you saw an umpire with a very inconsistent and wildly inaccurate strike zone. Well, it turns out that Black was watching the game too, and decided to toss some shade at the umpire. This is a real insult coming from a minor-league pitcher, as they often have to deal with inconsistent strike zones themselves.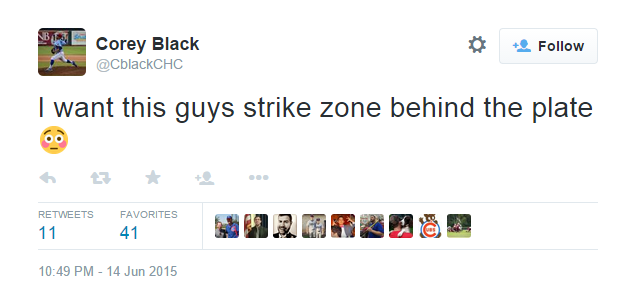 Best Promotion of the Upcoming Week
If you've ever been to a minor-league baseball game, you're likely aware that the teams have some great promotions. They are sometimes fun, sometimes silly, sometimes downright bonkers, and they ultimately are a large part of what make the minor-league experience so much fun. Here, I will highlight an upcoming promotion that stands out to me.
Myrtle Beach Pelicans vs. Lynchburg Hillcats, Thursday, June 18th, Redneck Night ft. a Redneck Wedding: This just sounds glorious. I have no idea what this will entail and if anyone has any clue what a "redneck wedding" is, do please enlighten me. All I know is that this sounds like it has enormous potential for chaos and hilarity, and that's all I ask for from my minor-league promotions.
Game(s) To Look Forward To
Myrtle Beach Pelicans @ Winston-Salem Dash, Wednesday, June 17th, 7 PM ET:  The first half is winding down for the Carolina League and the Pelicans are still in first place in the Southern Division. However, things have gotten tight recently as the Salem Red Sox are now only three games back. This is the final week of play in the Southern League, so the stakes are extraordinarily high, and that the Pelicans are playing a White Sox affiliate just seems fitting.
Odds and Ends
The Tennessee Smokies pulled off a double steal that you will not likely see very often when Schwarber took third while Vogelbach stole second. You may have already known of their prodigious speed, but here is visual evidence for anyone who doubts that this occurred.
Voting is currently happening for the Triple-A All-Star Game, and while Baez is injured and cannot participate, you should still put in a ballot for Alcantara and Christian Villanueva who have been excellent for the Iowa Cubs this season. You can vote at this link through June 26th.
Well played, Tennessee Smokies. I think this video may have inspired the Cubs to win on Sunday night, but I can't necessarily confirm that. You can decide for yourselves.
.@Cubs tie game coming to bat in the 8th? We've got just the thing to get this rally started! #LetsGetSomeRuns!! pic.twitter.com/rRwgqCfRIc

— Tennessee Smokies (@smokiesbaseball) June 15, 2015
Lead photo courtesy of Matt Kartozian-USA TODAY Sports