It's not the first time you've heard it and it certainly won't be the last, but pitching isn't all about velocity. However, the fact is, if a pitcher could once pump high-90s gas and then finds himself struggling to touch the mid-90s, it can take a toll on his confidence.
That may have been the case with Jason Motte, who had averaged no lower than 96.5 mph per season on his four-seamer from 2008-2012. The general thought is that following Tommy John surgery—which Motte underwent prior to the 2013 season—the first thing that comes back is the velocity, and a pitcher will work to regain his command. However, when Motte returned to the mound in 2014, his velocity had dipped to a career-low average of 95 mph, and his ERA ballooned to 4.68, the second-worst of his career.
Early on in this season, it appeared Motte was once again struggling to regain his velocity, averaging 95.8 mph on his four-seamer in April. However, that jumped 96.8 and 96.4 in May and June, respectively. With that, we've see Motte develop a little more consistency on the mound. Since May 16 he's made 13 appearances, allowed no runs—as well as not allowing his nine inherited runners to score—in 10 2/3 innings pitched.
"Yeah, velocity is what it is," Motte recently told me. "But it's really about just getting guys out. You don't have to throw 96, 98 to get guys out, it's about location and stuff like that. But velocity is good because you can get away with a little bit more at certain times, but honestly, it's all about what you do with your stuff. It is nice to see it back, but you still gotta hit your spots and locate."
Motte is of course right. A pitcher can't just throw 98 if he's pumping it down the middle of the plate repeatedly. He may get away with it now and then just due to the pure velocity, but he needs command, he needs movement, and he likely needs some secondaries, if he's going to find any modicum of success on a consistent basis.
"I've thrown them all, but I just go out there and try to throw what's called and execute," Motte said when asked if he trusts his four-seamer more than his other offerings. "But I have confidence in everything, whatever is put down, I have confidence throwing anything at any time."
What's interesting, however, is that the numbers say Motte is mostly just sticking to that four-seamer of late, largely avoiding his other pitches since regaining his velocity. Outside of 2008 when he only tossed 11 innings, Motte's highest percentage of four-seamers thrown for a month was 79.4 in July of 2010. At his best, from 2010-2012, Motte was using the four-seamer 63.8 percent of the time, while also mixing in his cutter (20.8 percent) and sinker (12.7 percent).
This year, the trend has been clear: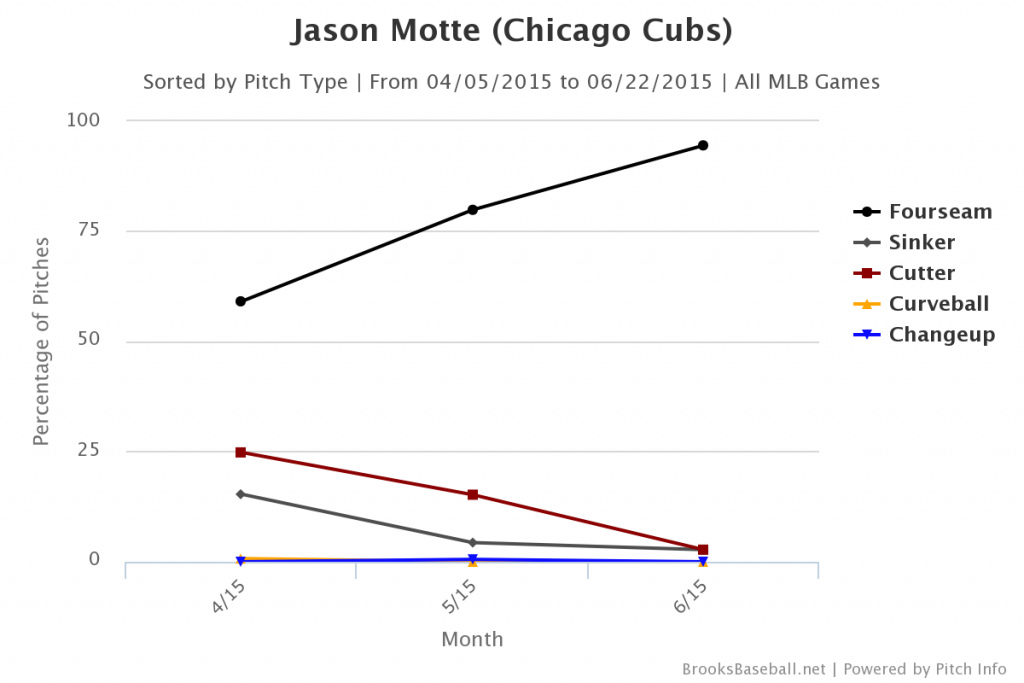 As Motte's velocity has grown, so has his reliance on the pitch, as he's all but abandoned every other pitch in his arsenal. Motte, however, just sees it as a consequence of the situations he's faced.
"It depends on the hitter, that's the way the game is," Motte said. "It depends on the situation, there are a lot of things that go into play. I may throw all fastballs one day in a one-run game and in another game I may come in with someone on, throw two cutters and get a groundball double play. It depends on who's up, what they do, and what you're trying to do in those situations."
Regardless of what he's using to get the job done, at the moment, it's working for Motte. And it's certainly providing some much-needed stability to a unit that had been struggling through a rough stretch prior to Motte's emergence as a reliable 'pen arm. The bullpen posted a 4.37 ERA in May, but has looked strong of late, with a 1.45 ERA so far in June; all this despite having Hector Rondon removed from the closer role.
For Joe Maddon, while he'd certainly enjoy having a dominant arm working the ninth, he seems to thrive when being able shift these arms around, using them when he believes may be the best time.
"We have about three or four guys who can close a game, who have done it, and that's nice," Maddon said. "But I won't deny, if you have that one guy, because just think about it, if the game's beginning and you write your available relief pitchers down and you have eight innings to deal with and the ninth inning you don't care. But if the high-leverage hitters are coming up in the eighth inning and you know the guy in the ninth inning is better suited for those guys, but you're not going to do it because (he's the closer), then sometimes you feel like you're at a disadvantage. All of a sudden the lead's blown in the eighth and then the opportunity isn't even there (for the closer). These are the things you think about. So when you don't necessarily have just one guy, then you're able to match it up better."
Maddon added that he's comfortable with this type of situation because he's succeeded in doing it in the past. And he's able to draw upon that past success when communicating—which is what he says is the key to this working, communication—to his 'pen arms that they could be called upon at any moment in the late innings. And he's done that with Motte consistently the last few weeks.
And one situation in particular showed how Motte, even when he creates his own mess, has Maddon's trust. On June 14th, with the Cubs tied at one with the Reds heading into the top of the ninth and Cincinnati sending their 2-3-4 hitters to the plate, Maddon went to the bearded righty. Motte promptly allowed a single, a double, then an intentional walk to load the bases. However, he was able to get out of the jam by inducing a shallow pop up, a backwards K, then a fly out to end the inning.
"We get out of it because Motte can breathe, he's under control, he's been there before," Maddon said after that game. "He's not taken by the moment. That's really obvious to me, I hope it's obvious to everyone else, that's how you get out of that thing. If he had given it up, I'd have been (fine with it), because he was so under control and that's going to happen. But he did not."
Motte says he thrives in those circumstances and wants to always be out there when the game is on the line.
"That's what I do," Motte said about pitching late in close games. "That's what you want to do, you want to be in those high-leverage situations. That's what I did before I was injured, in (2012) that's what I was doing. I was out there doing things in big situations and I enjoy that. I enjoy the pressure, I enjoy going out there in those big situations."
And while Maddon has been able to get good use out of Motte, the chances that he emerges as the guy in the ninth, if someone is to take over that role once again, are slim. It's great to see that Motte has been able to gain an uptick in his velocity, but the lack of other pitches is a bit of concern. He's been effective, so no alarms should be sounded, but it's certainly something that bears monitoring. As does the fact that his peripherals largely haven't changed from last season, when he struggled mightily.
It may have been unrealistic for Motte to jump back to the 30.8 percent strikeout rate he dropped in his dominant 2012 season, but right now he's at 15.9 percent. That's not even a half point above his 2014 mark, and he's walking a tick above 8 percent, similarly to last season as well. What's going right for him this year is his .244 BABIP, a healthy drop from last year's .286 mark. However, his .267 career BABIP and the fact that that he posted a .258 and .242 BABIP in 2011 and 2012, respectively, give some hope that this number won't jump significantly this year (but let's keep in mind, he's a different pitcher with a different bag of tricks with which to pull from).
He's also seen his HR/FB rate drop from 20 percent in 2014 to five percent this season, which is all the more significant considering his fly ball rate has jumped ten points this season from last. Motte has seen wild fluctuations with this number throughout his career, but again, the lack of a varied arsenal does draw some concern that we may see more balls leave the yard. In conjunction with Motte's low BABIP and miniscule HR/FB rate is the fact that both his soft- and medium-hit balls have jumped from last season (by 22 and six percentage points, respectively), while his hard-hit ball rate has dropped from 41.7 percent to 23.8.
It's certainly possible that the uptick in velocity, along with the ability to command it consistently, has allowed Motte to find success by relying on weak contact while still having mediocre strikeout and walk rates. The truth is, it's really hard to decisively say if Motte's current success can last. The strikeout rate certainly doesn't embolden anyone, but the return of the velocity and the type of contact that's being made makes one feel that he can at least be consistently effective. And as much as I like relying on a pitcher's past performance to help predict what could happen going forward, it's clear that Motte is a completely different pitcher than in the past. I guess that will happen when you're throwing 95 percent fastballs.
Motte possesses many of those intangibles people bring up when it comes to a bullpen arm, but are impossible to really gage the value of: postseason experience, previous success in high-leverage situations, and a closer's mentality (He's got a beard! He gets emotional after a big out!). I'm not sure how much those matter, but the first two are certainly nice to have, especially in a bullpen like the Cubs that's sorely lacking in experience. The beard is a bonus, but Motte just says he doesn't like to shave.
"I do like having a good time," Motte said. "Before I got hurt I was in those roles and I like it, I embraced it. It's one of those things that when you pitch, when you're a starter you want to be that no. 1 guy. When you're a reliever, you want to be out there when the game is on the line and the crap's hitting the fan."
Motte has been used as that guy by Maddon recently, but those hoping he emerges as the clear-cut closer may need to slow things down a bit. His limited arsenal may mean that he's in the perfect role, allowing his manager to pick and choose which matchups may work out best for him and the Cubs. The fact is, Motte's fastball has been incredibly reliable for him the last six weeks or so, if he does get more use out of his cutter or sinker (whether it's matter of confidence in the pitches or just the general effectiveness of the offerings isn't clear), he could become of even more value to the Cubs. But even as is, he's proven to be quite the asset.
Lead photo courtesy of Tommy Gilligan-USA TODAY Sports