I did a podcast last week with Gary Hill, the pre-and post-game host on the Seattle Mariners' flagship radio station, 710 ESPN Seattle (you can find it here, #188). We discussed Brad Miller and Kyle Seager, and I tried to get Gary to speculate about my completely unrealistic desire to see the Mariners trade Felix Hernandez to the Cubs. Being a smart man, Gary wasn't about to opine on the air on anything like that, so I didn't get to make my pitch of Starlin Castro and Edwin Jackson. After our discussion about Brad Miller, it was abundantly clear the Mariners don't need middle infield help anyway, despite his poor batting average.
I'll return to my dreams of Felix Hernandez in a Cubs uniform at the end of this post, but the conversation with Gary made me wonder what the Cubs really need more: pitching help or offensive help. It's a natural thought when they just had a five-game losing streak in which they scored a total of six runs. Their .245 batting average is 11th in the National League, but they're in the middle of the pack in OBP and OPS. Their strikeout rate is improving—they're no longer on a pace to strike out 1,600 times, but only around 1,525 times, which would be third-most in baseball history. At least it's not the most.
I created a Tableau data visualization that looks at players by position and plots them by the dollar value they've delivered this year and their pro-rated salary. This is how Cubs players with at least 100 plate appearances rate: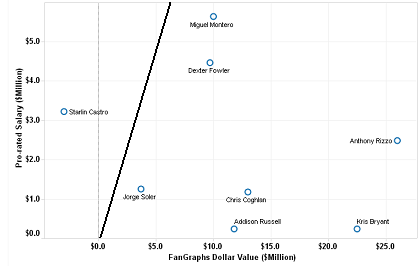 Each point of FanGraphs Wins Above Replacement (WAR) is worth around $8 million, so another way to view this chart is to see that Anthony Rizzo has delivered over three points of fWAR so far this year, one of the best in the league. The line is the value line—players to the right of it are delivering more value than their contracts, and players to the left are delivering less. I've been working with this data viz for the past month or so, but usually view the data in terms of position instead of by team—I'll admit I was surprised to see this. They're doing well in getting runners on base, right at league average, but near the bottom in getting them home.
For the sake of completeness, and also because I just heard Len Kasper mention this on 670 The Score, this is how Cubs pitchers with at least 10 innings pitched have performed: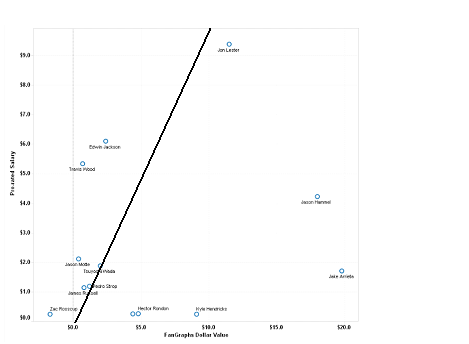 No real surprises here—the Cubs starting pitching has been solid, Jon Lester's hiccups notwithstanding. There appears to be a revolving door at fifth starter, but that's not unusual for even the best teams. The woes in relief are well-documented and can likely be addressed without sacrificing any significant talent.
As the trade talks begin to intensify, there is no shortage of discussion regarding the need for the Cubs to acquire more pitching help, both starter(s) and relievers. The common theme seems to be the Cubs have middle infielders to spare, and teams like the Phillies (Cole Hamels or Jonathan Papelbon) or Mets (a wealth of young pitching talent) would be natural trade partners.
I'm not so sure improvements in the outfield wouldn't make more sense, since they're in the lower half in terms of cumulative outfield BWARP:
| Team | BWARP |
| --- | --- |
| Washington | 9.23 |
| LA Angels | 6.81 |
| LA Dodgers | 6.78 |
| Boston | 6.44 |
| Toronto | 6.31 |
| NY Yankees | 6.14 |
| Tampa Bay | 5.70 |
| San Diego | 5.64 |
| Kansas City | 5.41 |
| Miami | 5.19 |
| Arizona | 5.13 |
| Detroit | 5.04 |
| Houston | 4.93 |
| Pittsburgh | 4.38 |
| Oakland | 3.87 |
| St. Louis | 3.84 |
| Texas | 3.58 |
| Milwaukee | 3.56 |
| Seattle | 3.52 |
| Chicago Cubs | 3.50 |
| Cincinnati | 3.06 |
| Baltimore | 2.49 |
| Cleveland | 2.38 |
| NY Mets | 2.06 |
| Atlanta | 2.00 |
| Rockies | 1.73 |
| Phillies | 1.68 |
| Minnesota | 1.66 |
| San Francisco | 1.60 |
| Chicago White Sox | -0.10 |
Today's playoff format means trading teams need to be identified before players, since teams that believe they're in the hunt for a playoff spot aren't likely to part with anything of immediate value. Since anywhere between 15 and 20 teams can be considered to be in the playoff hunt, it's probably prudent to focus on those teams that can safely be written off.
Another pertinent issue is who will eventually play left field. If Kris Bryant is destined for that position, then it makes little sense to make overtures to players like the Padres' Justin Upton (a free agent after this season) or Seth Smith of the Mariners, who quite frankly doesn't interest me much. Dexter Fowler is a free agent after this season, and I can live with him if he starts getting on base like he has in the past, but he's 50 points below his career average. Then again, the Cubs' issues haven't been getting on base.
Right field is the big question mark for me. Jorge Soler will be returning from the DL soon, but he wasn't exactly setting the league on fire when he was playing. It's difficult to predict how a young player will rebound from injury, and one player that might intrigue me would be Josh Reddick of the Athletics. He'd be under team control through 2016 and has been very consistent for the past couple of years, but I suspect that because it's the A's, there's not much chance any trade like that would happen that didn't include one of the top prospects, and I'm not sure he's worth that.
Much of this can be a function of over-analyzing a five-game losing streak, since all teams go through five-game losing streaks, even World Series-winning teams. One thing that is almost 100 percent certain is that Theo Epstein and Jed Hoyer won't make a rash trade just for the sake of trading—Epstein said as much in an interview with The Score last week, and all one has to do is look back at the July Billy Beane had in 2014 to show the danger in going for it. Conversely, the worst thing an organization can do is overvalue their own prospects and hold them past their sell-by date. It's a tricky situation.
As promised, here's a couple Felix Hernandez tidbits—first, by the end of this season he'll have over 2,200 innings under his belt, and he won't turn 30 until the beginning of next season. He'll join a very short list of pitchers to do that since 1960, and there's a common theme to the list—effective at a young age, not injury-prone and able to adjust to changes in the game. The future careers of those 12 pitchers range from Hall of Fame to just about over. Chances are Felix still has quite a bit left in him.
After Gary and I finished the podcast, we talked for a bit more and I started salivating over seeing Hernandez in a Cubs uniform and what he could do if he was able to face pitchers in most games. Gary said he had started accumulating the number of times Hernandez had faced DHs, and I liked the idea so much I ran with it. These are the current strikeout leaders and the number of times they faced DHs: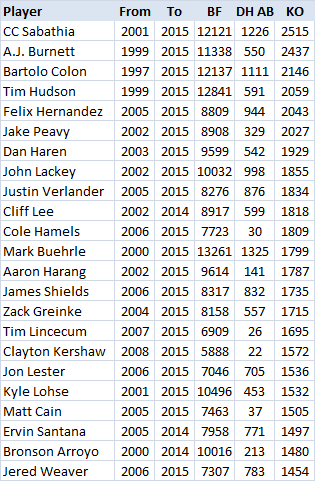 It's about a week out of date, so take it with a grain of salt. In recent history, pitchers strike out around 35 percent of the time. It's a stark difference between pitching to a hitter for whom batting is an afterthought as opposed to one who can be considered a professional hitter, even though DH OPS is down 80 points in the same time span. It's an interesting thought I had never considered before, so thanks again to Gary for the idea.
The Cubs will be active in the trade market, and they'll almost have to be, since they're reaching the point where they have to either use their young talent or move it before it loses its value. Top-shelf hitters and pitchers don't come cheap, but the Cubs are in the enviable position of having enough of value to make just about any deal they wish. The Cubs' offense will come around, but chances are it won't take off into the stratosphere—what they've shown so far is fairly representative of what they can accomplish. That's why they need to find it somewhere, either down on the farm or in a trade-—the best pitching can't overcome a lack of run support.
Lead photo courtesy of Matt Marton-USA TODAY Sports