Date: July 1
Opponent: New York Mets
Location: Citi Field
Introduction
NYC. New York, New York. The Big Apple. The City That Never Sleep. Beantown. The Land Before Time II. Regardless of your favorite nickname for the city, New York was exactly where Jon Lester needed to be for his first start of July. As we detailed (painfully) last week, he is coming off a June in which he posted 5.74 ERA, 1.50 WHIP, and .851 opponent's OPS in five starts.
Thankfully, on Wednesday night in Queens, the Mets offense proved the cure for the common struggling starter. Lester was not at his sharpest, but he still delivered one of his best performances of 2015.
There was much to like about Lester's sixteenth start of the season. He did not have a 20-pitch inning for the first time since May 22 at Arizona. Lester topped 100 pitches for just the second time since May 16 against the Pittsburgh Pirates, and his 70 strikes was his third-highest total of the season. In one stretch from the second inning into the sixth inning, he retired eight straight batters, and 11 of 12. He also avoided the multi-run inning and did not surrender a home run to a hitter with a sub-.700 OPS (see: Sean Rodriguez, Nick Ahmned, and Kurt Suzuki).
Lester's cutter was effective and featured prominently, as it was in his first start against the Mets (see Pitch Breakdown and Trends sections). He was also able to effectively use his fastballs to set up his curveball, and while he is still missing spots with his four-seamer, he was at least able to minimize the damage with no extra-base hits surrendered off the pitch.
Most notably, though, is that perhaps more so than any other start in 2015, Lester found success on the edges and outside of the strike zone: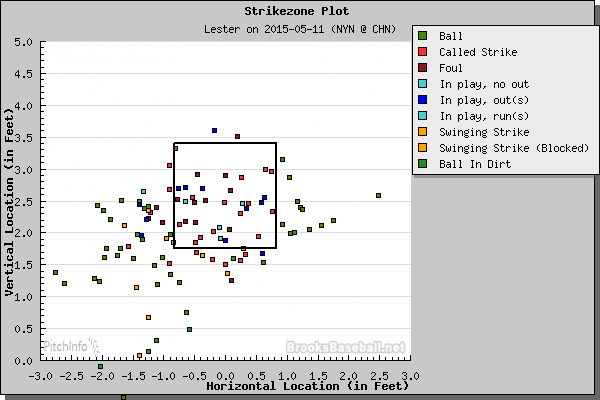 Whiffs on pitches outside of the strike zone – 10 (season high)
Called strikes on pitches on the edge of the strike zone – 13 (season high)
Outs recorded from pitches outside of the strike zone – 5
Chalk it up to a generous strike zone and/or the Mets willingness to chase cutters and curves (all seven strikeouts came on the two pitches), but Lester did not have to live in the strike zone.
In his May start against the Mets, Lester got ahead of 67 percent of batters (18 of 27). On Wednesday, Lester got ahead of just a season-low 42.9 percent of batters (12 of 28).
The opponent, of course, did not hurt matters. The Mets entered the game bottom five in the NL in most every major offensive category, including runs scored, ISO, doubles, OBP, SLP, OPS, and strikeout rate. Just three everyday players—Curtis Granderson, Lucas Duda, and Daniel Murphy—have an OPS greater than .700 or a TAv above .260.
Though the team has been better against left-handed pitchers, they entered hitting just .236/.306/.397 with a 23.6 percent strikeout rate against southpaws. In their previous 14 games, the Mets have scored just 29 runs, including three shutouts. During that stretch, the team has gone from 1.5 games up in the NL East, to 3.5 games behind the Washington Nationals.
Nonetheless, you have to perform against the team on your schedule, and that is what Lester did against the Mets. He utilized his cut-fastball and curveball and exploited the Mets aggressiveness on pitches outside the strike zone. Scroll lower a few inches to see how it all went down in the Borough that Kevin James built… with laughter!
Traditional Line
7.0 IP, 5 H, 7 K, 1 BB, 0 ER
Pitch Breakdown
107 pitches (70 strikes)
| | | | | | |
| --- | --- | --- | --- | --- | --- |
| | Total | Velocity (Max) | AVG | SLG | BABIP |
| Four-Seam | 34 | 93.1 (95.5) | 1.000 | 1.000 | 1.000 |
| Cutter | 41 | 90.3 (92.2) | .231 | .385 | .300 |
| Sinker | 9 | 92.4 (93.0) | .000 | .000 | .000 |
| Changeup | 6 | 88.0 (88.0) | .000 | .000 | .000 |
| Curveball | 17 | 73.4 (75.2) | .000 | .000 | .000 |
In May, the Mets hit two home runs off of four-seamers that missed their spots. That is probably not the sole reason for the pitch's reduced usage on Wednesday night, but Lester's 31.8 percent four-seamer usage was his lowest total since April 14 against Cincinnati (30.5 percent), his second start as a Cub. He induced only two whiffs, but allowed just two singles. Lester's 92.9 mph average velocity with the four-seamer was best since June 3 at Miami.
The real story of the Pitch Breakdown section, though, is the cut-fastball. In his May start against the Mets, Lester threw a season-high 35.5 percent cutters (39 of 110). At least, it was a season high until Wednesday night, when Lester threw 38.3 percent cutters. In his two starts against the Mets, Lester has gone to his cut-fastball 36.9 percent of all pitches, nearly 10 percent above his season average (27.6 percent).
On May 11 against the Mets, Lester threw 20 percent curveballs (22 of 110), his second highest total of the season. On Wednesday, he went to the curve at his season average (15.9 percent), and had much success, as has been the case for most of 2015. He generated five whiffs, his highest total since May 16 against Pittsburgh, and went to the curve 33 percent of the time when he got ahead of batters. Four of the seven strikeouts came via the curveball, his best total of the season. In 2015, opposing batters are hitting .173/.189/.289 with a 30.3 percent strikeout rate against Lester's curve.
Trends
As we detailed in the Pitch Breakdown section, it is pretty clear that when Lester faces the Mets, he and David Ross have a definite plan to feature the cutter. There is likely good reason for this approach. The Mets two best offensive players in 2015—Duda and Granderson—are left-handed batters who have struggled throughout their careers against cut-fastballs from left-handed pitchers:
| | | | |
| --- | --- | --- | --- |
| | AVG | SLP | K% |
| Duda | .279 | .372 | 31.1% |
| Granderson | .229 | .441 | 26.2% |
Lester generated seven whiffs on 41 cutters (17.1 percent), with each whiff coming outside of the strike zone. In 2015, Mets hitters have made contact on about 63 percent of pitches outside the strike zone, which ranks in the bottom four in the NL. In two starts against the Mets, Lester has gone to the cutter 36.9 percent of all pitches, and held the Amazins to .217/.357/.304.
Yes, both Mets extra-base hits came against the cutter, including Juan Lagares' fifth-inning double on a cutter that did not cut: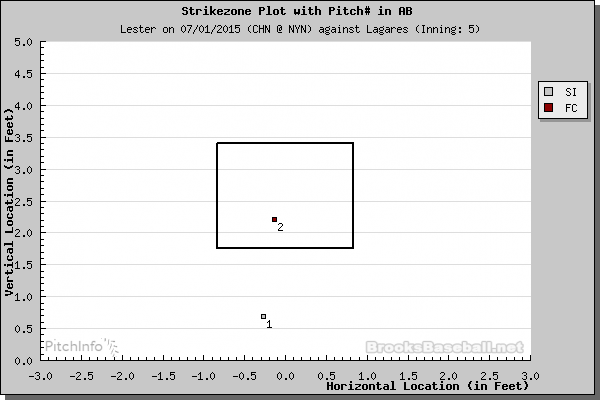 Overall, though, it was effective. As a team, the Mets went 3-for-13 with three strikeouts against the offering. The Mets were aggressive against the cutter, swinging at 27 of 41 on the night.
Key At-Bat/Sequence
Inning: Second Inning
Score: 0-0
Situation: Two outs, John Mayberry, Jr. on third base, Kevin Plawecki on second base, and Juan Lagares on first base
Batter(s): Curtis Granderson
Show of hands: who thought the wheels were coming off in the second inning? After pitching around a lead-off single in the first inning, Lester loaded the bases with one out. The telltale sign of a struggling Lester were there: the missed spots with his fastball that resulted in him failing to get ahead of batters.
First, though, while both hits in the inning came on pitches up and over the plate, Lester actually did a good job of picking up strikes without living over the plate: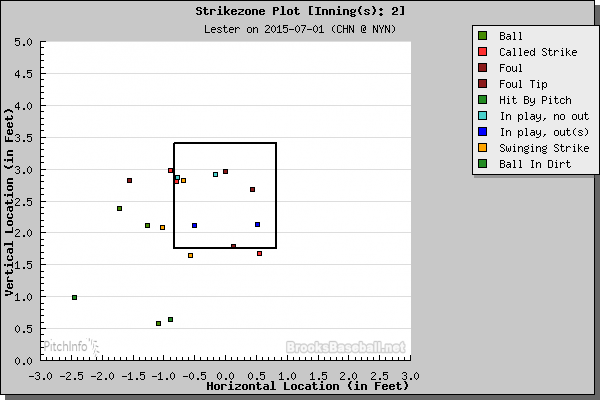 Lester had three called strikes and two swinging strikes on pitches that were on the edge of or outside of the strike zone.
John Mayberry, whose sole job is to hit fastballs from left-handed pitchers, led off the inning with a double on an 89 mph cutter that stayed up in the zone: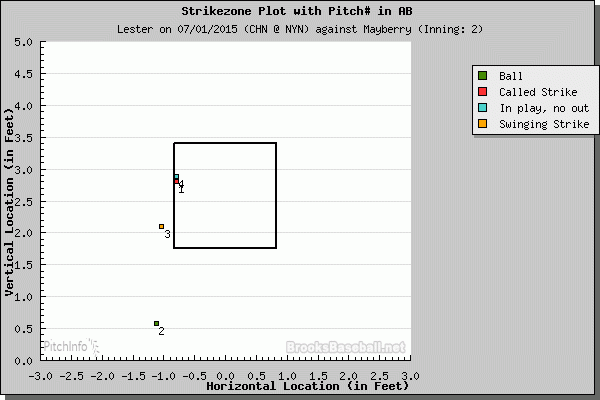 Lester then struckout Wilmer Flores on a 1-2 curveball up in the zone, after setting him up with cutters and four-seamers.
With one out, Lester surrendered a single to Kevin Plawecki on a 93.5 mph four-seamer that was up and out over the plate. As you can see below, Lester got ahead of Plawecki on two four-seamers up and inside- the first for a called strike, the second a 94 mph fastball that he swung through: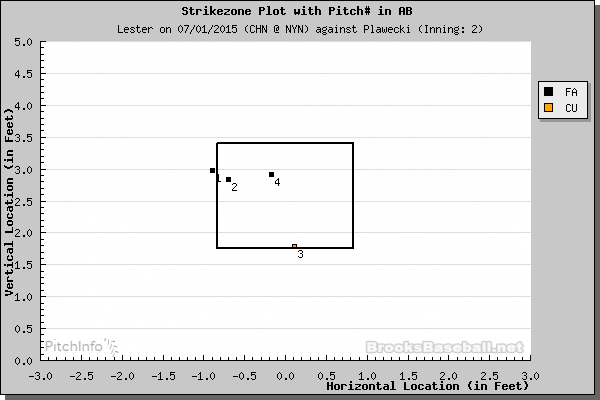 Lester and Ross then attempted to put away Plawecki with a curveball, but he fouled off the pitch. On the next pitch, Lester tried to climb the ladder with the four-seamer again, but it caught too much of the plate. It was solid plan of attack, as Plawecki entered the game hitting .241/.306/.333 with a 20.4 percent strikeout rate against four-seam fastballs in 2015, but as we have said exhaustively this season, Lester just cannot consistently locate the four-seamer.
With one out and runners on first and second, Lester hit Lagares with a 92.1 mph cutter that cut a bit too much.
Now, with the bases loaded and still just one out, Lester had to deal with Andy Kaufman-esque performance art that is The At-Bats of Bartolo Colon, who entered hitting .143/.138/.179. Lester threw Colon two cutters, inducing a pop fly to shallow right field on a 91 mph fastball.
Entering Wednesday, Granderson had considerable success in his career against Lester. In 44 plate appearance, he had hit .275/.341/.525 with two home runs. After missing outside with a four-seamer for a ball, Lester missed his spot inside with a cutter, but got a called strike one. On the third pitch, Lester went back outside with a 90.7 mph cutter that Granderson lofted to centerfield for the final out of the inning: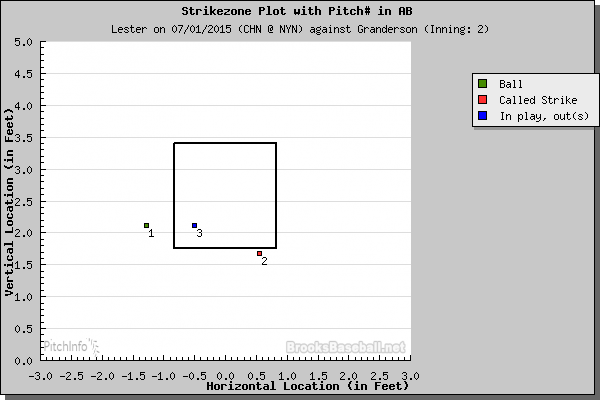 Lester went far enough away from Granderson to a spot where he has not done much damage against fastballs in 2015: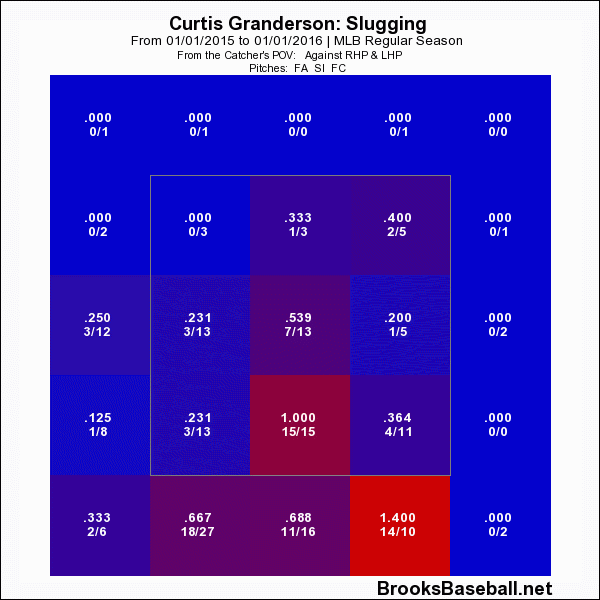 The Mets mounted their greatest threat of the game, but Lester escaped the inning unscathed. Not surprisingly, when Lester needed to make a big pitch against the Mets, he went with the cutter.
Keep-In-Mind
A bonus, Fourth-of-July, two-part KIM © section:
The Opponent: Lester was effective, but keep in mind (hey, that's the name of this section!): This was the 2015 Mets, who are making the 2014 Padres look like the 2003 Red Sox. As Amazin' Avenue noted after Wednesday's game, the Mets are on pace to score their fewest runs in a season since 1968.
The Winless Streak: Lester has now set a new personal record with eight consecutive starts without a recording a victory. Lester has certainly played his part in the streak, averaging less than six innings per start with a .755 OPS against. The Cubs offense, however, has scored just 18 runs in the eight starts, which includes two extra-inning games. Overall, at 2.88 runs per game, Lester has received the fourth-lowest run support in the NL. In his sixteen starts, the Cubs have been shutout four times, and scored one or two runs on three other occasions.
Conclusion
Lester and Ross had a clear plan attack of against a woeful Mets offense, and Lester was able to execute. He escaped jams in the second, fifth, and sixth innings, which, coincidentally enough, have been his three worst innings in 2015, by most statistical measures:
| | | | | | |
| --- | --- | --- | --- | --- | --- |
| | ERA | WHIP | AVG | OBP | SLP |
| Second | 5.62 | 1.688 | .324 | .378 | .486 |
| Fifth | 3.95 | 1.375 | .316 | .361 | .596 |
| Sixth | 6.35 | 1.250 | .333 | .370 | .608 |
While Lester still does not have the statistics or look of the dominant pitcher he was in 2014, even just to the naked eye, he was still able to control the game with his cutter and pick up the team's struggling offense. At the very least, Lester did not pick up in July where he left off in June.
Season to Date
4-6, 3.74 ERA (5.65 DRA), 1.329 WHIP, 22.7 K% , 6.8 BB%
Next Start
Monday, July 6 vs St. Louis Cardinals (John Lackey)
Lead photo courtesy of Noah K. Murray-USA TODAY Sports