Top Play (WPA): As much as I love Cubs baseball, this game was a chore. The Cubs were trailing almost immediately in this game, as Jason Hammel started and yet again didn't have quality location on his pitches. The Tigers blasted three home runs off Hammel, as well as one double by Miguel Cabrera that was initially ruled a homer. Check out the crafty Tigers fan who snagged Miggy's double and fooled the umpires on the initial view:
The Tigers took a 5-2 lead before a lengthy rain delay mercifully ended Hammel's evening after just three innings. They bumped to 6-2 in the top of the fourth inning, but the Cubs mounted a furious comeback. With two outs and Dexter Fowler standing on second base in the seventh, Anthony Rizzo drilled a single to right-center to tie the game at 6-6 (.257)
Hammel has been in a funk lately. He was routinely missing on his pitches up in the zone, as evidenced by the location of pitches on his strike zone plot: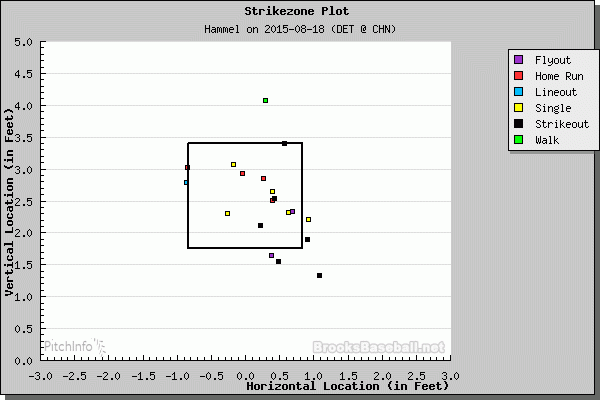 Hammel threw 62 pitches in this one, after throwing just 65 and 72 pitches in his two previous starts. It looks like the Cubs have tried to get him out of games early and help keep his arm fresh, but it doesn't appear to be working. Interestingly, in his first seven starts after being traded to the A's last season, Hammel put up a 6.75 ERA. The A's opted to skip his turn in the rotation, giving him nine days of rest in between starts. He started five games the rest of the way with a 2.02 ERA. Perhaps the Cubs need to start discussing whether skipping a turn in the rotation is for the best.
Bottom Play (WPA): Earlier in the seventh inning rally after Fowler had doubled to lead off the inning, Kyle Schwarber struck out (-.093) in a big spot. As previously mentioned, Fowler did come around to score on the Rizzo two-out single. Schwarber came up big in two spots in this game, as well, so I think he can be forgiven for this strikeout. Schwarber made a great defensive play in the field (more to come on that) and also hit a huge three-run homer in the fifth inning.
Key Moment: There are so many things to choose from here, including multiple home runs, a weird play at first base where Cabrera threw his glove at a pick off throw, an American League reliever's first career hit, and all kinds of #weirdbaseball. But I chose a beautiful play from Schwarber in left field, simply because it's hard to not love Schwarber. In the top of the fifth inning with runners on first and second and two outs, Ian Kinsler got his fourth hit of the game on a line drive to left field. Schwarber fielded it quickly, unleashed a cannon shot straight to Miguel Montero at the plate and nabbed Iglesias, who was still several steps away. Check out the throw by Schwarber.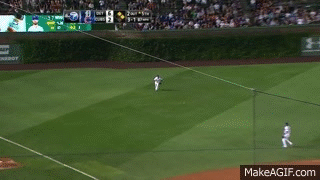 Trend to Watch: Pedro Strop got BABIP'd to death in the fateful eighth inning, allowing two bunt singles and a little blooper (with a walk to Cabrera and an intentional walk to Victor Martinez mixed in) that turned a tie game into a 9-6 lead and an eventual 10-8 win for the Tigers. But Strop has been really good at keeping guys from hitting their way on base this season. Coming into the game Strop had only allowed 4.2 hits per nine innings, which is good for second in all of baseball for relievers behind Dellin Betances of the Yankees. So long as Strop doesn't give up silly bloopers or a crazy amount of perfectly placed bunts, I feel good about having him out there in key situations. What happened in the eighth inning today, while painful, wasn't totally Strop's fault.
Coming Next: The Cubs (67-50) finish their short two-game set with the Tigers (57-61) tonight at 7:05pm in a battle of left-handers. Jon Lester will be on the mound for the Cubs against Daniel Norris of the Tigers. Norris has made one career appearance against the Cubs, throwing one inning in relief back when he was with the Blue Jays. Lester has a 1.92 ERA in eight starts since the beginning of July and has lowered his season stats to 3.21 ERA/2.87 FIP/3.98 DRA.
Lead photo courtesy of Jerry Lai-USA TODAY Sports