When Chris Coghlan won the NL Rookie of the Year award for the Marlins in 2009, he was a high-contact singles hitter for whom a home run was a special occasion.
Six years later, after a career crisis and unlikely revitalization, Coghlan is again a productive outfielder, this time with a skillset bearing little resemblance to the one he established as a 24-year-old in Miami. The player the Cubs have seen the past two seasons—call him Coghlan 2.0—owns a batting average (.251) that would embarrass early-career Coghlan but an improved eye and drastically enhanced power stroke that have him batting in the middle of the order for the playoff-bound Cubs.
Coghlan arrived in Chicago last season coming off three underwhelming seasons with the Marlins and a host of their minor-league affiliates. He was a slap hitter who could not longer get hits.
Coghlan began the 2014 season in Triple-A before the Cubs called him up at the start of May. Then, despite almost no expectations, the lefty submitted a stunning comeback season, fueled by a newfound power stroke.  Coghlan tied his career high in home runs (nine) in 133 fewer plate appearances than when he first accomplished it, while establishing a new personal best in isolated slugging percentage (.169). This season he's blown away both figures, popping 16 home runs with a .194 ISO that ranks fourth on the Cubs.
"I'm a different player now than when I was younger," Coghlan said Friday. "Everybody wants to compare me to when I was Rookie of the Year. I'm just a totally different player than I was. My values as a player have changed, my approach to the game has changed."
Coghlan's transformation began in 2010 when he tore his meniscus attempting to pie a teammate in the face following a walk-off win, thus ending a solid but unspectacular sophomore campaign. The outfielder's numbers fell off the table the following two seasons, and by mid-2012 he was sent to Triple-A with a .140/.212/.183 slash line. "I didn't have my legs under me," Coghlan says now.
Right around then, Coghlan decided to overhaul his approach at the plate. As he saw it, front offices increasingly sought power and on-base percentage, especially from corner outfielders. Coghlan figured even if he could return to his early-career level of production, hitting for a decent average with moderate patience and limited power wouldn't get him far, especially as a corner outfielder.
"The industry changed," he said. "I looked at my career and said, OK I can keep doing this and doing well, but the industry's not going to employ me unless I hit .330 because I'm not slugging enough. They're going to look at that and go 'oh man he's a corner outfielder, and he's hitting .280 with five homers.' So I looked at my career and I said, man I need to make a change in my philosophy and in my values so I can continue to get employed for as long as I want to play."
Coghlan 2.0 is best represented by two stats. The first is his ground-ball/fly ball ratio, which climbed to 2.74 in that disastrous 2012 season thanks to a 63.4 percent groundball rate, but has now settled to a career-low 1.32. This graph illustrates Coghlan's transition from slapper to slugger.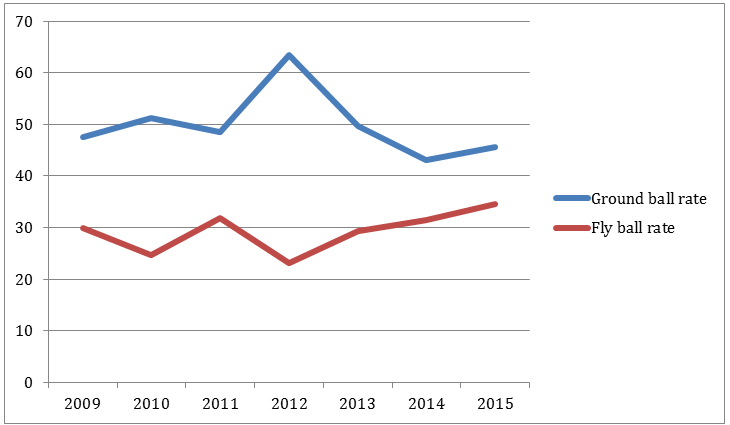 Coghlan offers two explanations for this trend. 1) His knee finally healed fully, allowing him to better drive the ball (it's worth noting his line-drive rate cratered in 2011 and 2012, directly following the torn meniscus) and 2) He has made a conscious effort to hit for more power, which meant more fly balls and fewer grounders.
The second stat to explain Coghlan 2.0 is his walk rate, which stood at a career-high 11.4 percent in 2015 through Thursday. The surge in walk rate (up from 9.0 percent last year and 7.4 percent at its lowest) owes largely to Coghlan's ability to lay off balls—the outfielder has swung at only 23.7 percent of pitches outside the strike zone, the lowest rate of his career.
Coghlan says the increased patience ties in with his new slugging-oriented mindset.
"Walk rate happens because I'm looking for a ball to drive," he said. "Because my value is that I want to slug the baseball. When I was younger my value was to get a base hit. So if a ball was a borderline pitch, and I knew I could get a base hit or find the barrel I would swing. Now I know that's a very hard pitch to slug, so I'm waiting out for a good pitch to slug, which in turn means I'll walk more because I'm being more patient."
The end result of Coghlan's adjustments is an unlikely return to his Rookie-of-the-Year level production after three seasons of bouncing between the majors and minors. By TAv, 2014 and 2015 have been the second and third best seasons of Coghlan's career, trailing only his award-winning 2009.
The 30-year-old is a perfect fit for a deep Cubs roster. For one thing, he offers a wide platoon split (.266/.356/.480 against righties, .116/.208/.140 against lefties), which makes him an ideal platoon candidate on a team overflowing with position players deserving at-bats.
But perhaps more importantly has been Coghlan's positional versatility. After playing mostly left field for most of his career, he has appeared at five positions in 2015. During a key stretch in August, the Cubs went 11-1 with Coghlan playing second base.
"I know how good he is offensively," manager Joe Maddon said Friday. "The big difference right now is the ability to play different positions, and the fact that he's able to do that made him even more valuable."
Coghlan said as a young player he was apprehensive about switching positions ("I was more egotistical and prideful, [thinking] I want to be an all-star and this is my position"), but once again he embraced change as he aged and matured. Just like Coghlan happily overhauled his plate approach to align with the perceived direction of the industry, he embraced the opportunity to prove his versatility.
"If I'm versatile it's only going to help me play in the lineup," Coghlan said. "So I think the versatility of being able to go to the infield, the corner outfield is only going to enhance my career and my value whether it's toward this team or another team."
With one career-saving transformation behind him, Coghlan doesn't appear to be going away any time soon.
Lead photo courtesy of Bill Streicher-USA TODAY Sports