Of all the tired baseball tropes, "He's too young to realize the enormity of the moment," is perhaps the most irritating, and flat-out wrong to boot. If you (the reader) have ever been between ages 20 and 25, you know the world can seem huge; especially when you're just starting out in your chosen profession.
Kyle Schwarber, 22, has been playing in a postseason atmosphere since he arrived in Wrigley, surrounded by veteran teammates of whose playoff experience he is keenly aware. He performed well in his first postseason appearance not because he was too young to realize the size of the moment, but because he is a prodigiously gifted hitter who is able to protect the outside corner with two strikes. He knew the moment and he delivered.
So, let's delve into Schwarber's game-winning RBI single.
Schwarber came to bat in the first inning, immediately following Dexter Fowler's single to leadoff the game. Schwarber, who swung at just 26 of 228 first pitches (11.4 percent) during the regular season, took a 95-mph fastball high and inside for ball one. Gerrit Cole went outside for ball two. Behind 2-0, Cole battled back with fastballs to even the count, setting up a pivotal 2-2 pitch.
How did Schwarber and Cole perform this season once the count reached 2-2?
After Schwarber got to 2-and-2 this season…
.209/.316/.493, 6 HR, 13.9 percent walk rate, 41.8 percent strikeout rate
With two strikes against right-handers, Schwarber was vulnerable to pitches on the inner half, but, as you can see below, his plate coverage on the outer half remained outstanding: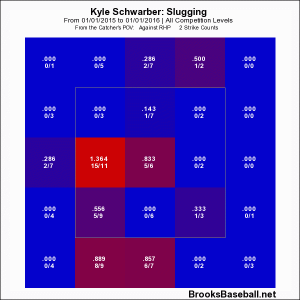 And if a right-hander wants to go away from Schwarber, regardless of the count, they better make sure they get off the plate: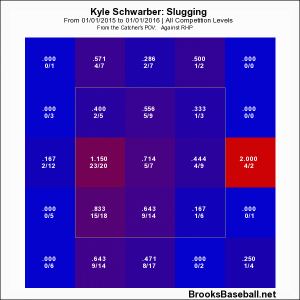 After Cole got to 2-and-2 this season…
.189/.269/.244, 22.7 percent walk rate, 40.3 percent strikeout rate
In the 2015 regular season, Cole did not surrender a hit to a left-handed batter on any fastball in a 2-2 count. And once he got to two strikes on left-handed hitters, Cole preferred to stay away and up in the zone: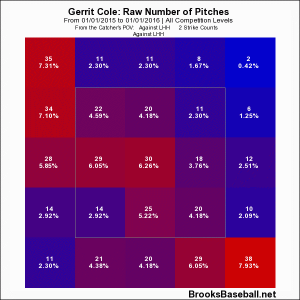 Not surprisingly for a pitcher who posted a 24.3 percent strikeout rate and 202 strikeouts overall, Cole had considerable success with two strikes. And, moreover, he'd found himself in that exact situation just a few days ago.
Cole and Schwarber faced each other 12 days ago, this time in Chicago. In Schwarber's first at-bat then, Cole walked him on five pitches. When Schwarber came to bat in the third inning, Cole started him with a fastball up at 97 mph, similar to the first pitch tonight, but Schwarber swung and fouled off the pitch. Ahead 0-1, Cole painted the outside corner with another four-seam fastball at 97. On 0-2, Cole would again go up in the zone: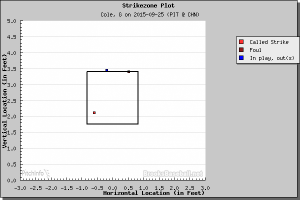 Schwarber would chase the fastball and pop it up to the shortstop. Perhaps all parties involved—Schwarber, Cole, and Francisco Cervelli—filed away this two-strike pitch for down the road.
The Pitch
Cole came up with the fastball, but only belt high. He did stay away, with Francisco Cervelli hopping outside and sticking his left foot halfway into the right side of the batter's box. Schwarber, with his front foot lowered, still managed to get the head of his bat on the pitch, 97 mph though it was, and slapped it down the left-field line for the RBI single. It would turn out to be the only run the Cubs would need.
In the first inning of this win-or-go home game, Cole went with his strength against left-handed batters: a four-seam fastball up and on the outer half of the plate. It is how he attacked Schwarber in late September. It is worth wondering, though, if Cole meant to come up higher with the fastball.
This season, Schwarber slugged just .308 against four-seam fastballs with two strikes, but that didn't matter last night: instead, his remarkable plate coverage helped propel the Cubs into the NLDS.
Lead photo courtesy Charles LeClaire—USA Today Sports.