This piece, by friend of the site Alex Walsh (@ajwalshCubs), features some great analysis of Jon Lester's performance against the Mets, past and present. We hope you enjoy.
If the announcers for this 2015 NLCS implore you to "throw out the regular season stats" at any point during the broadcast of Game 1, take heed—it'll be good advice. Yes, the Cubs swept the Mets in the regular season, and you'd rather have that outcome to look back on than the opposite. But these Mets are different. Look at their team-wide wRC+ by month:
| | |
| --- | --- |
| Month | wRC+ |
| March/April | 89 |
| May | 86 |
| June | 81 |
| July | 87 |
| August | 127 |
| September/October | 116 |
Looking at that lineup through the lens of Cubs Game One starting pitcher Jon Lester, we see a substantially different lineup facing the Cubs on Saturday night. Of the 55 plate appearances Lester saw against the Mets this season, 15 of were against players that did not visit home plate in the Mets' NLDS against the Dodgers—John Mayberry, Dilson Herrera, and Kevin Plawecki. And the current Mets are less reliant on Michael Cuddyer, as well.
In their place? Yoenis Cespedes. Travis d'Arnaud. David Wright. (And, to a lesser extent, Michael Conforto and Kelly Johnson.)
With Lester on the mound, two of those "new" Mets—d'Arnuad and Wright—become especially interesting, with OPSs vs LHP of 1.112 and 1.023, respectively. And although the same can't be said for d'Arnaud, Wright has been a monster against lefties for his entire career, with a 1.005 OPS in those plate appearances. If the Mets approach Lester the same way they did Clayton Kershaw, those two hitters could very well be key. Here's the lineup they used in Game Four of their NLDS:
Granderson
Wright
Murphy
Cespedes
d'Arnaud
Duda
Flores
Lagares
Wright and d'Arnaud become especially important against tough lefties, since Curtis Granderson and Daniel Murphy each have an OPS below .700 against left-handers in their careers, while Cespedes is only somewhat higher. Granderson has hit Lester fairly well over the years (.273/.333/.500 in 48 plate appearances), but only managed a single in four at-bats against him on July 1st, when Lester last faced the Mets.
At the same time, while the Mets lineup has improved since July 1, so too has Lester's pitching. Lester was one of the best starters in baseball after the All-Star Break. He walked fewer batters than Jake Arrieta (4.7 percent versus 5.8 percent), and almost struck out as many (26.9 percent versus 28.3 percent). He also allowed just a .216 average to opposing hitters.
And it wasn't just good luck, although Lester's BABIP allowed did drop a bit in the second half. Lester added a little juice—about 0.5 mph—to his four-seam fastball, his bread and butter pitch, after August 1st. He also located it better. Against lefties, Lester often starts with the four-seam fastball, then uses the cutter and curveball to get outs. Here's where Lester put those first-pitch fastballs against lefties before and after August 1st: the differences are ever-so-slight, but in a positive direction, with a better concentration of pitches thrown low and away.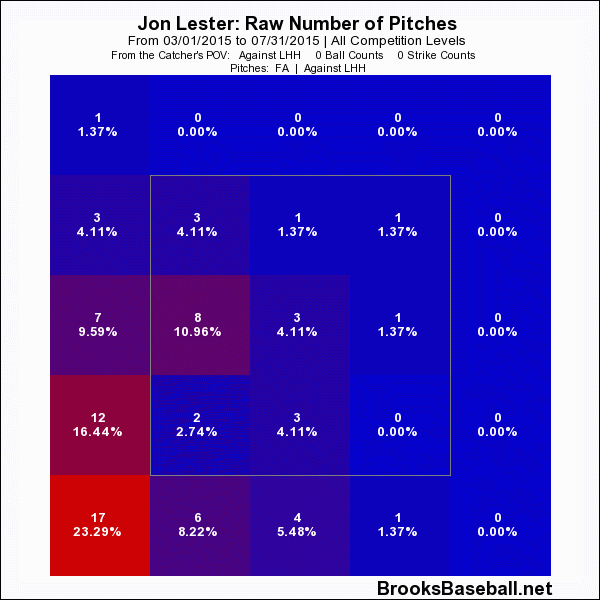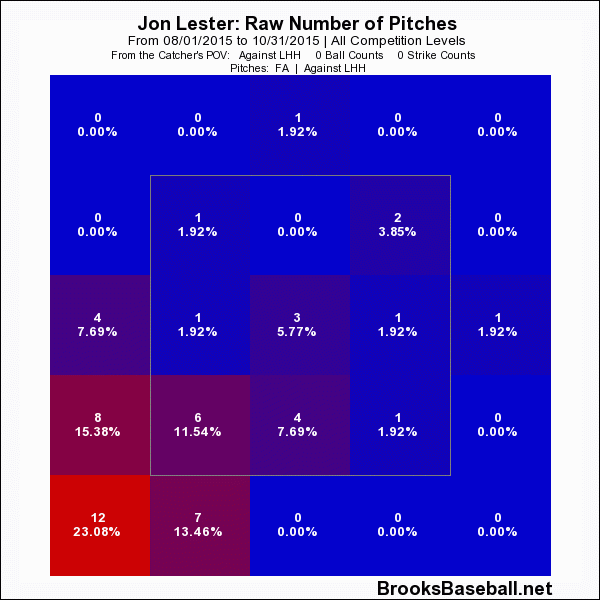 He also focused on throwing low and away to righties after the end of July.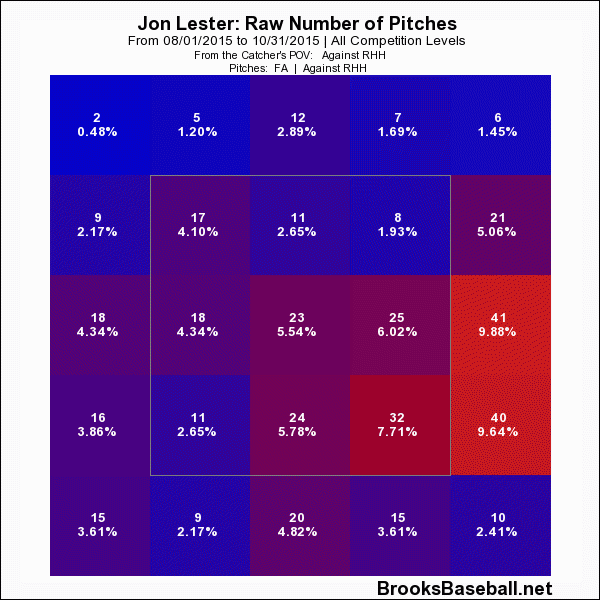 Unfortunately for Lester, low and away—or actually, just about any place—is where David Wright likes to get fast stuff from lefties.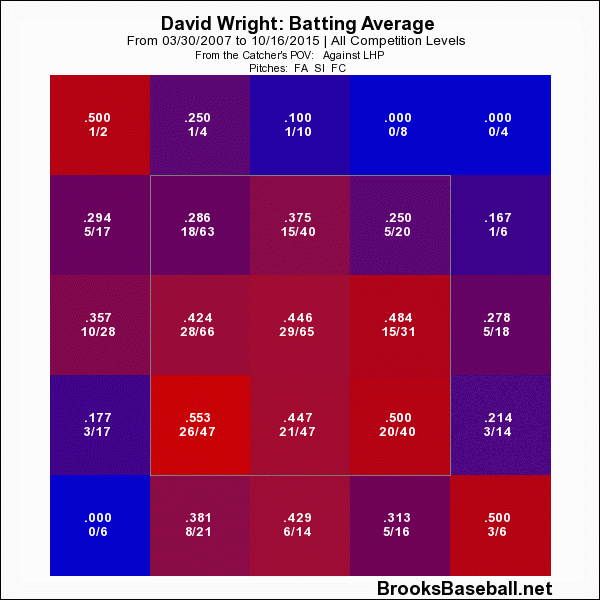 The Wright-Lester matchup shapes up to be the most important for limiting the Mets' offensive production in Game One. Lester may try to squeak into that apparent weak spot up-and-away to Wright with the fastball, then may go to the curve to get the out.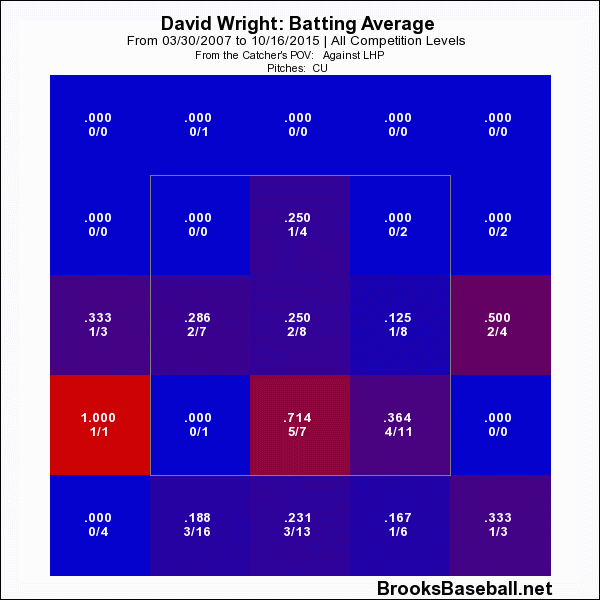 Keeping Granderson and Murphy off the bases around Wright will go a long way, too, toward keeping Chicago in control of the game. The short story, though? Lester has gotten better this year—but so have the Mets. This will be an interesting game.
Lead photo courtesy Jeff Curry—USA Today Sports.