In baseball, momentum is a fleeting, unsustainable commodity. It can last a game, an inning, or, at the absolute least, one pitch. As we discovered in the eighth inning of Game Three of the NLCS, when the momentum ceases in a pitch, it's as deflating as it is sudden.
If the Cubs had a standout offensive player on Tuesday night, it was Kyle Schwarber. In his first three at-bats, he saw 15 pitches from deGrom (including two full counts), hitting a home run and working a walk. Schwarber's first-inning home run came on a fastball up and on the outer half of the plate that he went with and deposited into the left-field bleachers. He was working deep counts and hitting for power. Based on the team's lackluster output in the NLCS, Schwarber was the player the Cubs wanted at the plate in the eighth inning.
Schwarber and Tyler Clippard had no prior history, but Clippard had remarkable reverse splits this season, with left-handers slashing just .137/.231/.237, for an OPS nearly .300 points below right-handed hitters. However, he struggled in September  (6.14 ERA, 1.295 WHIP, .858 OPS), and in three postseason appearances he allowed three baserunners and an earned run in 2 2/3 innings pitched. Terry Collins, though, opted not to go with Jeurys Familia for six outs, and Clippard got the ball to start the eighth.
The Cubs trailed 5-2 entering the home half of the inning. Chris Denorfia worked the count full before taking a called third strike on a pitch that appeared low, or, as Ron Darling might say, "That looked low, right Cal?" With one out, Dexter Fowler pulled a 0-and-1 offering from Clippard down the right-field line for a double.
The crowd, which had been stunned by the defensive disaster that was the sixth inning, came to its feet. For the first time since Trevor Cahill was 0-2 on Michael Conforto, Wrigley Field seemed to anticipate something positive for the home team.
First, how had Schwarber and Clippard performed on the first pitch this season?
Schwarber on the first pitch this season…
.280 AVG, .800 SLP, 4 HR
Including the postseason, Schwarber has been even better against first pitches from right-handed pitchers, slugging .909 with all four of his home runs. Overall, Schwarber swung at just 9.5 percent of first pitches (league average was 28.9 percent), but when he did pull the trigger, he was productive. As you can see below, Schwarber, not surprisingly, was most likely to swing at a first pitch from a right-hander when it was in the middle of the plate and away, even if it was low: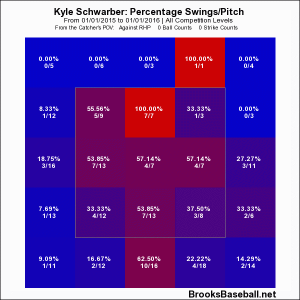 On first pitches, right-handed pitchers attacked Schwarber with primarily four-seam fastballs (39.5 percent) and sinkers (23.3 percent). Schwarber handled both, slugging 1.000 against the four-seam fastball and .857 against the sinker. Though it's a small sample size, Schwarber had not recorded a hit off a first-pitch change from a right-handed pitcher. File that away.
Clippard on the first pitch this season…
.286 AVG, .429 SLP, 1 HR
On the first pitch against left-handed hitters this season, Clippard went to his four-seam fastball 41.25 percent of the time and his change 44.38 percent of the time. Left handers slugged .118 combined  against the two pitches. In this situation, Clippard overwhelmingly stayed up and away: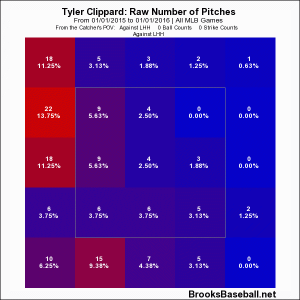 Clippard was likely to stay off the plate early in the count, but Schwarber had shown a remarkable ability to cover the plate middle-away, even when the ball was up (see game-winning RBI single off Gerrit Cole in the Wild Card game).
The Pitch
Travis d'Arnaud set up on low and on the outer half, but the 80-mph changeup rode back over the plate, ending up belt high right down the middle. In the regular season and postseason, Schwarber has feasted on off-speed pitches in this zone: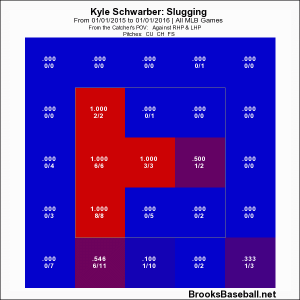 Schwarber, ready to jump on the first offering, got under the belt high change and popped up the pitch harmlessly into shallow left field. He strangled his bat in frustration, likely knowing he missed a pitch he usually handles. Entering the game, Schwarber had slugged .531 with two home runs against changeups from right-handed pitchers. Based on Clippard's track record, Schwarber knew the odds were he would see a four-seam fastball or change on the first pitch. Schwarber got it, but could do nothing with the pitch.
Fowler's one-out double had sparked a brief sense of momentum for the Cubs, but it was over in a pitch, gone as quickly as it had arrived. Clippard and Familia retired the final four Cubs hitters in order as the Mets held on for the 5-2 victory.  Momentum, like baseball itself, can be so cruel.
Lead photo courtesy of Jerry Lai-USA TODAY Sports