Mike Leake
Position: Right-handed SP
2015 Stats: 192 IP, 15.3 K%, 6.3 BB%, 3.3 WARP, 3.70 ERA, 3.56 DRA
How He Fits: The most obvious fit between Mike Leake and the Cubs is that he is a starting pitcher and they need starting pitchers. He's just 28 years old, so he has a few years of his prime left. He's been fairly consistent, if unspectacular, over the last few years. Here are some of the important numbers from the last three seasons:
| | | | | | | | | |
| --- | --- | --- | --- | --- | --- | --- | --- | --- |
| Year | Age | Innings | K% | BB% | ERA | FIP | DRA | WARP |
| 2013 | 25 | 192.1 | 15.2 | 6.0 | 3.37 | 4.01 | 4.20 | 1.6 |
| 2014 | 26 | 214.1 | 18.2 | 5.5 | 3.70 | 3.85 | 4.16 | 1.6 |
| 2015 | 27 | 192.0 | 15.3 | 6.3 | 3.70 | 3.97 | 3.56 | 3.3 |
The major fit between Mike Leake and the Cubs is that he eats innings and is relatively reliable. You know you aren't signing up for a shutdown ace if you acquire Leake, but you can count on him to get you through six innings on a regular basis—which is more than can be said about any Cubs pitcher not named Lester or Arrieta in the second half of 2015.
The interesting thing about Mike Leake is that, while he never had an overpowering fastball anyway, he essentially stopped throwing it in 2015. He only threw four total four-seam fastballs during his 2015 campaign in which he split time between the Reds and the Giants. Leake relied more heavily on his sinker and cutter, which makes him a groundball machine to the tune of 51.8 percent of his balls in play being hit on the ground, as opposed to just 26.6 percent being flyballs and 21.6 percent being line drives.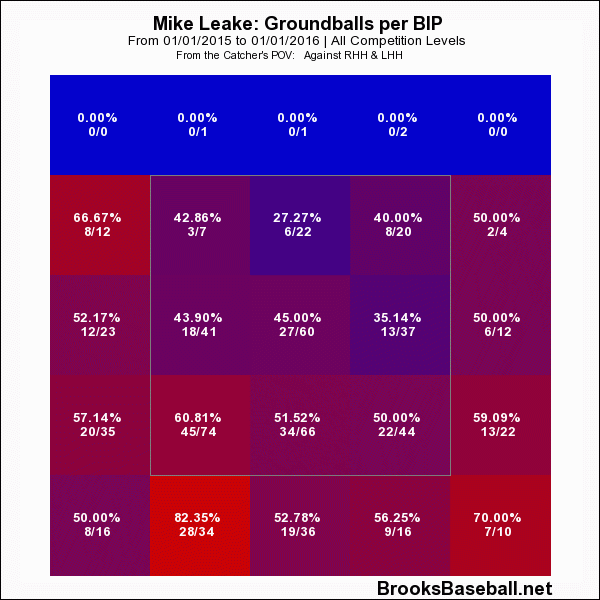 The percentage of groundballs that he gets on his pitches generally goes up the lower he goes, and he frequently used that to his advantage in 2015. He knows that's where his bread is buttered, so he put a high percentage of his pitches in unhittable spots and the lower portion of the strike zone.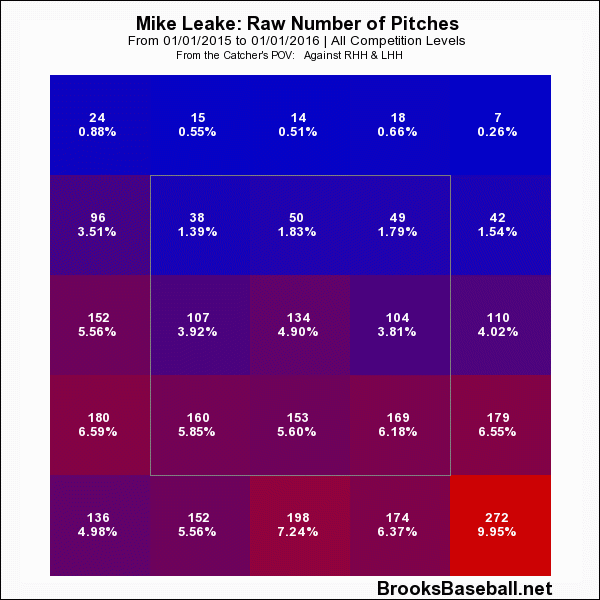 This actually makes him a really good fit for pitching at Wrigley Field, especially on days when the wind is blowing out and it might be a bit tougher on pitchers with high flyball rates. The grass is notoriously long on the infield at Wrigley, which makes it even better for pitchers that get a lot of contact hit on the ground. Leake has decent, yet unspectacular numbers at Wrigley in his career, going for a 4.20 ERA in 10 starts and 64 1/3 innings. But we must also consider that those are his numbers against just the Cubs and that the sample size is small and collected over a six year period.
Leake is going to get a four or five year contract from somebody, and it's likely that he won't disappoint whichever team that ends up being. He's not David Price, Jordan Zimmermann, or Johnny Cueto, but you can make an argument for him being the fourth-best starting pitcher available (I'm not counting Zack Greinke because, come on. He's not leaving Los Angeles). And given the Cubs need for a decent, consistent, innings-eating starting pitcher to slot into their rotation, the Cubs could certainly do worse than Leake.
Why it Won't Work: Supply and demand. It's all about economics when I look at the Cubs and their pursuit of free-agent pitchers. Including the four names mentioned—plus a few others like Yovani Gallardo and Jeff Samardzija who will both likely get solid free-agent deals—there are just a handful of top starting pitchers looking for new homes. Granted, this is certainly more than usually hit the market in one offseason, but I can assure you there are more than a couple of teams looking to acquire starting pitching. We know the Cubs, Giants, Red Sox, Cardinals, Blue Jays, Yankees, Angels, Tigers, and Diamondbacks all have a need for a starting pitcher, and some have a need for more than one.
The point is that there will be teams that miss out on the top guys who are going to panic and try to overpay Leake. My description of him as a pitcher just screams out "number four starter on a good team," which doesn't jive with handing him a five-year, $80-90 million dollar deal—not when there are other arms available for a similar price with significantly more upside. You know what you get with Leake and that stability and certainty is certainly attractive, but this seems like a clear case where a team goes with a the potential instead of the safe route. The Cubs front office has some money to spend but they're going to be smart in how they spend it.
The Cubs are one of those teams with a need for two starting pitchers, in my opinion. Going into 2016 with both Jason Hammel and Kyle Hendricks penciled in as starters you are relying on is a bad idea. They also need a new center fielder and some bullpen help, which will also cost a little bit of money. You can justify handing out a nine-figure contract to Price, Cueto, or even Zimmermann, as those are guys you can legitimately start in the second or third game of a playoff series and feel good about it. That just isn't the case with Leake.
It's much more likely that the Cubs look at the trade market to add a starter, such as Carlos Carrasco or Tyson Ross, if they aren't able to sign one of the big names on the free-agent market. That would allow them to sign a lesser free agent like Doug Fister, or Colby Lewis to round out the rotation with either Hammel or Hendricks filling the last spot.
Leake makes a lot of sense for the Cubs in that he would fit at Wrigley Field and add legitimacy to the backend of the rotation, something that was missing in the second half of the season and the playoffs when Hendricks, Hammel, and Dan Haren were struggling to make it beyond the fifth inning. But for the money that he will likely earn in his next contract, it just doesn't make sense for the Cubs. They'd be better off spending that money on other pressing needs or saving some of it to spend at the trade deadline, if need be.
Lead photo courtesy of Ed Szczepanski-USA TODAY Sports