Position: Right-handed SP
2015 Stats: 214 IP, 17.9 K%, 5.4 BB%, 1.8 WARP, 4.96 ERA, 4.31 DRA
How He Fits: There are two ways of thinking among Cubs fans on how Jeff Samardzija fits with the Cubs; some say he's a tremendous fit, others say "no way." But the simple fact is that one of the Cubs major needs is starting pitching, and they know Samardzija as well or better than every other front office in baseball.
To catch you up on where in the world Jeff Samardzija has been, he was traded by the Cubs to the A's with Jason Hammel for Addison Russell, Billy McKinney, and Dan Straily back on July 4, 2014. He pitched well for a crumbling A's team down the stretch, helping lead them to a wild card berth but not pitching in the playoffs in their loss to the Kansas City Royals. Samardzija was then traded again, this time to the White Sox, where he would stay through the entire 2015 season.
This isn't the first time I've written on the topic of Samardzija, and there have been others who have joined in the Samardzija party as well. It's a fascinating case of a guy who didn't get hurt or have much noticeably change to the naked eye, but who went from one of the more dominating pitchers in the game to one of the worst.
Look over some of his stats from the last three seasons, and you'll get an idea of just how bad 2015 was:
| | | | | | |
| --- | --- | --- | --- | --- | --- |
| Year | Innings | ERA | DRA | HR Allowed | K% |
| 2013 | 213.2 | 4.34 | 4.18 | 25 | 23.4 |
| 2014 | 219.2 | 2.99 | 3.39 | 20 | 23.0 |
| 2015 | 214.0 | 4.96 | 4.31 | 29 | 17.9 |
Samardzija gave up nine more homers in over five less innings from 2014 to 2015, and your initial guess might be that he moved to U.S. Cellular Field and all of the sudden all his flyball outs were leaving the yard. But that really wasn't the case, as his HR/FB rate really only bumped up by 0.2 percentage points, which is fairly nominal. The big change for Samardzija was that he was allowing so many more balls in play, as evidenced by the lower strikeout rate, and that he was no longer a groundball machine. Take a look at how his balls in play took a drastic change this season (via Fangraphs):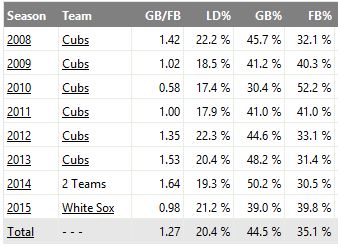 The change in line drives is small and relatively consistent with his career numbers, so I don't take that as anything more than normal fluctuation. However, his groundball percentage was down 11.2 points from 2014 and his fly balls were up 9.3 percentage points. With more fly balls hit and with him pitching half his games in one of the most homer-friendly ballparks in baseball, I can see why he led the American League in homers allowed.
The source of all the changes for Samardzija has been Don Cooper, the White Sox pitching coach who is known as being one of the best at his job in all of baseball. The difference between a guy like Cooper and, say, Cubs pitching coach Chris Bosio, is that while Bosio tailors what he does with a specific pitcher to the pitcher's strengths, Cooper is much more of a "do it my way" kind of guy.
Samardzija made at least one noticeable change to his mechanics after coming to the Sox, something we can certainly attribute to Coop. After spending several seasons hammering out his pitching routine, it's fair to suggest that Cooper may have tried to fix something that wasn't broken by breaking it. Below, you can see the throwing motion from Samardzija in 2014 when he was still with the Cubs followed by when he was with the White Sox last season.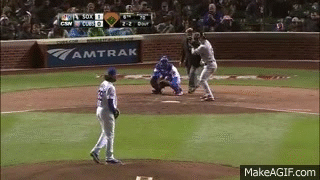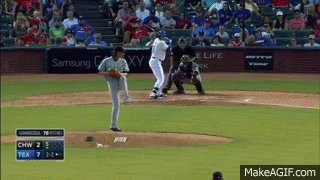 The most prominent change is in the wind-up. While he has a slight hesitation with a three-quarter leg kick with the Cubs, he has a higher kick and a much more delayed pause—almost Hideo Nomo-like—before he turns and releases the pitch. I also think that his entire motion is much more smooth with the Cubs, swinging his right leg around at waist-level in a very natural feeling spinning movement. It's a little more jerky in the second gif with the Sox, and it also looks like it's possible he's landing further forward and possibly more upright at the end of his delivery.
The last major point, as we don't wish to beat a dead horse, is about Samardzija's pitch usage and velocity. He used his fastball less in a Sox uniform and upped the usage on his cutter. The fastball velocity actually dropped a little bit, overall, from 95.59 mph in 2014 to 94.29 mph in 2015, a drop of 1.30 mph. That alone wouldn't be overly concerning, but his cutter was getting pounded all year.
With his velocity on the fastball down—possibly due to change in mechanics—maybe he just didn't feel as comfortable throwing it? The BABIP on his sinker, slider, and cutter were all over .320, and for some reason those are three of his four most heavily thrown pitches. Could the key to turning things around for Samardzija lie in simply changing his mechanics, trusting his fastball, and throwing a few more splitters and a few less cutters?
All of this, to me, indicates that something was very different about Samardzija as a pitcher, not just that he was getting pounded or that his 2014 was a fluke. So why does all this mean that Samardzija is a great fit for the Cubs?
Familiarity is the key. Samardzija worked with the aforementioned Bosio for three years with the Cubs and they have a solid relationship. In fact, Bosio just recently proclaimed that he would love to have Samardzija back with the Cubs. It's telling that the magician who has been so successful with pitchers, such as Jake Arrieta, Jason Hammel, and Scott Feldman, and was instrumental in turning Samardzija from a middle reliever into a starting pitcher, feels like Samardzija's issues from 2015 are fixable. If he didn't feel that way, why would the Cubs even be interested at all?
Rumor has it, they're very interested. So interested, that Theo Epstein had a sit down over dinner with Samardzija last week.
Theo Epstein and Jeff Samardzija hanging together tonight in Chicago. Cubs have an interest in him. #HotStove #Cubs

— Phil Rogers (@philgrogers) November 19, 2015
Samardzija flew in from AZ for the meeting flew back this morning. Chris Bosio key to fixing mind and delivery for the pitcher

— Bruce Levine (@MLBBruceLevine) November 19, 2015
The Cubs and Samardzija seem to have a high comfort level with each other, and with the Cubs needing starting pitching, it just seems like a match made in heaven.
Why it Won't Work: There are a few drawbacks when considering bringing in Samardzija. You may recall that he rejected a five year, $85 million contract extension by the Cubs just prior to them trading him to the A's. Samardzija wanted to gamble on his own performance earning him a massive contract—something more in line with what Homer Bailey signed with the Reds, around six years, $120 million.
Samardzija lost that gamble, but not as badly as some may think. There still is a lot of love around the league for his youthful arm (due to playing college football at Notre Dame, he wasn't run into the ground like many college pitchers are) as well as many of the positives I've pointed out. If it's possible that I have figured out that his mechanics were messed with by the White Sox, it's likely that others in baseball know the same stuff—and it is even mentioned in this Ken Rosenthal piece.
There will likely still be a market for Samardzija, with some suggesting he may get as much as that five year, $85 million extension that he originally turned down back in June of 2014. If he can get that contract, good for him. I will guess that it won't be the Cubs, as they have several routes to filling out their rotation going into 2016. There is a plethora of pitchers on the free agent market in all categories, from the typical ace like David Price, to the Samardzija and Mike Leake category, and even the low-dollar, risk/reward type guys like Doug Fister or Chris Young. The trade market could be active as well, especially for a team like the Cubs that is loaded with hitting prospects.
It also doesn't help Samardzija's case that he comes with a draft pick as the price tag, which means teams like the Cubs without a protected pick would be giving up their first-round pick. I'm not opposed to the Cubs offering up the draft pick to sign a guy, even if it's Samardzija. But combining that with the kind of money we're talking about, and I tend to think there are better avenues for improving the pitching rotation.
One way I can see this working out is if Samardzija, ever the gambler, decides to roll the dice again with a one-year deal (maybe with an option for a second year). The Cubs would still give up the draft pick, but at the end of the season they could give him the qualifying offer and get that pick back if he signs somewhere else. The bonus for Samardzija is that if he has a great season, he would be one of the top options in a weak free-agent class for starting pitching.
But outside of that scenario or possibly one where he takes a longer deal with less money, it's hard to see the Cubs going out on a limb with a lot of money and surrendering a first-round draft pick to bring Samardzija back. The fit is near perfect in theory, but as frequently happens in pro sports the money makes things a little less clear.
Lead photo courtesy of Kelvin Kuo-USA TODAY Sports