Position: RP, Disabled List
2015 Stats: 14 IP, 3.21 ERA, 4.09 DRA, 25 K%, 10 BB%
Have you heard the phrase "under-promise and over-deliver?" It comes to mind what I think of Neil Ramirez and his career so far with the Cubs. He came over as the PTBNL in the Matt Garza trade, which usually doesn't suggest a big-name player (especially considering the Cubs had already received Mike Olt, Justin Grimm, and CJ Edwards). Up until that point the former first-rounder had been exclusively a starter in the minors, trying to stay healthy enough to put his good stuff to use. Then the Cubs called him up and he broke out in 2014, over-delivering enough to become a key contributor out of the pen.
Year in Review: In 2015, the Cubs were hoping for more of the same, but it just wasn't meant to be. Ramirez battled injuries and only managed to throw a total of 14 innings. Here's all you need to know about Ramirez's year, from July, as he was trying to come back from a shoulder issue:
"Honestly, I was sitting in my house the other night and I sneezed," Ramirez said. "It was kind of one of those violent sneezes that you're not ready for and that's when I first felt like that sharpness."
Not since Sammy Sosa has a sneeze mattered so much to the Chicago Cubs. In those 14 innings in 2015, Ramirez struggled to regain the velocity he had in 2014 (when he sat around 95 mph), throwing his fastball closer to the 93 mph range. Joe Maddon even mentioned it to the media, stating that he wasn't all the way back from the injury quite yet.
Looking Ahead:
Ramirez featured a sterling 30 percent strikeout rate in 2014, and a lot of that had to do with how he used his slider. Check out this table from Brooks Baseball: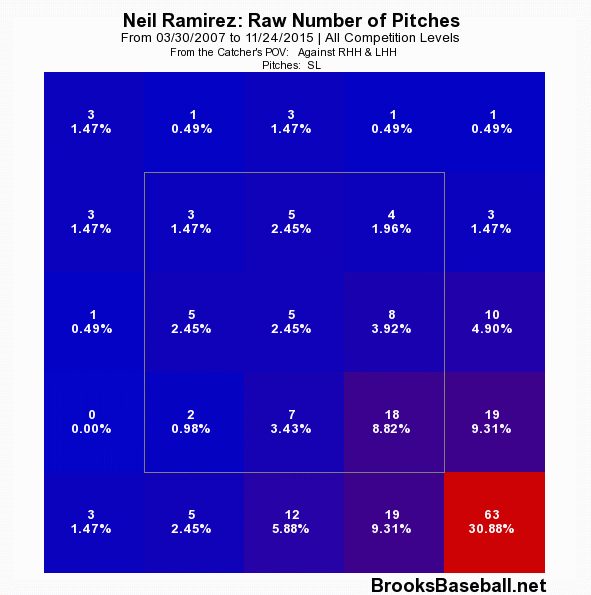 It's pretty clear that he uses this as a wipeout pitch against righties, and without that hard fastball to keep hitters honest, it loses its effectiveness.
So the takeaway for Ramirez in 2016 is pretty simple: get healthy and get back to doing what you did in that breakout year of 2014. It will most likely come out of the bullpen so that the Cubs can monitor his innings and health more closely, but I've always been one of the people wondering what he would be like if they let him have a shot at starting.
And who knows? Maybe being in a rotation and throwing every fifth day would be more beneficial for someone with a higher injury risk—I don't know. What I do know is that Ramirez has the stuff to get Major League hitters out and the Cubs will try to find a way to best leverage that.
Not only that, he also seems like a pretty flexible guy that's willing to dive into whatever the team wants him to do (a Maddon guy, in effect). In 2014 he was throwing out of the pen for the first time in his life, so he decided to read up on it by checking out Mariano Rivera's book, The Closer. That kind of attitude, combined with his electric stuff, is the kind of player you want to have on your team—regardless of the role he's in.
Now the Cubs just have to find a way to keep him on the field.
Ramirez has shown the Cubs a brief glimpse of what he can do with his exceptional stuff, and now he just has to find a way to stay healthy so he can put himself into position to deliver on that promise. The Cubs have added tons of arms to their bullpen, so that's a definite area of depth, and they're not relying on Ramirez to suddenly overcome his injury-riddled past (a good idea). If he can find even a slice of his 2014 form, however, he'll most definitely be one of the arms Maddon relies on to bridge the gap to Hector Rondon in the ninth.
Lead photo courtesy Jasen Vinlove—USA Today Sports.