Last season, an emergent Travis Wood played a huge role in the Cubs' mid-season bullpen revival. A unit that staggered out of the gate turned into one of the league's best for (most of) the rest of the season, and one of the key turning points was Wood's demotion into a relief role in mid-May. Before Wood landed there, the Chicago relief corps had very little in the way of lefty firepower. Wood proved a dependable, set-up caliber lefty, though, and helped the tumblers fall into place, unlocking a brilliant relief run fueled by players who fit much better in their new roles than in their former ones.
Looking ahead, it's easy to convince oneself that Wood (with the added velocity and streamlined arsenal from which he benefited after moving into relief last year) is a weapon upon whom the Cubs can rely in 2016. If that's true, it's huge, and again, it helps the pieces fall neatly into place in the bullpen: Hector Rondon closing, Pedro Strop and Justin Grimm sharing set-up duty, and Wood leading the cadre of middle relievers who can go more than one inning when needed, match up to exploit platoons when needed, even cover (in a piggyback capacity) the occasional spot start. If it's not true, though, things get shakier in a hurry. Without Wood as a reliable buttress between the traditional (or what we now call "traditional," which would have been called "radical" 25 years ago) one-inning arms and the guys geared toward longer work, there are real questions of both depth and efficiency there, and the bullpen threatens to become a liability on this otherwise stout World Series contender.
This, then, is an important issue to address. Let's take a deeper look at Wood's turn in relief last season, to get an idea of what the Cubs can really expect from him in the one to come.
First of all, let's establish what Wood was before moving into relief. He'd been a Cubs starter for the lion's share of the previous three seasons, making 89 starts and racking up just shy of 530 innings in the rotation of a rebuilding team. Our state-of-the-art pitching value metrics indicated that he was consistently below average in terms of true talent, but sometimes pitched around his weaknesses to provide substantial value:
Travis Wood, cFIP, DRA, WARP, 2012-14
| | | | |
| --- | --- | --- | --- |
| Season | cFIP | DRA | WARP |
| 2012 | 111 | 4.12 | 1.8 |
| 2013 | 104 | 3.20 | 4.1 |
| 2014 | 116 | 5.01 | -0.5 |
Obviously, in 2014, that was much less true than it had previously been. Wood's aforementioned weaknesses—to list them: vulnerability to right-handed hitters, a fly-ball proclivity that made home runs a persistent risk, and iffy command of an arsenal that sometimes felt so deep as to put Wood in over his own head—bit him hard, and forced him to compete for a place in the rotation heading into 2015. He won that spring battle, but lost the war. Joe Maddon pulled Wood from his starting role after seven starts, nine home runs allowed, and just two quality starts. Wood showed something even during his early struggles, fanning 39 of 160 opposing batters, but right-handers hit him way too hard, way too often. In his last three starts, Wood faced right-handed non-pitchers in 38 plate appearances. Those batters hit .353/.421/.853 off him, homering more times than they struck out, walking as many times as they struck out. It was a bloodbath.
The bullpen was exactly where Wood belonged, and it showed right away—sort of. Wood made 10 appearances over his first month as a reliever, faced 44 batters, struck out 11, walked four, and allowed a measly .175/.250/.275 batting line. A lot of that success, though, stemmed from some good batted-ball luck. Wood continued to give up a lot of fly balls, but only one flew out of the park. He benefited from a .214 opponent BABIP. In the second half of June, those chickens came home to roost. Wood made only three appearances, walked seven of the 35 batters he faced, gave up five runs (three more than he'd surrendered over his first month in the bullpen), and lost some of Maddon's confidence again.
That's when Wood made the career-saving decision to scrap his sinker, and stop trying to be traditional. Starting in July, he threw the four-seam fastball and the cutter some 80 percent of the time, between them, mixing in just a few sliders (to left-handed hitters) and changeups (to right-handed ones). Whereas Starting Wood relied on his sinker against righties, striving to keep the ball away first, down second, and whereas Transition Wood only blended in a few more buried cutters low and in, Fully Formed Bullpen Wood mixed high four-seamers away with those back-foot cutters, daring batters to hit his stuff, which played up nicely.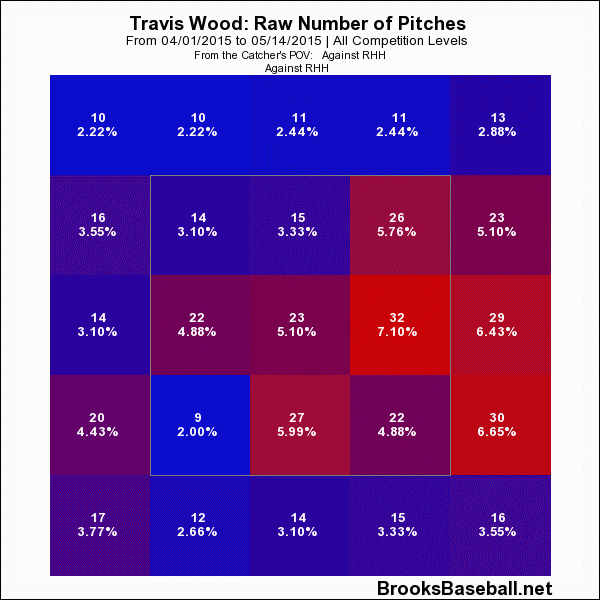 The simplest way to put it might be this: Wood's sinker was never a good pitch. As a starter, though, he felt he needed it—needed a way to keep at-bats short, needed to be able to consistently stay away from right-handed hitters, needed to keep eye levels moving so hitters couldn't key on his relatively straight four-seam heat. Maybe that was all true. Once Wood became a reliever not only in deployment but in spirit, he experienced an epiphany: batters were just waiting for that tepid sinker. They were looking for it, hoping to pounce on it, and often crushing it. Instead of giving it to them, Wood pared down. With only the cutter and the four-seamer to search for, and with Wood adept at throwing both in close to the same velocity band, from the same arm slot and release point, right-handed hitters had unprecedented difficulty in even making contact with Wood's pitches, let alone driving them.
By the end of the season, Wood was sitting in the low 90s, and leaning hard on that four-seam heat. And it was still working like a charm. From July 1 on, including the playoffs, he faced 209 batters, striking out 71 of them, and walking only 19. He allowed just one home run over that entire span. He had a 2.92 ERA and an opponent OPS south of .550. For the season, he had roughly his usual success (though with a few more strikeouts than usual) against left-handed batters, but was radically better than he had ever been before against right-handers, striking out over 28 percent of them.
The adjustments Wood made, then, were real and efficacious, and his success was no mirage. That doesn't necessarily mean those changes will be sustainable, or that the league won't adjust in response to his adjustments, or that he'll be able to replicate that success. He continued to use a somewhat more blended arsenal than most relievers do, even as he phased out the sinker: the occasional curve, especially for a sneaky first strike; that odd, slurvy slider he would sometimes use in lieu of his cutter against lefties; and his token changeup. That he held onto those offerings, though encouraging, might also signal that he's not yet fully sure of himself as a short reliever, and of course, longer outings will continue to challenge the viability of those extra weapons.
In short, as with any reliever (and certainly any reliever with so short a track record), Wood carries risk. If he can just keep doing what he's always done against lefties, though, he'll have at least matchup value throughout the season. (He positively pounded the area just off the plate away from them after moving to the bullpen last year, not only missing bats, but keeping lefties from pulling the balls they did put in play better than any pitcher save Kelvin Herrera, according to FanGraphs.) If his fairly simple improvement against right-handed hitters (more velocity, fewer looks, tougher guesses) proves sustainable, he'll have considerably more value than that.
Lead photo courtesy Rick Scuteri—USA Today Sports.