Falco: I have been told of a certain sea snake which has a very unusual method of attracting its prey. It will lie at the bottom of the ocean as if wounded. Then its enemies will approach, and yet it will lie quite still. And then its enemies will take little bites of it, and yet it remains still.
Commodus: So, we will lie still, and let our enemies come to us and nibble. Have every senator followed.
Gladiator, 2000
The Cubs ran into a worthy opponent during their home opener on Monday night, as Brandon Finnegan pitched seven innings of near-no-hit ball. The Cubs started the night attacking Finnegan early in the count, but once they realized he had really good stuff and command, they decided to employ the Commodus Defense. They bided their time, forced Finnegan to throw as many pitches as possible, let the Reds nibble at them a bit, and then struck with a vengeance on the Reds' beleaguered bullpen after Finnegan had crossed his career-high pitch mark and had to come out of the game. That's right: the Commodus defense—it's a thing now.
Top Play (WPA): The Cubs had been incredibly patient with Finnegan after the first two innings, and the eighth inning would be no different. After Ben Zobrist walked with one man out, Jorge Soler worked a full count and got hit by a pitch that bounced before it got to him. Addison Russell stepped up to the plate with Cubs fans everywhere hoping he would keep the train moving. But the time for waiting had passed, and Russell decided it was time to strike. He took Jumbo Diaz's first-pitch to the bleachers in left-center as the Wrigley faithful roared to life, giving the Cubs the lead (+.544).
Win it, @Addison_Russell.https://t.co/Dx3ikFIvuu

— Chicago Cubs (@Cubs) April 12, 2016
Take a look at where that 96 mph fastball was—this was a good pitch: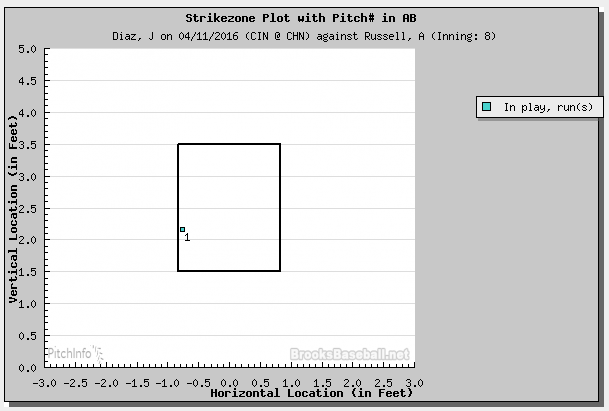 Bottom Play (WPA): I know this is supposed to be a "bad" play, but you have to mention Jason Heyward here. After David Ross ended Finnegan's no-hit bid and was sent to the proverbial showers, Matt Szczur and Dexter Fowler walked to load up the bases with two outs and the Cubs down by three. Heyward fell behind 0-2 before lining a clutch line-drive single to right field. The fans came alive, and it felt like the Cubs might finally make their move after being stifled with the bats. Kris Bryant came up to bat with a runner at third and a chance to tie the game. He didn't want to spoil things for Russell, because he grounded out to short to end the inning and—seemingly—an important chance to catch the Reds (-.108).
Key Moment: This is obvious enough—Russell came up huge to put the Cubs ahead with the big hit, but it doesn't happen without the venerable (but light hitting) David Ross. While Ross has been much maligned for getting as much playing time as he gets (even more so now with Schwarber out), he broke up the no-hitter with two outs in the seventh inning. I half expected (and hoped, I'll be honest) a pinch hitter to come in for Ross, but Maddon stuck with him. If Ross doesn't break up the no-no to extend the inning, the Cubs enter the 8th inning down by three runs without a hit and without much hope (or time) to strike back and make a game of it. It wasn't a bad pitch either, and Ross just threw his bat out at it and got the hit the Cubs so desperately needed.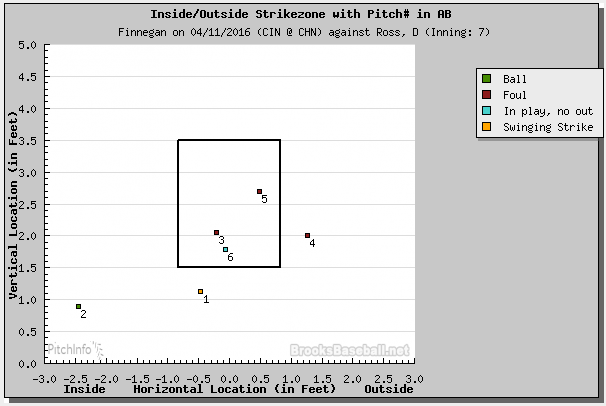 Trend to Watch: The Cubs were patient and waited for their pitch to hit, and it eventually paid off. What's interesting is that they seemed to have a plan at the start of the game to go right after Finnegan and swing at pitches early in the count. That obviously wasn't working, so they backed off, adjusted, and started working longer at bats. That finally led to Finnegan's pitch count getting out of control, and combined with the no-hitter put the Reds in an awkward situation. If you ask me, I would've gotten a reliever up right away, but Reds manager Bryan Price seemed to sticking to the old-school script of not getting a reliever up during a no-hitter. Did it affect how quickly Caleb Cotham had to get warmed up on a chilly April night before he walked the only batter he faced? We'll never know, but it probably didn't help.
Coming Next: The Cubs have a rare mid-series off day tomorrow, and then John Lackey will try to put his ineffective first Cubs start behind him in game two in his first Wrigley Field start with the Cubs. The Reds counter with middling righty Alfredo Simon, who pitched effectively against the Pirates in his first start of the year. The game will air on CSN+ at 7:05pm CST.
Lead photo courtesy Dennis Wierzbicki—USA Today Sports