When I was a kid growing up in Guatemala, I collected baseball cards. I had too many of them, so I had to come up with a system to decide which cards made it into a book I kept, and which ones sat stacked in a drawer, alone and unloved. If a player was "good," he went in the book. "Good" was determined by little old subjective me. And that was determined by how well they performed in the playoffs because in Guatemala those were the games that we got on TV—it's a soccer country.
When I was older I'd go through my book and wonder why players like Andujar Cedeno made the cut—and it was because of something they'd done in the playoffs.
Jorge Soler is currently "in the book" thanks to his ridiculous postseason performance in 2015. And the question I'd like to answer today is: so what? Sure, going on a tear at the most opportune time is great and all, but does that have any bearing on the type of player Soler can become? Let's start with what got him in the book. Let's take a look at how historically good Soler's postseason was: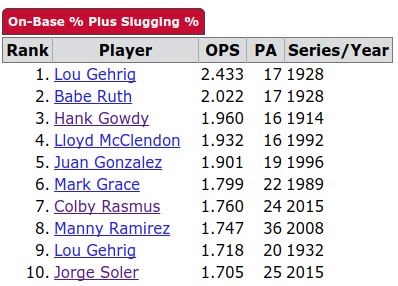 The only name on that list I hadn't heard of was Hank Gowdy, and that's probably because he played in 1914 and wasn't anything special (sorry Hank!). Then you've got Colby Rasmus, who is a Major League player with power but stands out because he's no Hall of Famer. The rest of that list is filled with special players, and if Soler will one day be called "special" then you obviously don't want to trade him away until he fulfills some of that special-ness.
I took a look at the ages of these players when they put up these historic performances and it was evident most of them did this closer to 30 than 23 (which is how old Soler was). Gehrig was 25, Gowdy was 24, Grace was 25, and Gonzalez was 26. The rest of them are around 30 or much older than that. What Soler has already done, despite it being a small sample size, is historic for a 23 year old. Not only that, he has much fewer at bats that the rest of the players on this list.
Now, I know the old timers played in a different era when you got called up much sooner (if you were any good), but I think it's important to look at what each of these players had done up to and including their age 24 season:
| | | | | | |
| --- | --- | --- | --- | --- | --- |
| Player | ABs | AVG | OBP | SLG | HRs |
| Lou Gehrig | 1,631 | .333 | .427 | .625 | 84 |
| Babe Ruth | 1,110 | .308 | .413 | .568 | 49 |
| Hank Gowdy | 582 | .258 | .349 | .371 | 6 |
| Lloyd McClendon | n/a* | | | | |
| Juan Gonzalez | 2,237 | .274 | .327 | .523 | 140 |
| Mark Grace | 486 | .296 | .371 | .403 | 7 |
| Colby Rasmus | 1,409 | .251 | .322 | .432 | 53 |
| Manny Ramirez | 1,377 | .295 | .385 | .550 | 83 |
| Jorge Soler | 509 | .259 | .320 | .420 | 17 |
*Debuted at age 28
Other than Gowdy (there he is again!) and Grace, most of these guys already had a bunch of at bats in the big leagues. Soler has had some injury issues, which has prevented him from getting those important at bats to truly develop his skills at this level. Throw in the fact that he came from Cuba and had been sitting out for an extended period of time, and you have a very young, raw player that's still trying to figure some things out. Leigh Coridan did a great job of putting those issues into context.
He is not a finished product by any stretch of the imagination, and that's important to keep in mind for impatient, frustrated fans.
We should also talk about his defense, which so far has been pretty bad. His career FRAA stands at -11.3 despite his cannon of an arm. But again, could we attribute some of that to his lack of experience at this level and his leg injuries? Perhaps.
Let's move on to a positive indicator, and that's Soler's exit velocity. He's always been near the top of the leaderboards for hardest-hit balls as well as percentage of hardest-hit balls, so that's something you would expect to manifest itself in positive results. If he continues crushing baseballs, you would think it's just a matter of time.
How good will Soler's career be? We obviously don't know, but we have some data telling us that players that do what Soler has already done tend to have long and successful careers. But do 25 playoff plate appearances, fantastic though they may be, really mean much in the grand scheme of things? Can we use them to say something about a player's future career? Couldn't he just as well wind up being a Hank Gowdy and depress a new generation of Cub fans hoping he too would make the transition from prospect to contributor?
Sure, anything could happen, Mr. Negativity.
But if Soler continues to put up the exit velocity numbers he's putting up, the results will likely present themselves. Combine that with his elite strike-zone judgement that was so evident in those historic 25 plate appearances and you have good reason to hold on to Soler and see what he can do. So far that plate discipline has been in full view: he's sporting a 10.5 percent walk rate this season, which is above his career mark of 8 percent. Not only that, he's also cut his strikeout rate down to 21 percent from a career 28 percent.
Unless one of those two things change (or he just can't stay healthy), I'm keeping Soler's baseball card in the book—there's just too much upside to walk away right now.
Lead photo courtesy Charles LeClaire—USA Today Sports.