This is a moment, an opportunity for the Cubs to both create a little more breathing room between themselves and their most formidable divisional rival, and to get themselves out of the funk they've been in for almost a fortnight. If they miss that opportunity, it'd hardly be calamitous. The Cardinals can't catch the Cubs this week, and neither can the Pirates. For a team that continues to expect big things, though, the Cubs have played small lately. Their depth has been tested, and while the fill-ins upon whom the team didn't expect to rely at all have done good work, the guys who always figured to be regulars (but are now being asked to shoulder a little more weight) are scuffling.
The roster has finally normalized somewhat, though the club's bizarre attachment to Tim Federowicz continues to make them weaker than they need to be from a position-player perspective. The bullpen is down to seven men, but it could bounce right back up to eight whenever Federowicz does get cut loose, especially since the relief corps has been asked to work a bit harder than usual over the last week.
For the first six games of this road trip, the Cubs have outscored their opponents (albeit by only a single run). That's little consolation for a 2-4 team, though, especially now that they face a tough opponent and the danger of coming home 3-6 or even 2-7. Here are the key things to look for.
Probable Pitchers
Monday: John Lackey v. Adam Wainwright
John Lackey has been around forever, but he's still learning new tricks. This season, it's an increasingly heady pitch mix. He's truly using five pitches, not just showing the occasional changeup or curve to make hitters think twice about sitting on his fastball and slider, but making them work as weapons. Opponents are making contact on 73.7 percent of all swings against Lackey this year, by far the lowest rate of his career (though obviously, regression wouldn't be a surprise). Some 35.4 percent of all Lackey's batter encounters have begun 0-2, the fourth-highest frequency of those counts in baseball, and again, the best of his career. He trails only Collin McHugh, Max Scherzer, and Bartolo Colon in that regard.
Over his last two starts, the trend arrow has been toward more and more fastballs for Lackey, and particularly, more four-seam heat: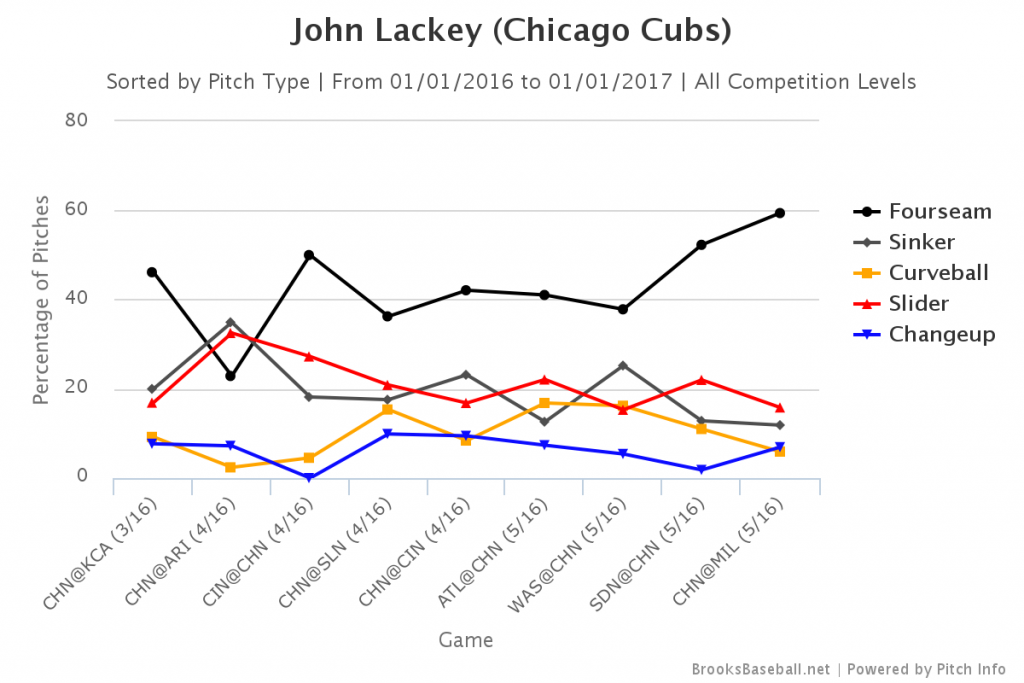 That's a red herring for the Cardinals. They probably know it, but if they allow their advance scouts' reports to drive their approach to Lackey, instead of using their last matchup against him and their knowledge of how he pitches, they're in trouble. Lackey saw a lot of right-handed batters in those last two contests, and had a lot of reason to simply attack those hitters with confidence. He'll use his secondary stuff (and even his sinker, that secondary fastball) much more often in this contest. The way he pitched in St. Louis last month (when he threw fewer four-seamers than in any start since the first one of the season, in Arizona) is the way I expect him to pitch Monday.
Wainwright, too, has taken a new tack over his last few starts. Mired in a brutal early-season funk, Wainwright has focused on some mechanical tweaks. He's also all but shelved his four-seamer, which he used to mix liberally and unpredictably with his sinker. In fact, over those last three starts, he's thrown that sinker more often (40 percent of the time or so) than he's consistently thrown any pitch since his sinker-heavy halcyon days of 2012.
The results have been mixed, but his last outing provided by far the best hope for a turnaround. Though he's not missing any velocity, relative to the last few seasons, Wainwright can't seem to consistently get outs with his cutter or sinker. Those pitches are still getting squared up too often, and seem to find more of the plate than Wainwright wants. His salvation last Wednesday, against the Rockies, was his curveball. It had sharp movement, but the jarring thing was the versatile way Wainwright was able to use it. He threw it for strikes and froze batters in some two-strike counts, and induced chases on balls that ended up low and away in others. He even threw the pitch in a couple fastball counts, getting awkward, decelerated swings and weak contact in return for his defiance of convention. With that pitch leading the way, Wainwright has quietly put together three good starts in his last four, and might be closer to fully regaining his form (not the Cy Young finalist form, but the best form Cardinals fans should expect from him as he enters his mid-30s) than he seems.
Now, throwing a good curveball to the Rockies anywhere other than Coors Field can sometimes have deceivingly positive results. To whatever extent the Coors Field hangover effect exists, it almost certainly lives in the difficulty of reacting to good spin and movement that pitchers the team faced at home simply couldn't produce. Then again, if the Rockies on the road are the most vulnerable club to such a consistent utilization of the curve, the second-most vulnerable is any team who just came in from the West Coast after a Sunday Night Baseball game against Madison Bumgarner, and gets no respite. Don't expect to see Jorge Soler in the lineup Monday, despite his strong showing over the weekend in San Francisco. His greatest weakness is recognizing a quality breaking ball from a right-hander, so he's a bad matchup for Wainwright. Javier Baez also ought to be on the bench Monday night, with Tommy La Stella manning third base and Kris Bryant in left field. Jason Heyward won't be ready to go, so that could mean plugging Matt Szczur in as the starting right fielder, but it's probably worth trying that.
Tuesday: Jason Hammel v. Michael Wacha
The last time Hammel faced the Cardinals, he hadn't yet had what appears to be a lasting epiphany about how to attack left-handed hitters.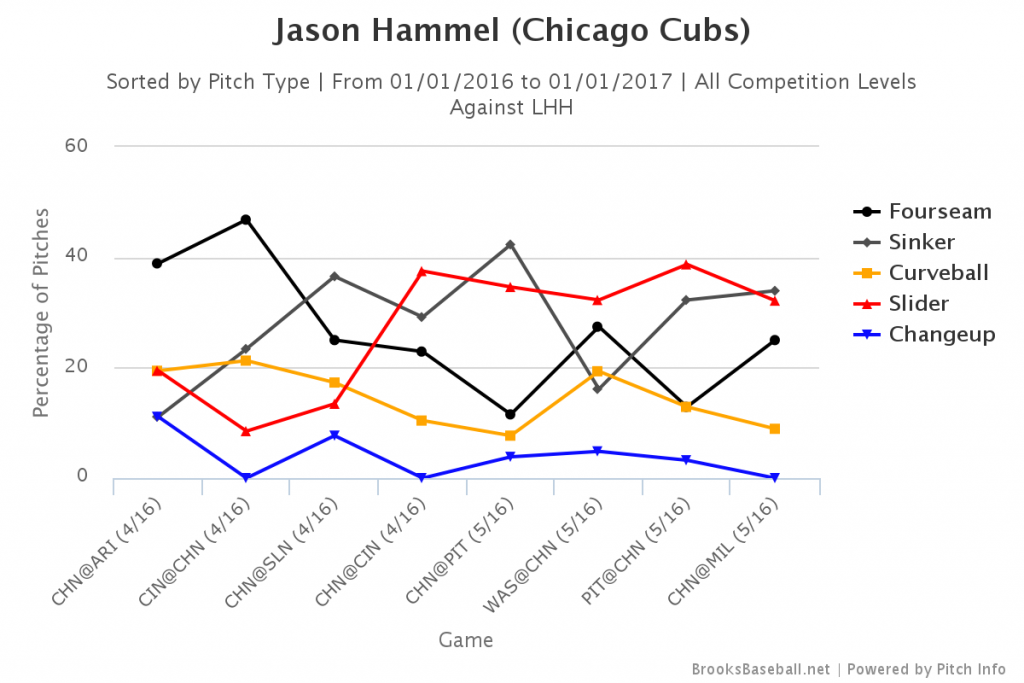 Hammel relies as heavily on his slider as just about any right-handed starter in baseball. Until the start immediately after his last one at Busch Stadium, though, he wasn't comfortable leaning on that pitch against lefties. Then that changed, and it hasn't changed back. Hammel continues to run healthy platoon splits, so he should see not only Matt Carpenter and Kolten Wong, but Brandon Moss and Matt Adams and Jeremy Hazelbaker when he takes the mound Tuesday. If he does, it will be interesting to see if his slider-heavy approach persists against them, and how well it works. One problem for which to watch out: Hammel had given up only one homer entering his last start in Milwaukee, but the Brewers touched him for two. The Cardinals' offense has serious punch. Hammel would do well to pound the strike zone and make sure any homers are solo shots.
Whereas Wainwright appears to be righting the ship, Wacha seems to have broken loose from his moorings, and is adrift. His last three starts have been against tough offenses—the Pirates, the Dodgers, and the Rockies—but he's acquitted himself poorly against them, limping through 14 total innings and allowing 16 runs in those starts. Wacha has traditionally been a reverse-split guy, thanks to his strong changeup. This season, though, lefties have been able to hit him for power, so that hasn't even been a strength. He's down something like 1.5 miles per hour on his fastball this season, relative to last year. He's still getting some swings and misses on that pitch, and can work effectively up in the zone with it, but nothing is working as well as it sometimes does. He's struggling to keep his curveball down, and isn't even trusting it much right now. Look for Soler and Baez in the starting lineup Tuesday night, and for Heyward to stay on the bench and rest, as the Cubs press the reverse-split advantage by loading up on righties.
Wednesday: Jake Arrieta v. Carlos Martinez
Something has to give here. Arrieta will take the mound Wednesday hoping to push the Cubs' win streak in his starts to a record-tying 23. The only other pitcher ever to make at least 22 straight starts without appearing in a loss (as a starter or in relief) was Carl Hubbell, in 1936 and 1937 (27 total appearances). Only Kris Medlen has won 23 straight actual starts, though over the two and a half years that spanned, he appeared in losses in relief. Arrieta is also trying to become the first pitcher ever to allow three or fewer runs and pitch at least five innings in 30 straight starts—though he's already the only one ever to do so in 25 straight.
Since the beginning of May, Arrieta has been especially impressive. At certain points in April, it was clear that Arrieta was just pounding the strike zone and letting his (mostly weak) opponents get themselves out. In each of his first five starts, he threw his sinker at least 55 percent of the time, and in two cases—the no-hitter in Cincinnati and his followup start against the Brewers at the end of April—it was considerably more often than that. In the four starts since then, though, he's yet to use the pitch even half the time. Against four difficult opponents (the Pirates, Nationals, Pirates, and Giants), Arrieta has ratcheted up use of his breaking stuff and his four-seam fastball, hunting strikeouts rather than risking hard contact from good hitters. The result: 31 strikeouts and 10 walks in 107 batters faced. He's been willing to put an opponent on base, if it means giving them the chance to get themselves out, and he's been unwilling to give in and risk having balls hit hard.
The Cardinals are, as I mentioned, a really, really good offensive team. Arrieta will have his work cut out for him again, and could run another fairly high pitch count. Presumably, though, Joe Maddon will want to keep him from getting past 105 pitches or so, since he has eclipsed that number in each of his last two outings and will not have an extra day of rest this time, as he did on those two occasions.
Here's where history pushes against what Arrieta's trying to do. The Cubs haven't won on getaway day in St. Louis since July 31, 2011. Their lineup that day:
Reed Johnson – RF
Starlin Castro – SS
Aramis Ramirez – 3B
Carlos Pena – 1B
Marlon Byrd – CF
Alfonso Soriano – LF
Darwin Barney – 2B
Koyie Hill – C
Ryan Dempster – P
Six of those nine players are out of baseball. If the Cubs don't win Wednesday, it will be at least five full seasons between wins in their final game before leaving town. That's no coincidence, either. The Cardinals have been very good, especially over the last year and change, at wearing down the stubbornly competitive Cubs, and on getaway day, they always seem to break through. Sometimes it's a sluggish Cubs offense being sliced through by a sharp Cardinals starter. Sometimes the Cards come back against a weary or intimidated Cubs bullpen. Whatever the case, whether the Cubs come in looking to avoid a sweep or complete one, they don't seem able to close the deal on those final days under the Arch.
If that happens again Wednesday, ending Arrieta's historic streak (or streaks), it will be Carlos Martinez picking his way through the Cubs lineup. Martinez's season has been, to say the least, tumultuous, marred by an absence related to a lawsuit centered around whether he knowingly transmitted sexually transmitted infections; by a lingering illness that affected multiple starts; and lately, by some downright shaky outings. Over his last three starts, Martinez has faced 61 batters, walked nine, hit two, struck out seven, allowed 15 hits and nine runs, and induced only 12 whiffs on 222 total pitches. He's getting barely over half as many whiffs on his changeup, on a per-pitch basis, as he got last season. Martinez's arm remains electric, but that electricity isn't producing the results it did in the past. If the Cubs want to keep Arrieta's streak alive, they'll have to keep him from finding a rhythm and rediscovering the magic he had for much of the last two years.
What to Watch For
Obviously, one thing to watch on the Cubs' side of the fence is Heyward's health. After crashing into the wall in right-center field in AT&T Park, Heyward is fortunate to be mostly uninjured, and he could come back sometime before the end of the series (Wednesday makes the most sense). Until he comes back, the team remains mostly where they have been since Miguel Montero returned from the disabled list a week ago: short-staffed on the bench, yet jammed with three catchers. The biggest question the team must answer, though, is whether their prolonged offensive slump is an aberration, or a genuine part of the team's DNA. They've scored three or fewer runs in six of their last seven games, after doing so just seven times in their first 35 contests. If that's just a hiccup, there's nothing to worry about. Every team has a bad week sometime during the season. If that kind of trouble persists for 10 games or two weeks, well, that takes on a different meaning.
On the other side of the ledger, the key is not to panic, no matter what. Aledmys Diaz, Stephen Piscotty, and Matt Carpenter lead the best offense in baseball. (The Cubs' .295 TAv is tremendous, but the Cardinals are at .301, thoroughly outpacing them.) Diaz has been the best qualifying hitter in baseball, with a .378 TAv, and Piscotty's .341 is good for 13th. Better health has helped them get here, but the Cardinals might have more offensive depth than the Cubs. Even if they score 15 or 18 runs in this series, the Cubs' pitching staff will be fine. It's not the traditional identity of recent Cardinals contenders, but they really are a mash-first, pitch-second team. Their big weakness—they're the second-worst baserunning team in the league—isn't all that glaring, in the grand scheme of things.
Game Times, Broadcast Info, Etc.
Monday night's game will be on CSN+, and starts at 7:15 CT. On Tuesday night, the game will start an hour earlier, and can be found not only on CSN Chicago, but on ESPN (if you're feeling masochistic). The finale on Wednesday afternoon, the dreaded getaway Jake Arrieta Day, will start at 12:45 CT, and can be found on ABC 7. All three games will be broadcast on 670 The Score; just make sure to tune in about two minutes after game time to avoid that nightmare of an introductory song.
Lead photo courtesy Jeff Curry—USA Today Sports.